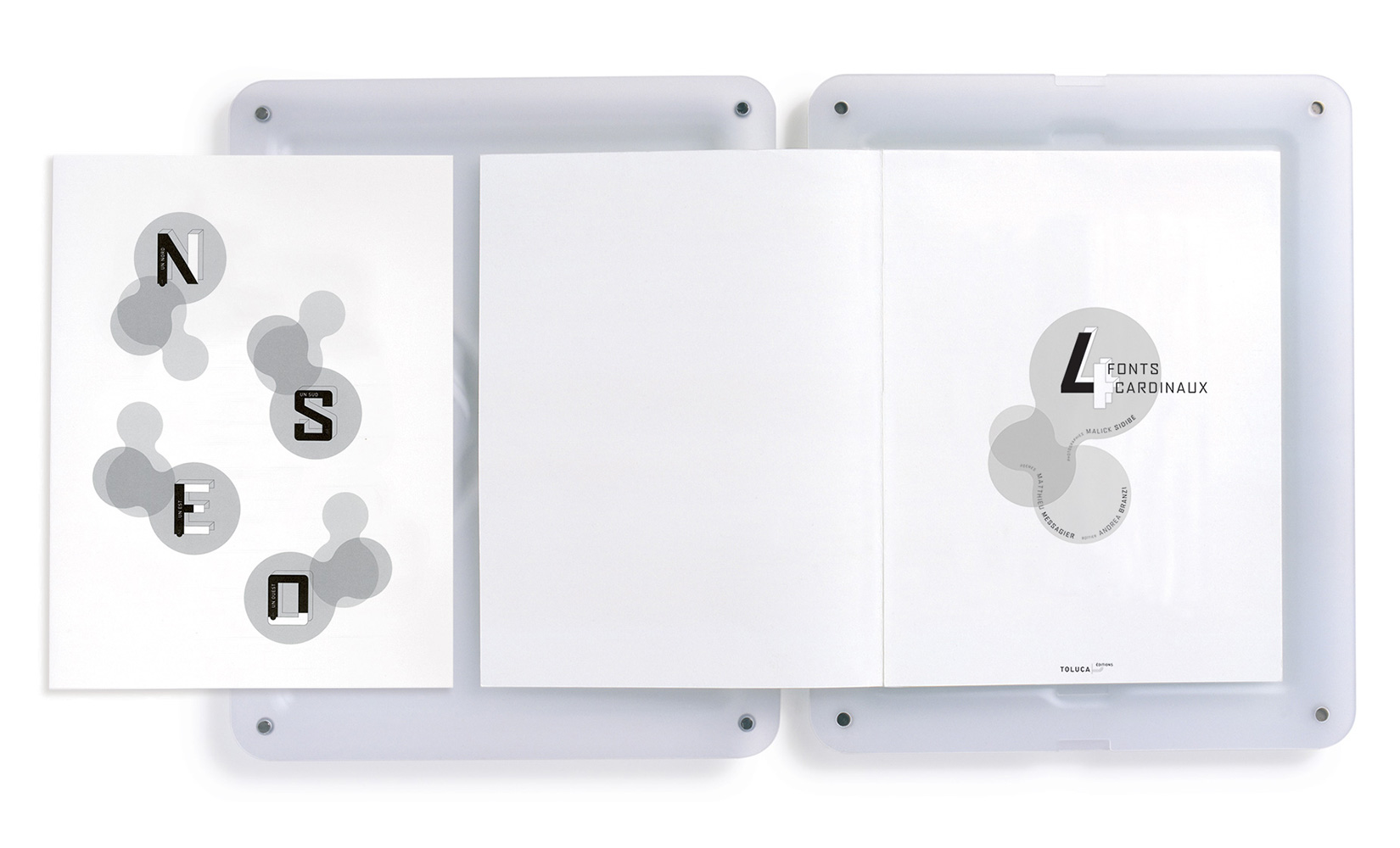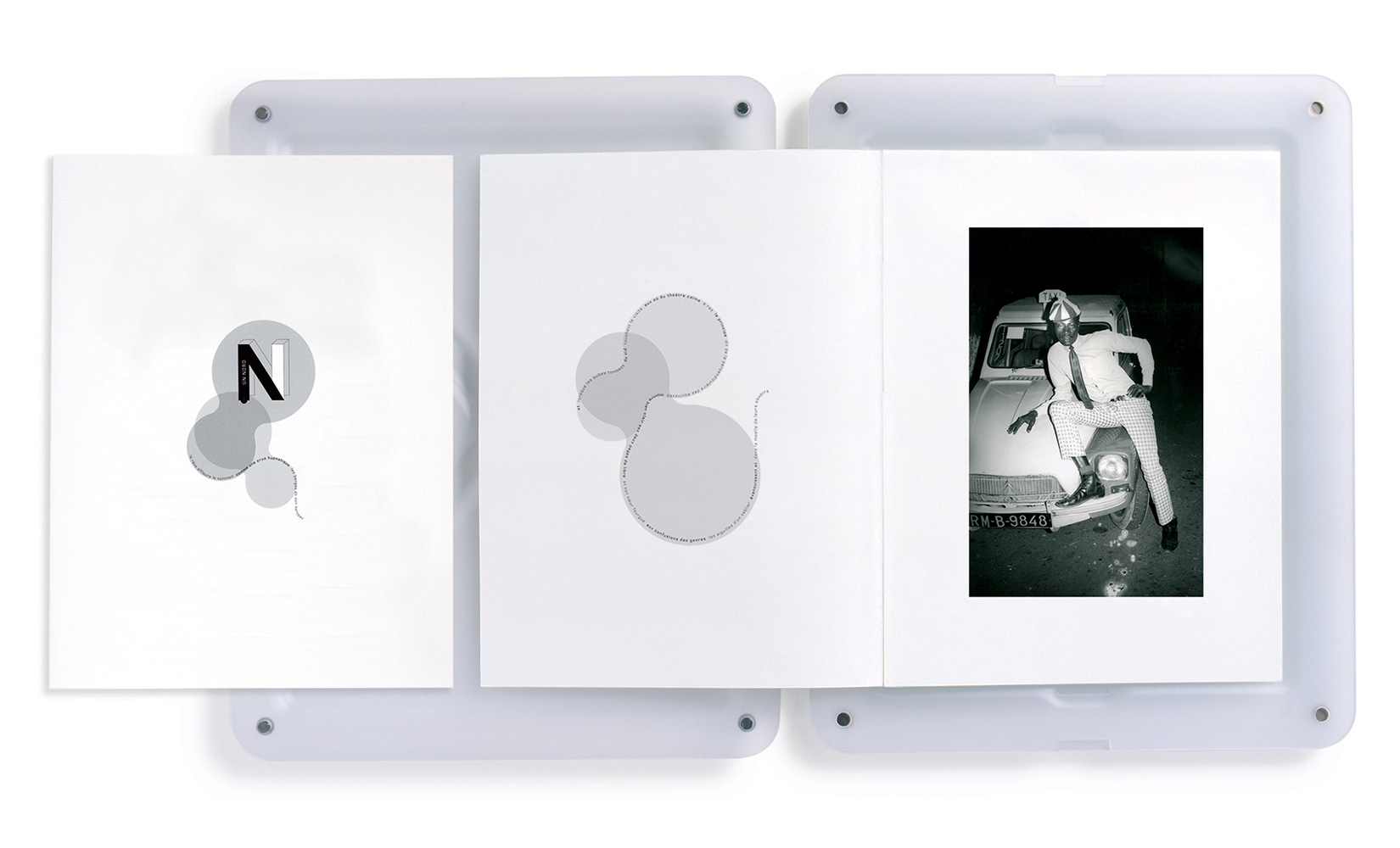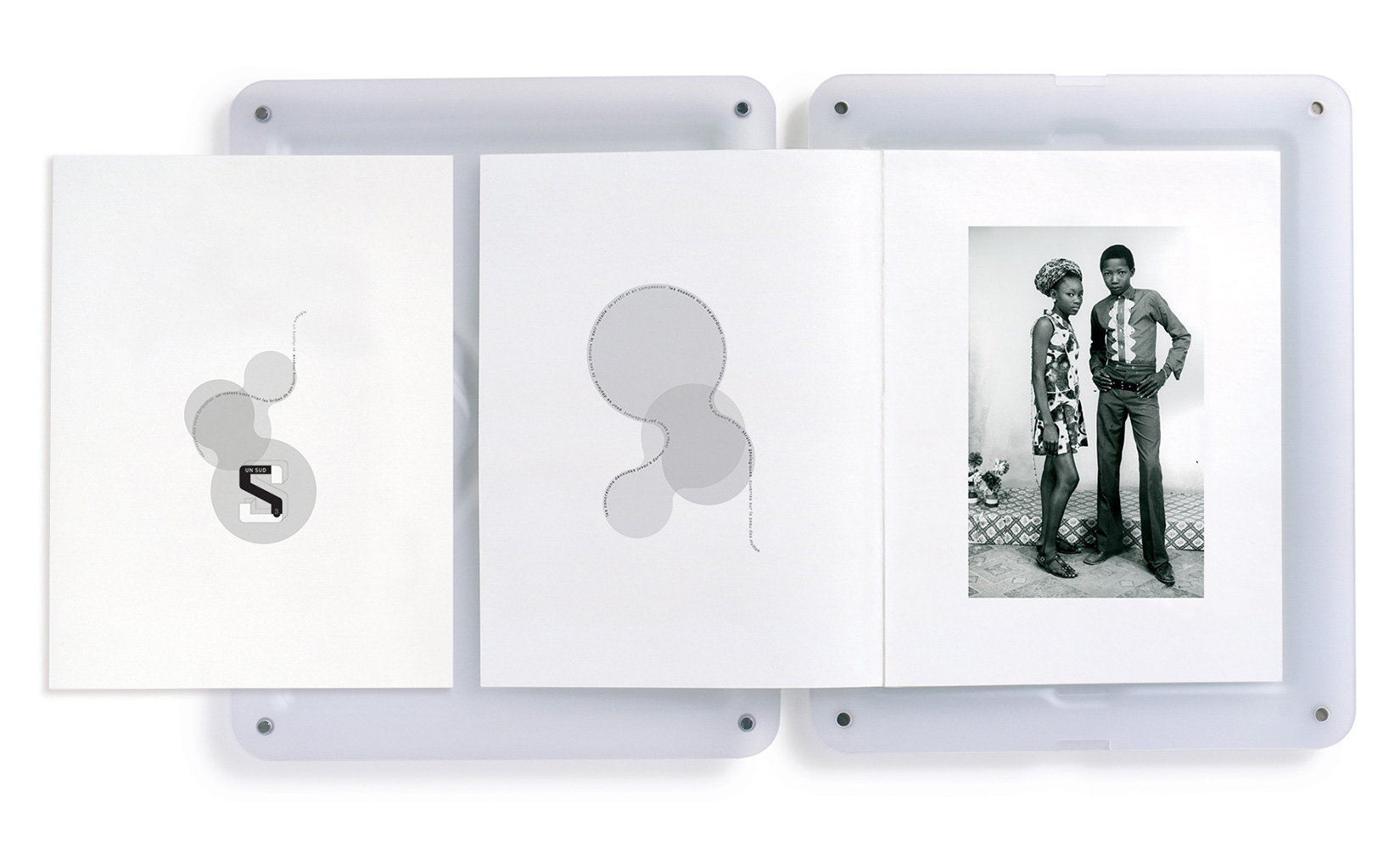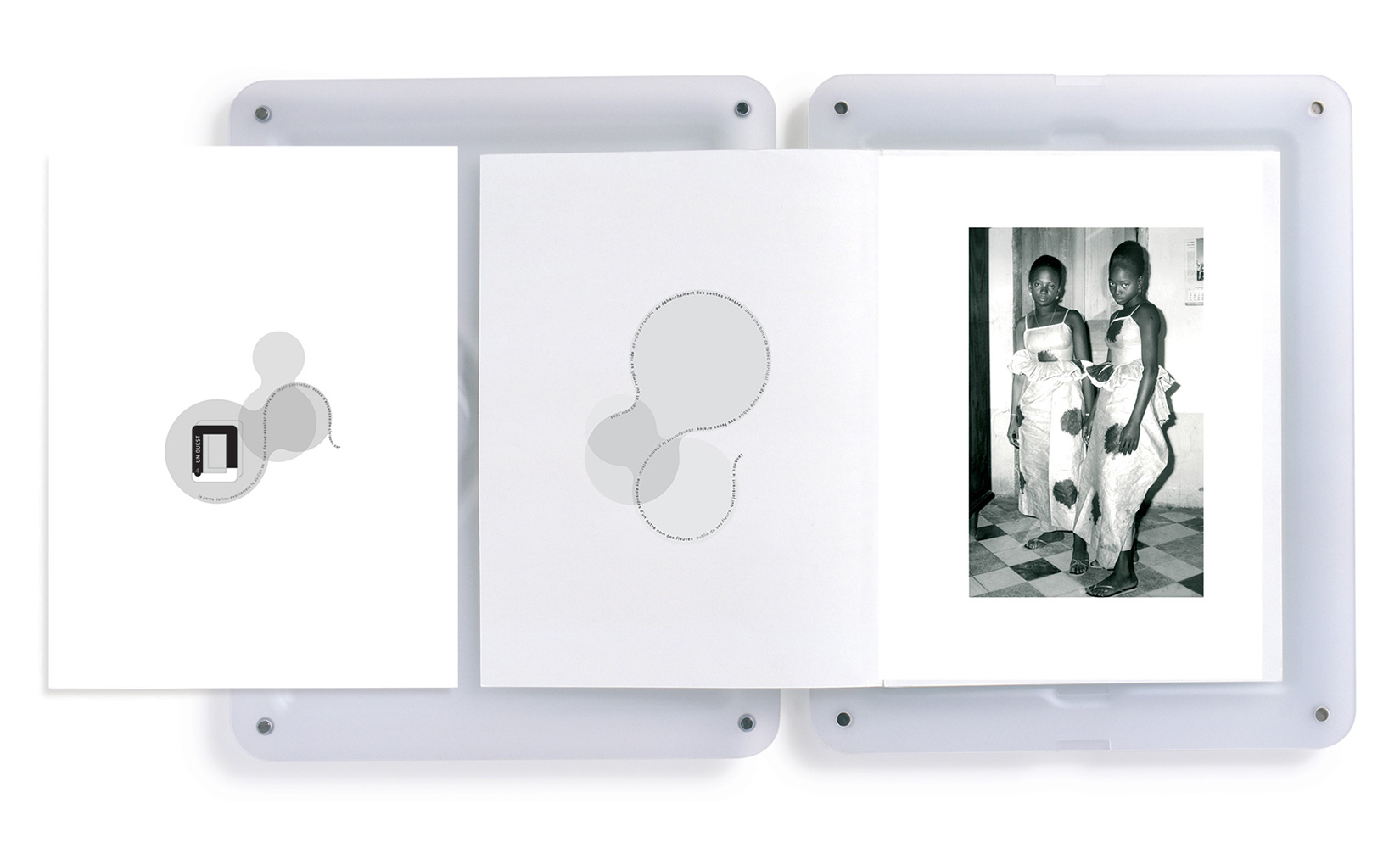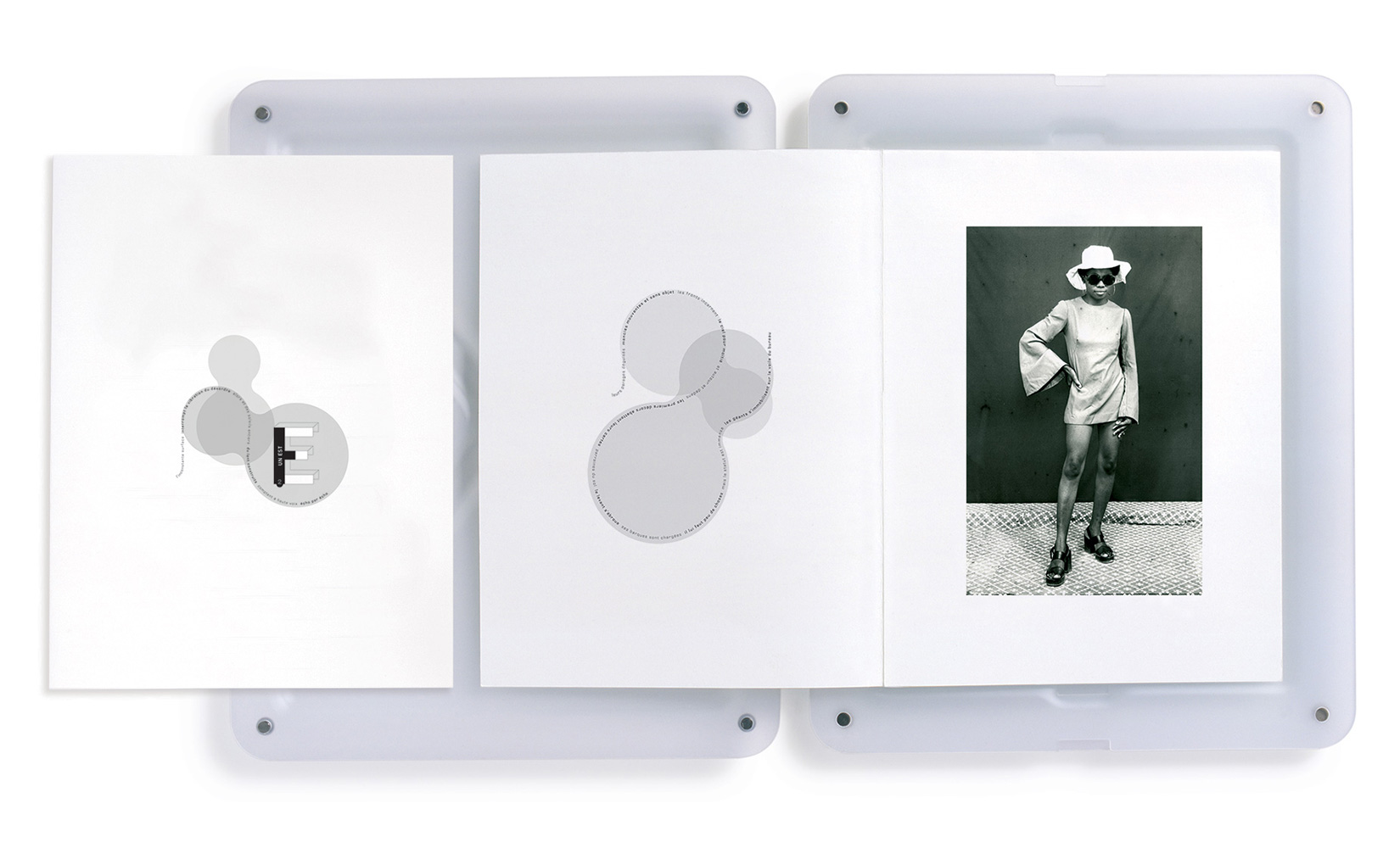 4 FONTS CARDINAUX
vol. 5
Malick Sidibé photographs
Matthieu Messager text
Andrea Branzi case
The photographs chosen for this current publication are particularly representative of the main subject explored by Malick Sidibé: the youth of Bamako. We are in the decade of the '60s-'70s and Bamako's youth is grouped around clubs inspired by the idols of the twist, of rock or French pop music. They are easily recognized by their outfits, the particular tip of their hats or their cigarettes. The photographs inspired Matthieu Messagier to write four poems, using great flexibility of rhythm and conceived from a single sentence, carried by the sonic energy of the twist and the Bolofon Dogon. Each poem follows the outline of soft, overlapping shapes. By putting emphasis on the ellipsis and transparency, Andrea Branzi chose to express all the poetic force of the Blister.
Malick Sidibé
Malick Sidibé was born in 1936 in Mali. From 1962, while simultaneously producing photographs in the studio, he began taking stock of the pastimes of the youth of the new Malian state: surprise-parties where dancing and clothes are everything. In 2003, he received the Hasselblad Award in Photography, and was awarded the Venice Biennale's Golden Lion for lifetime achievement award in 2007. His work has been featured in a number of solo exhibitions (La Fondation Cartier pour l'Art contemporain, Paris, etc.).
Matthieu Messager
Born in 1949, Matthieu Messagier first came to attention in 1971 with the publication of Manifeste électrique aux paupières de jupes, now a cult collection of poetry, full of the sonic energy of rock and free-jazz. He is now recognized for his singularly poetic work, marked by its broken syntax and fast-paced rhythm. He is the author of numerous collections of poems, published most notably by Christian Bourgois.
Andrea Branzi
Andrea Branzi, an architect and designer, founded Archizoom in Florence, and helped to create the groups Alchimia (1976) and Memphis (1981). From 1983 to 1987, he directed the architectural review Domus. In 1985, he created the collection "Animali Domestici": Created out of mostly raw materials (tree trunks, stones) and industrial technologies, these objects are designed to re-establish a closer link with the individual.
Description: 
4 original signed photographs (gelatin silver prints), set in photo-corners
Case made of molded blister
52,3 x 42,2 x 4,5 cm
Text in French
Limited edition of 30 copies
September 2005
Graphic design: Olivier Andreotti