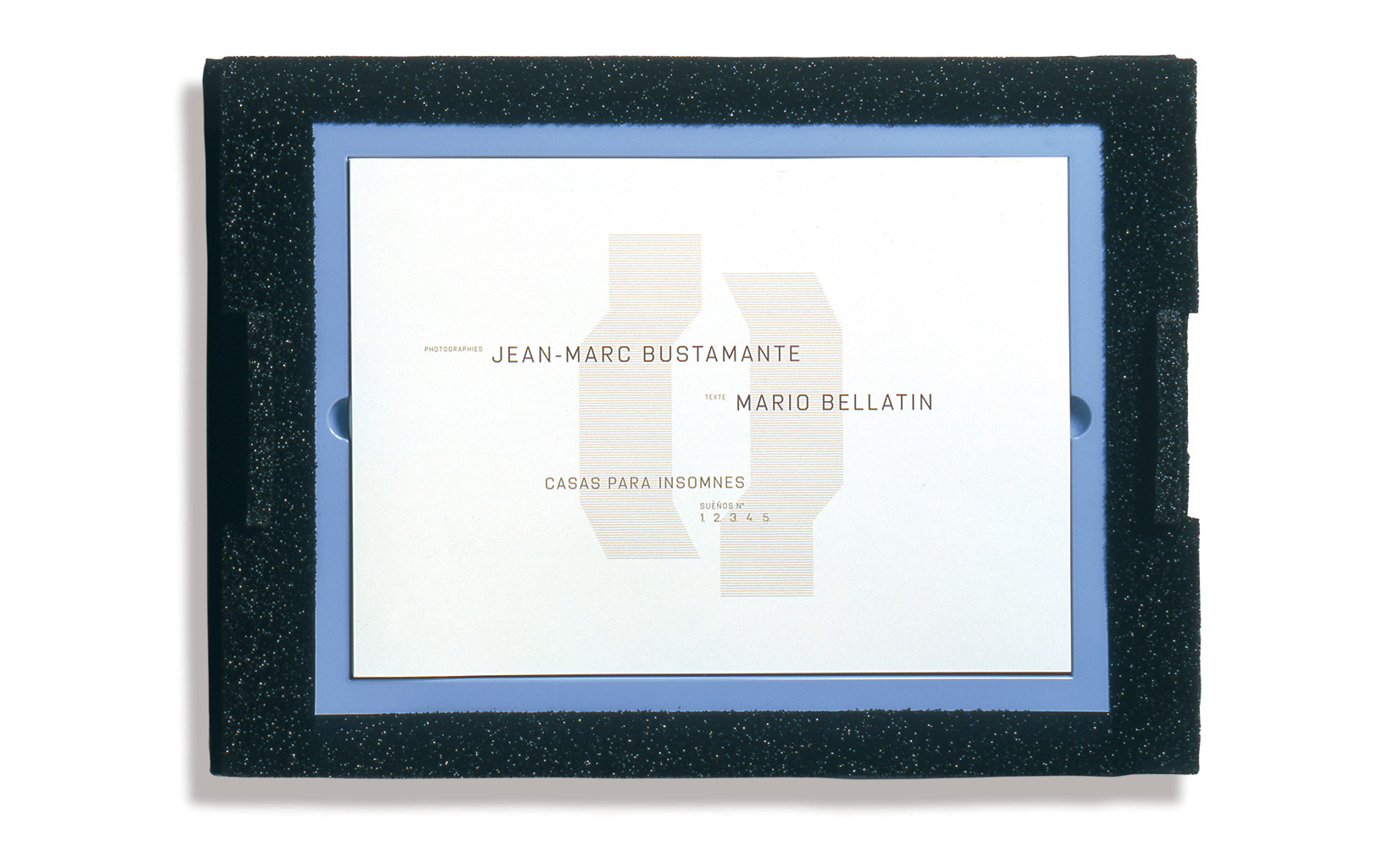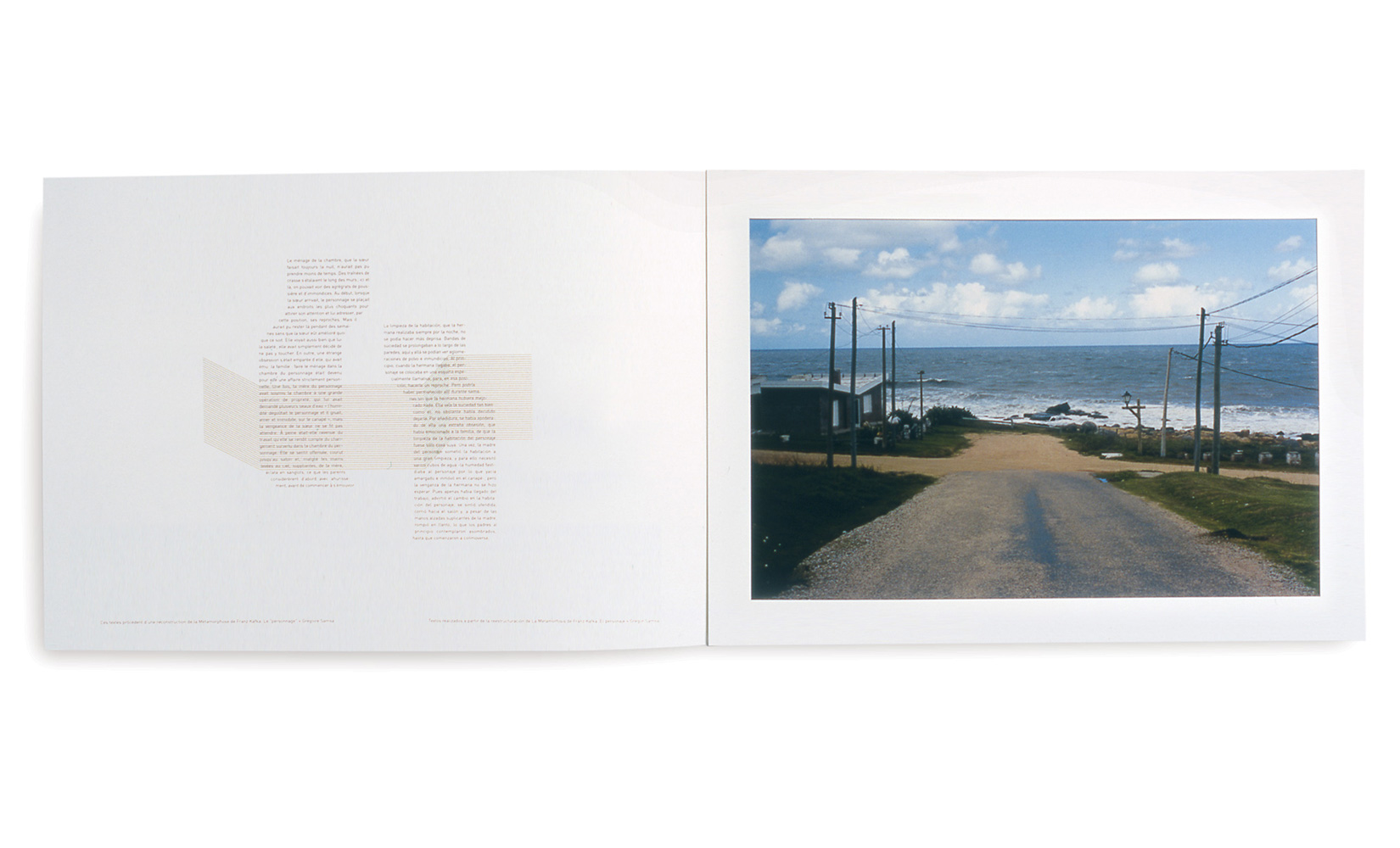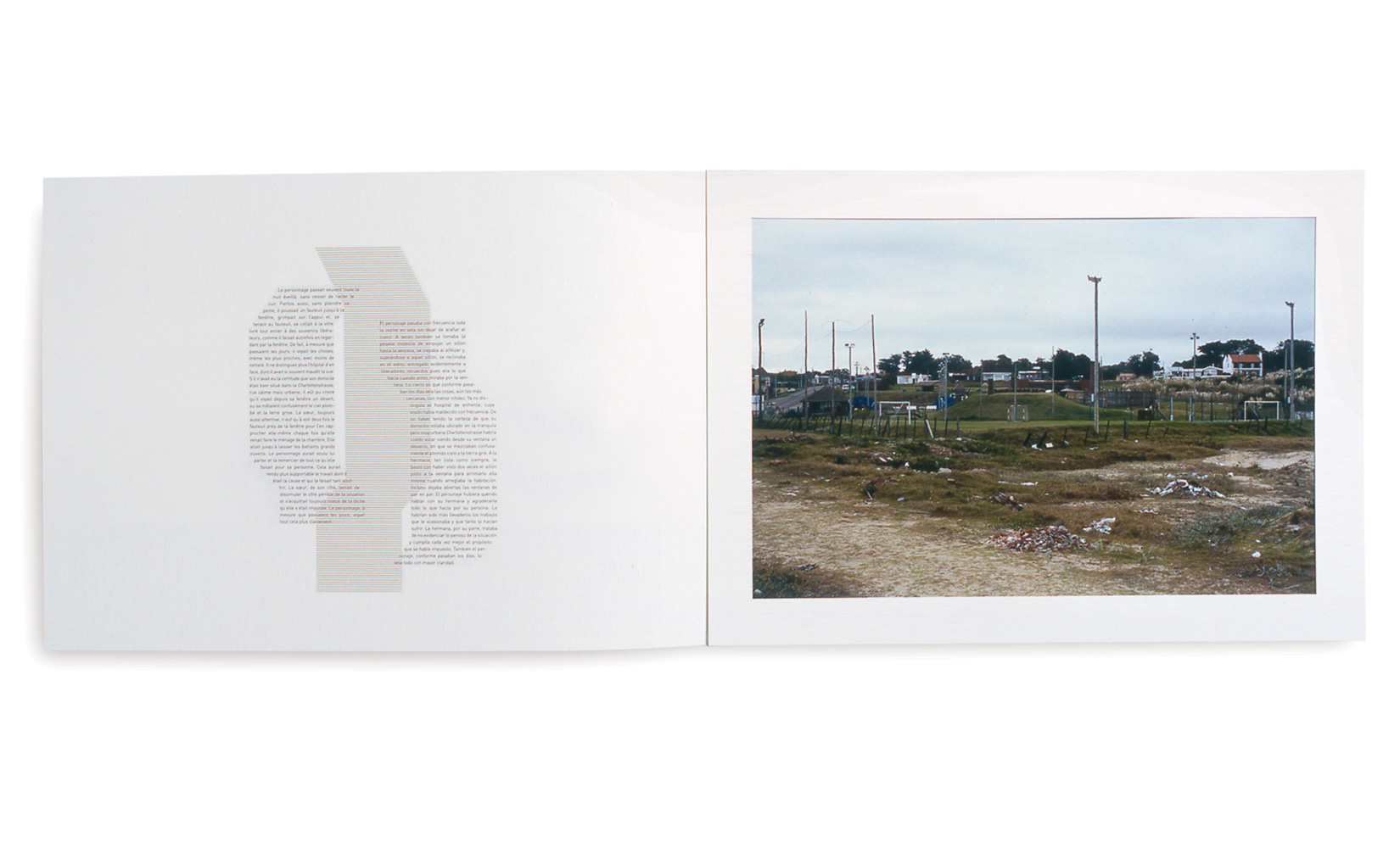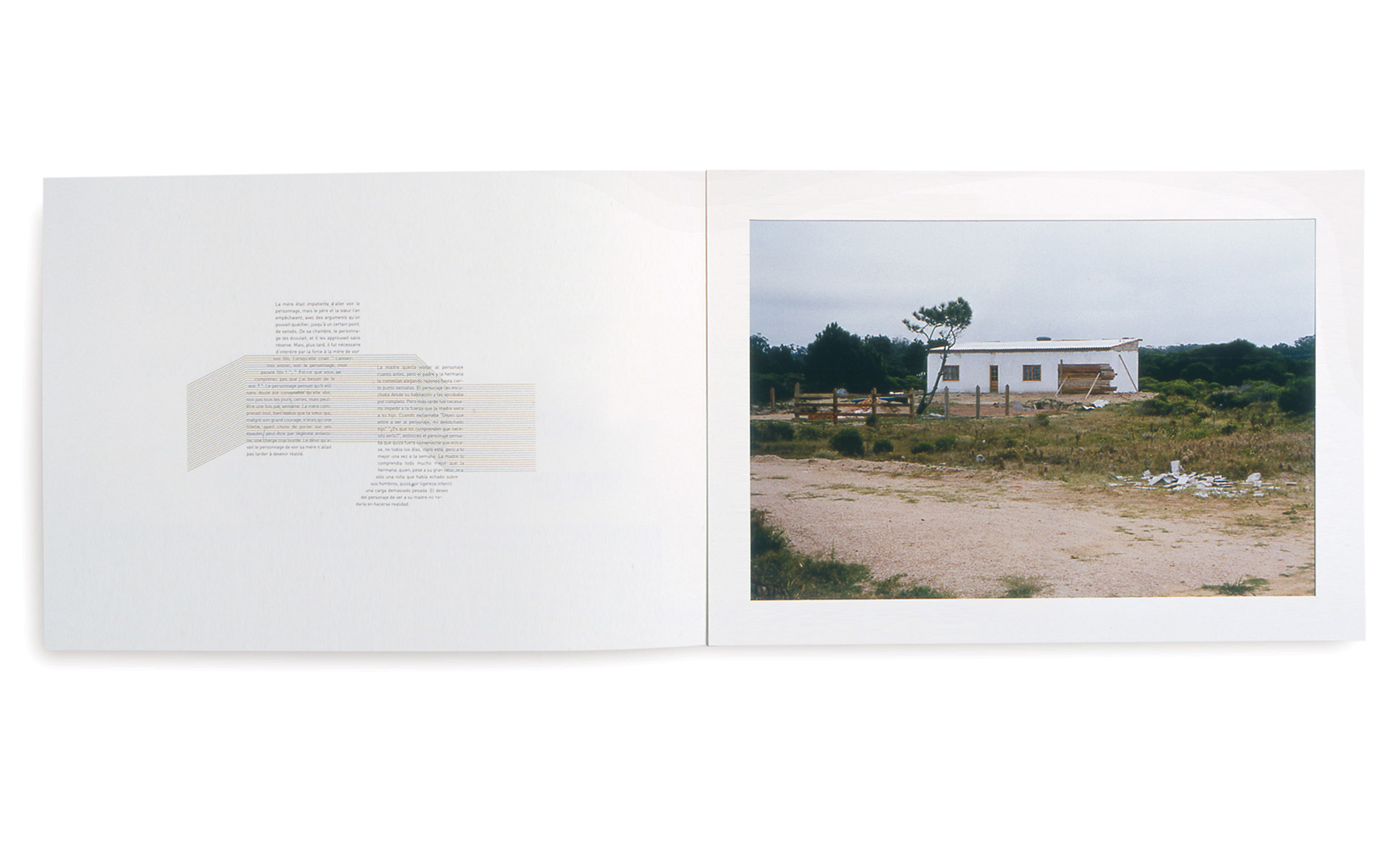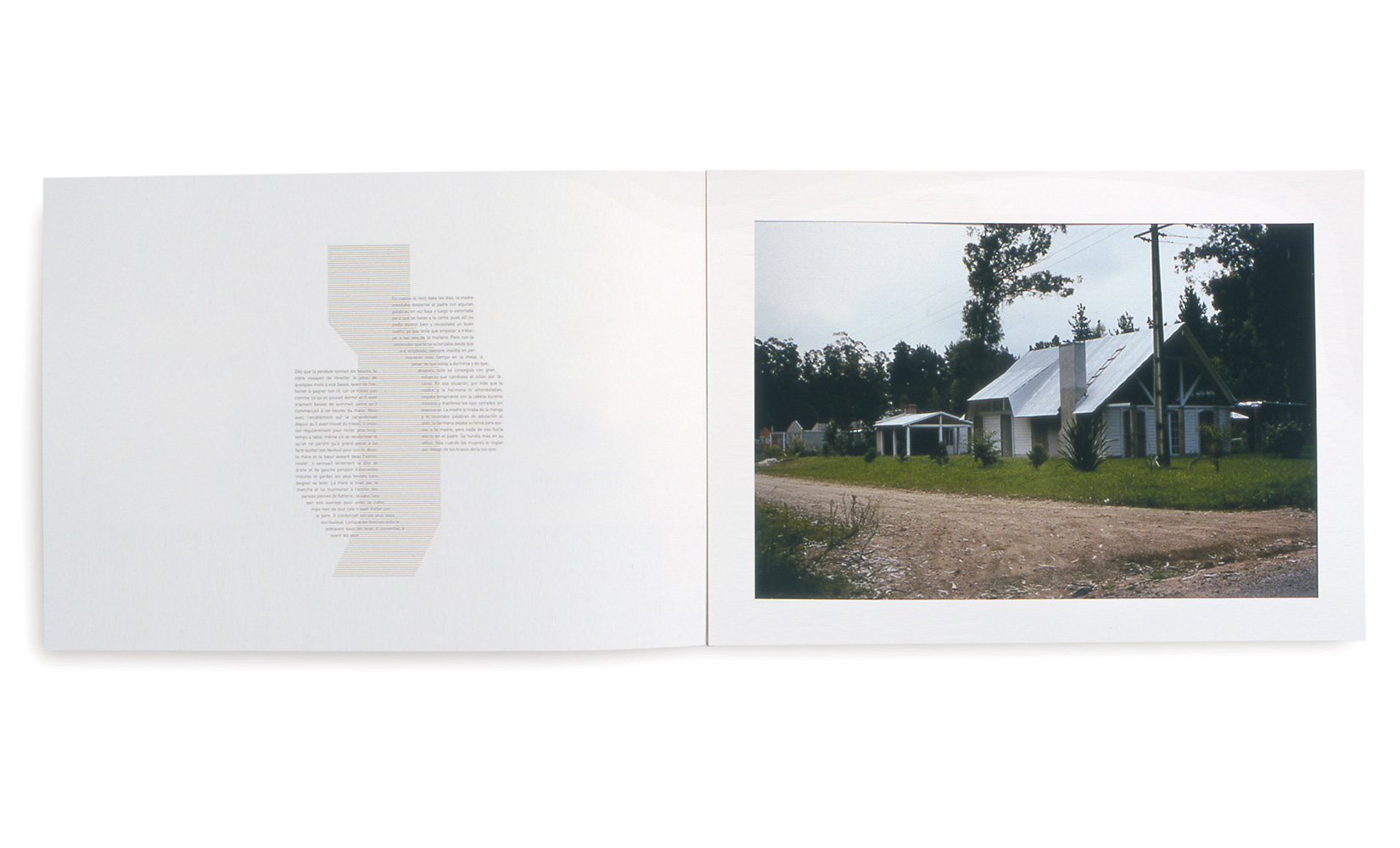 maisons pour insomniaques
vol. 1
Jean-Marc Bustamante photographs
Mario Bellatin text
Konstantin Grcic case
The photographs, taken in 2003, during one of Jean-Marc Bustamante's travels in Uruguay, are the outgrowth of a recent projects-in-the-works by the artist, Something is Missing, which carries the leitmotiv of journeying and wandering freely. The five photos chosen for the work form a compact module directed toward livable and lived in spaces, houses for insomniacs.
Here Mario Bellatin is striving for a reconstruction of Kafka's Metamorphosis, evoking a single episode for each house, a topographical insomnia. The designer Konstantin Grcic chose black foam 10 cm thick for the casing, burning its surface to achieve the effect of access routes and tight asphalt turns – the photographer's favorite theme. The text appears in blocks of varying sizes of type whose outline forms a border inspired by the drawings of houses.
Jean-Marc Bustamante
Jean-Marc Bustamante was born in Toulouse, France, in 1952. From 1977 to 1982, he produced more than 130 photo canvases–landscapes of the outskirts of Barcelona– exhibited for the first time in 1994 at the Kunsthalle in Berne. His work has been exhibited in numerous museums, most notably at La Galerie Nationale du Jeu de Paume in Paris. In 2003, he represented France at the Venice Biennial.
Mario Bellatin 
Mario Bellatin was born in 1960 in México City where he currently lives. He had his first five books published in Perú. His work, translated into German, English and French, is as difficult to decipher as his biography, a life he likes to invent through the course of his various interviews and encounters. His writing, infused with the Japanese aesthetic and photography, stands out for its radical minimalism.
Konstantin Grcic
Born in Germany in 1965. After his studies at London's Royal College of Art, Konstantin Grcic worked in Jasper Morrison's studio before moving to Munich where he opened his own agency in 1991. His modular furniture, developed over the last few years mainly for Classicon and Magis, are among the designs that make him a major figure in contemporary design. In 2001, he received the Compasso d'Oro for his lamp Mayday.
Description:
5 original signed photographs (chromogenic prints), set in photo-corners
Case made of foam and plastic sheets
58,5 x 43 x 10,8 cm
Text in Spanish and French
Limited edition of 30 copies
October 2003
Graphic design: Olivier Andreotti