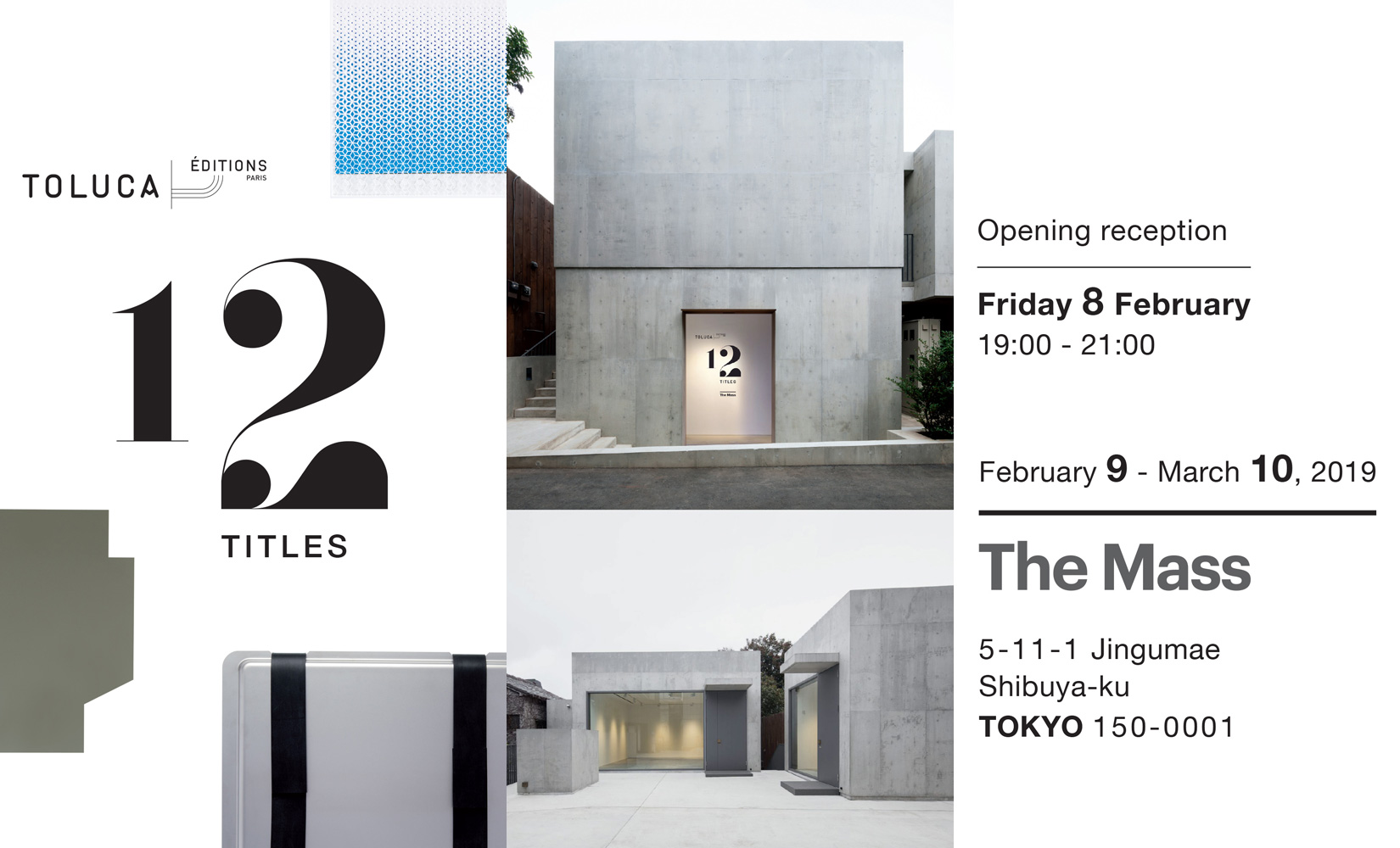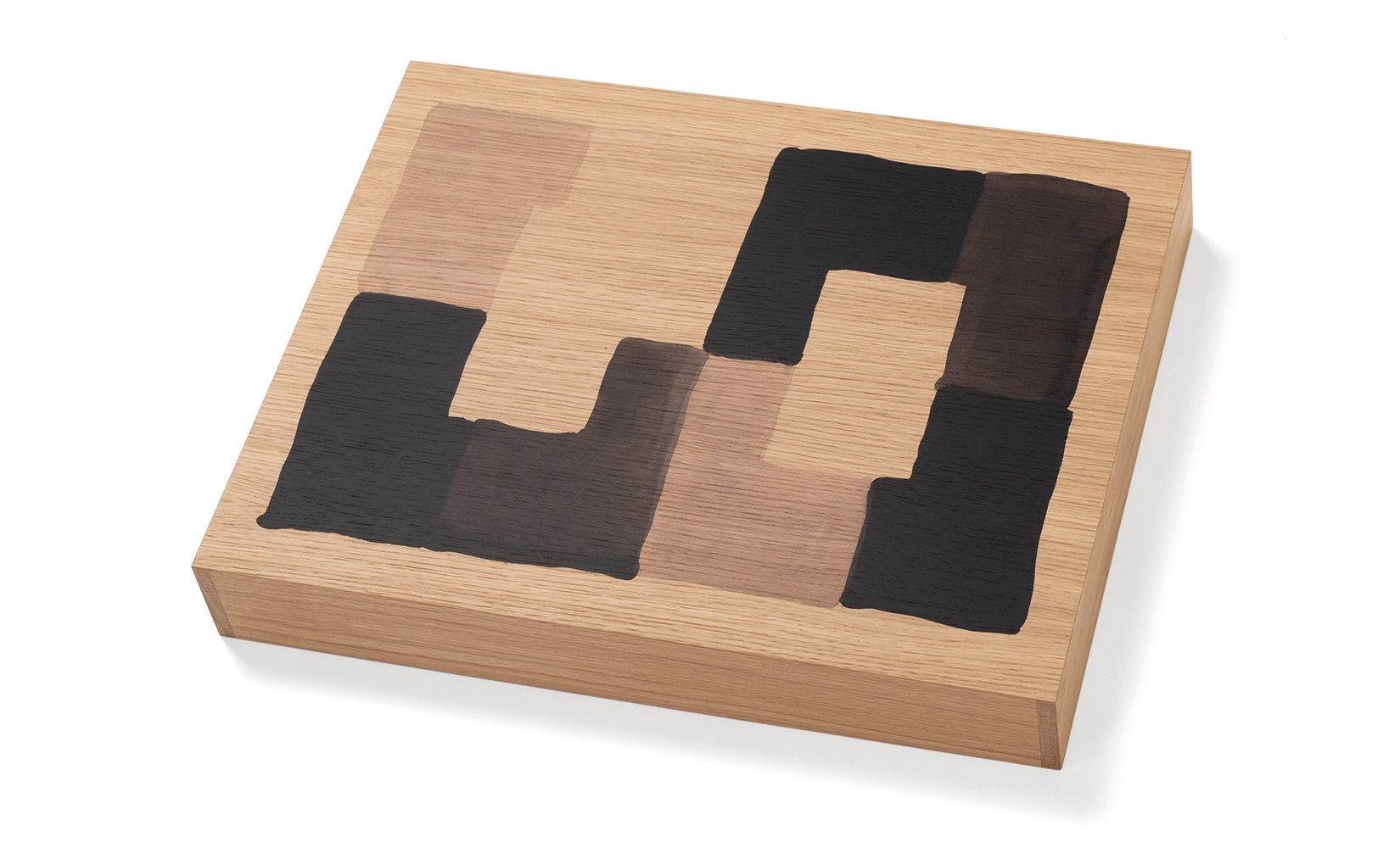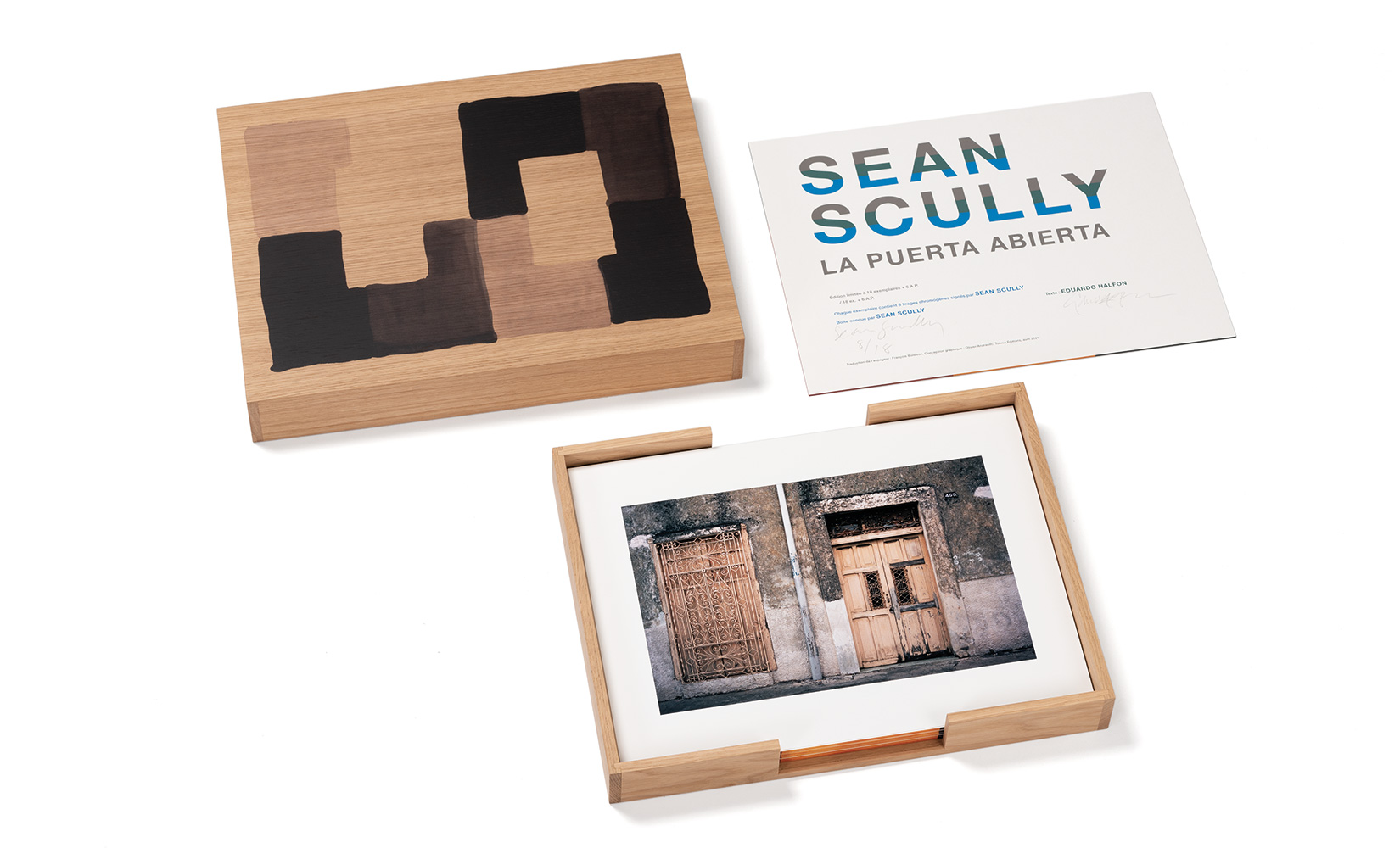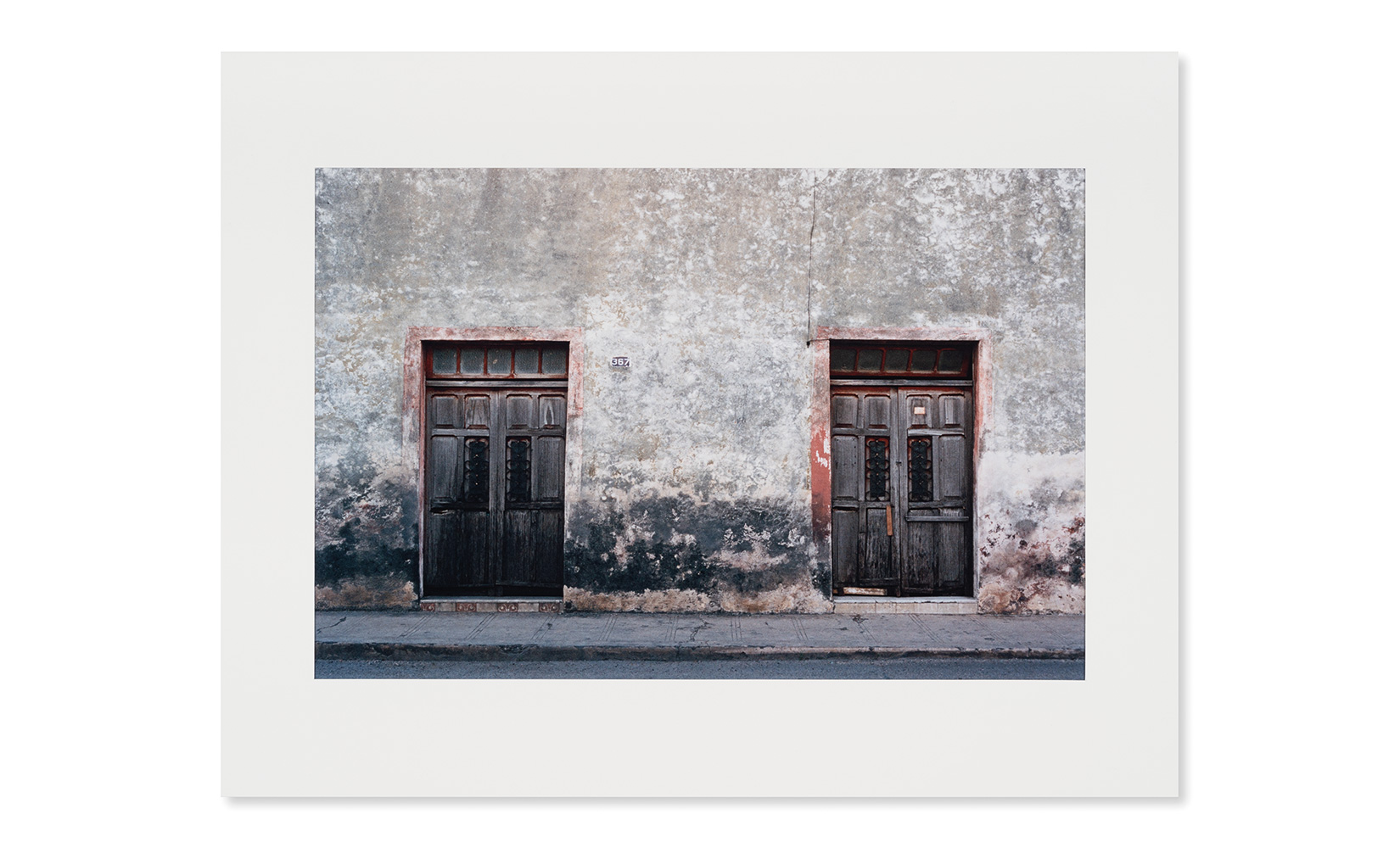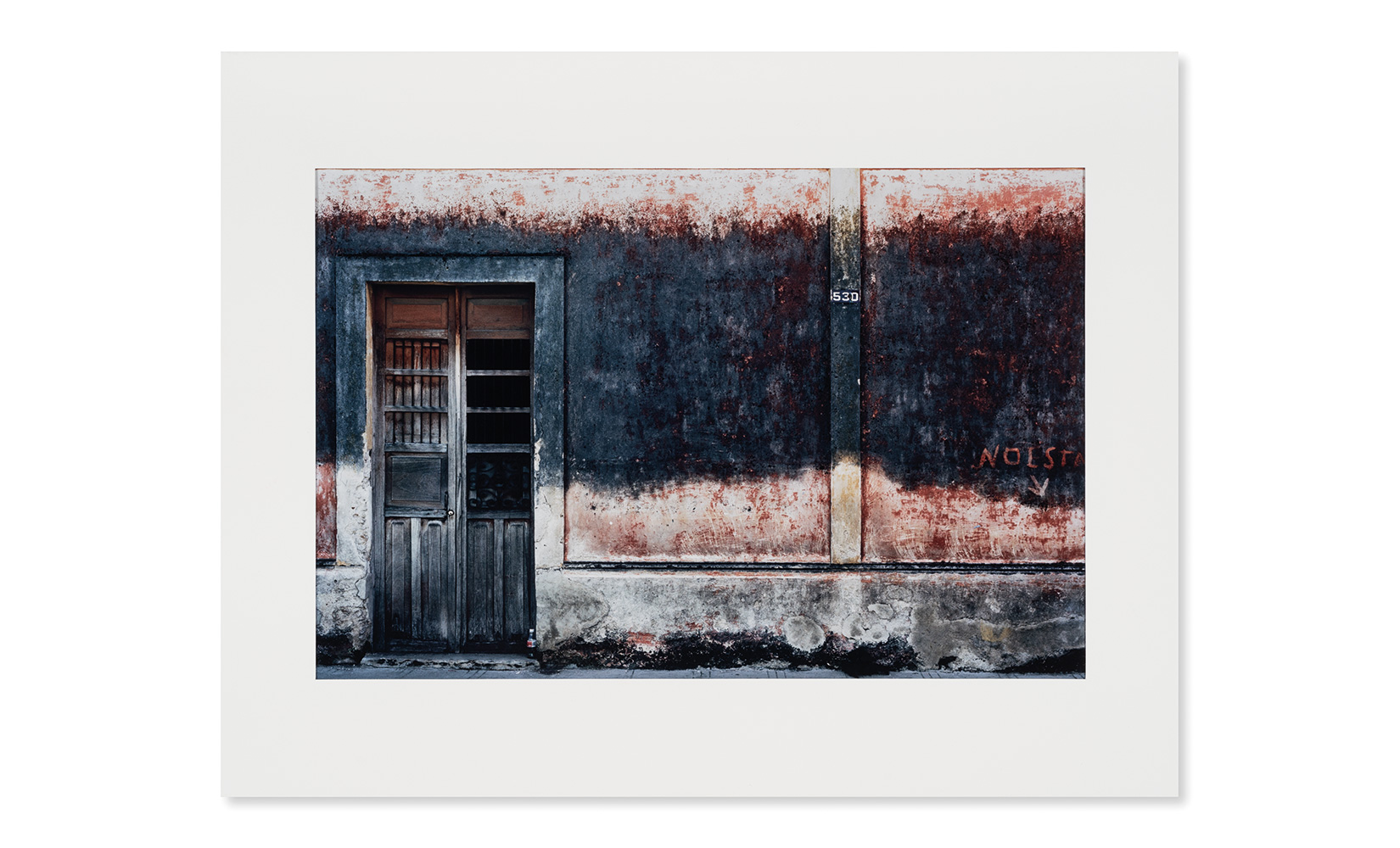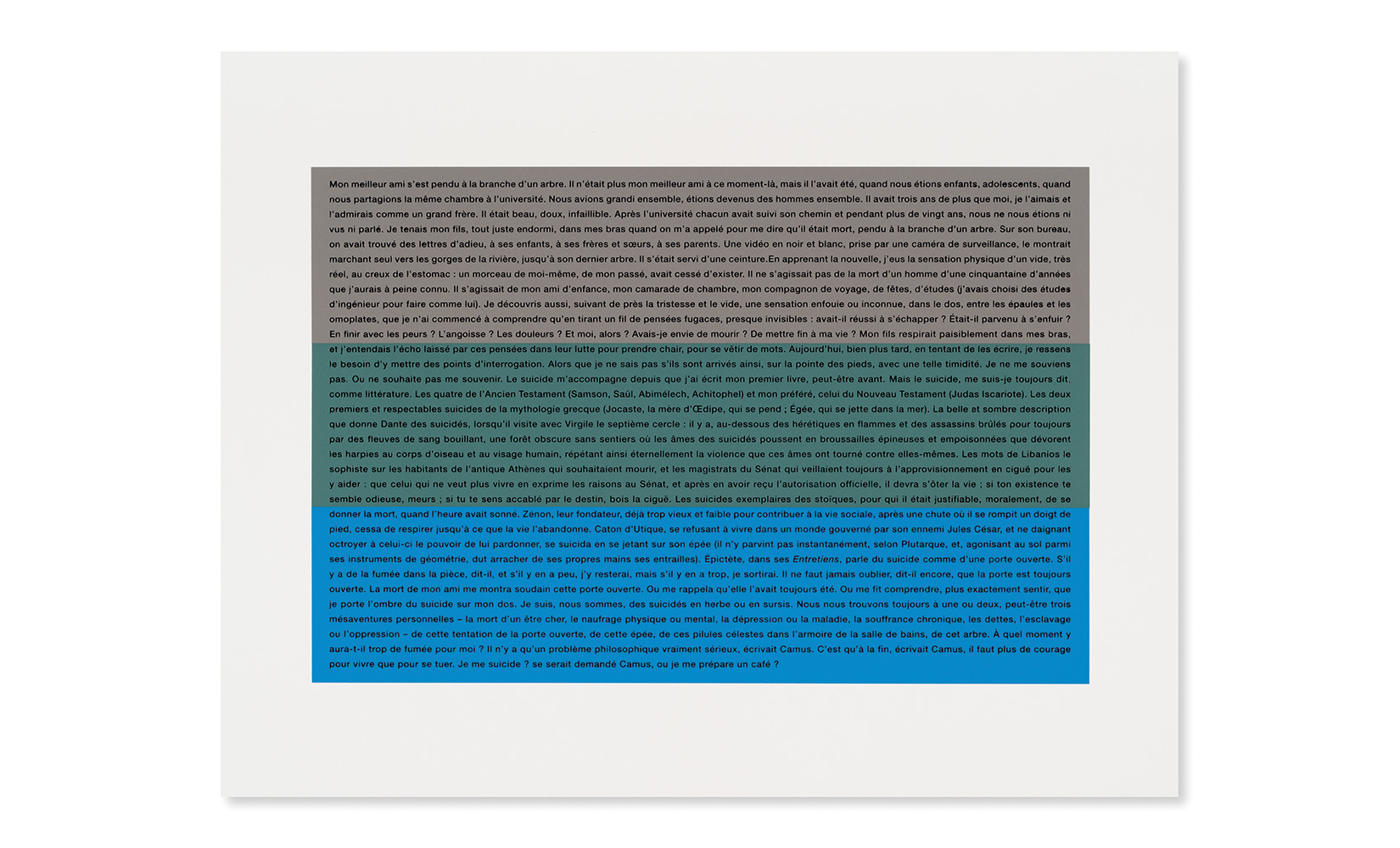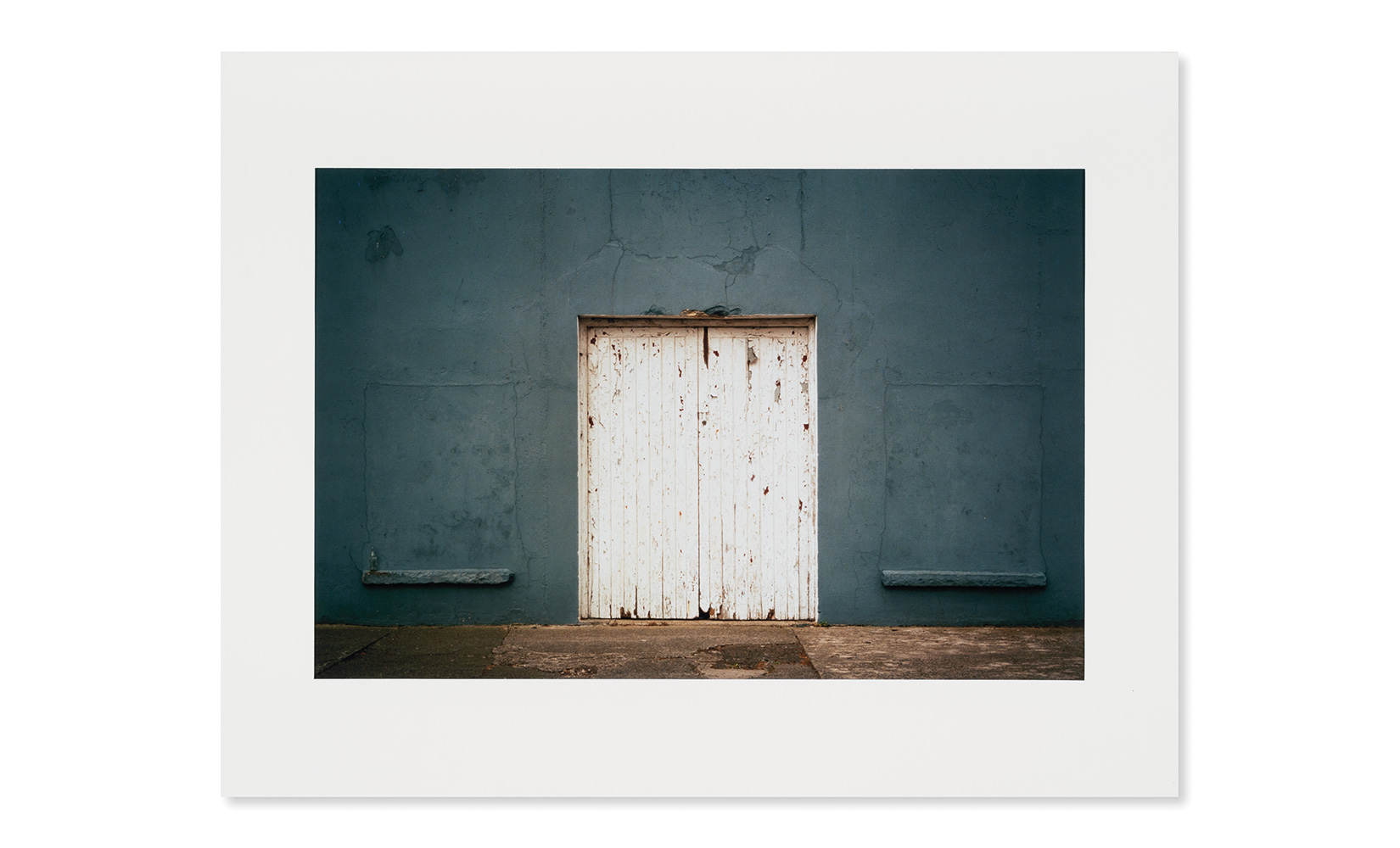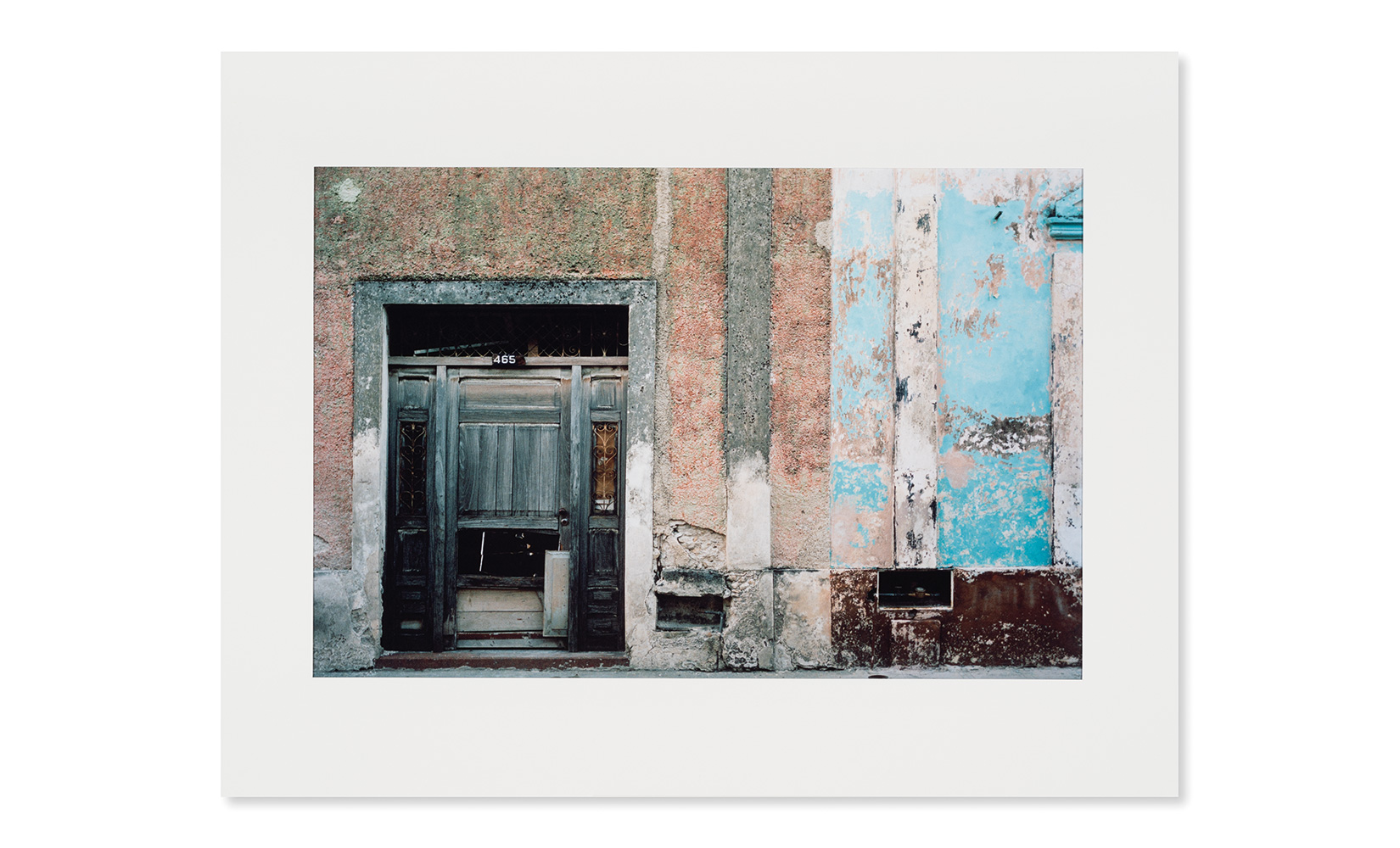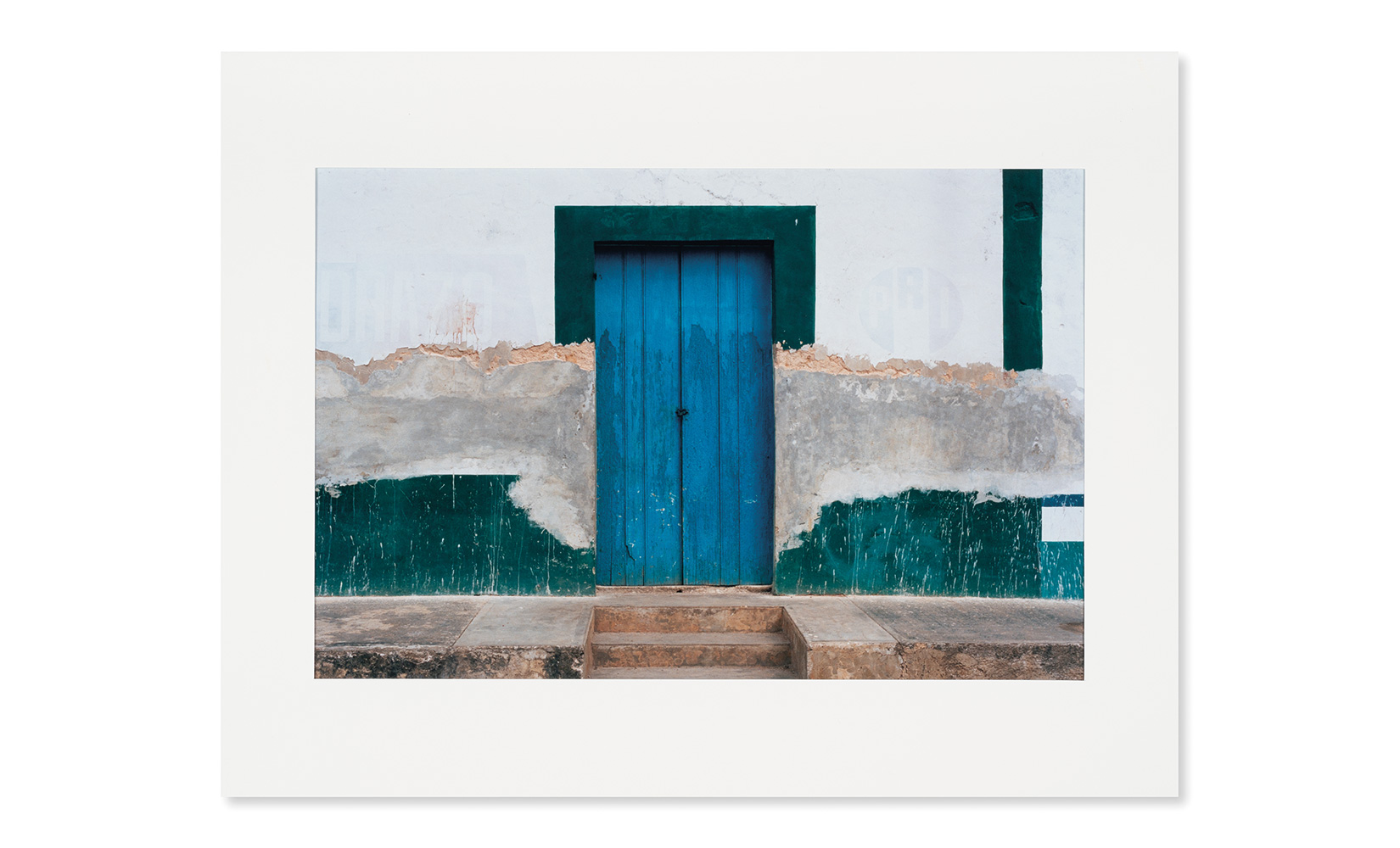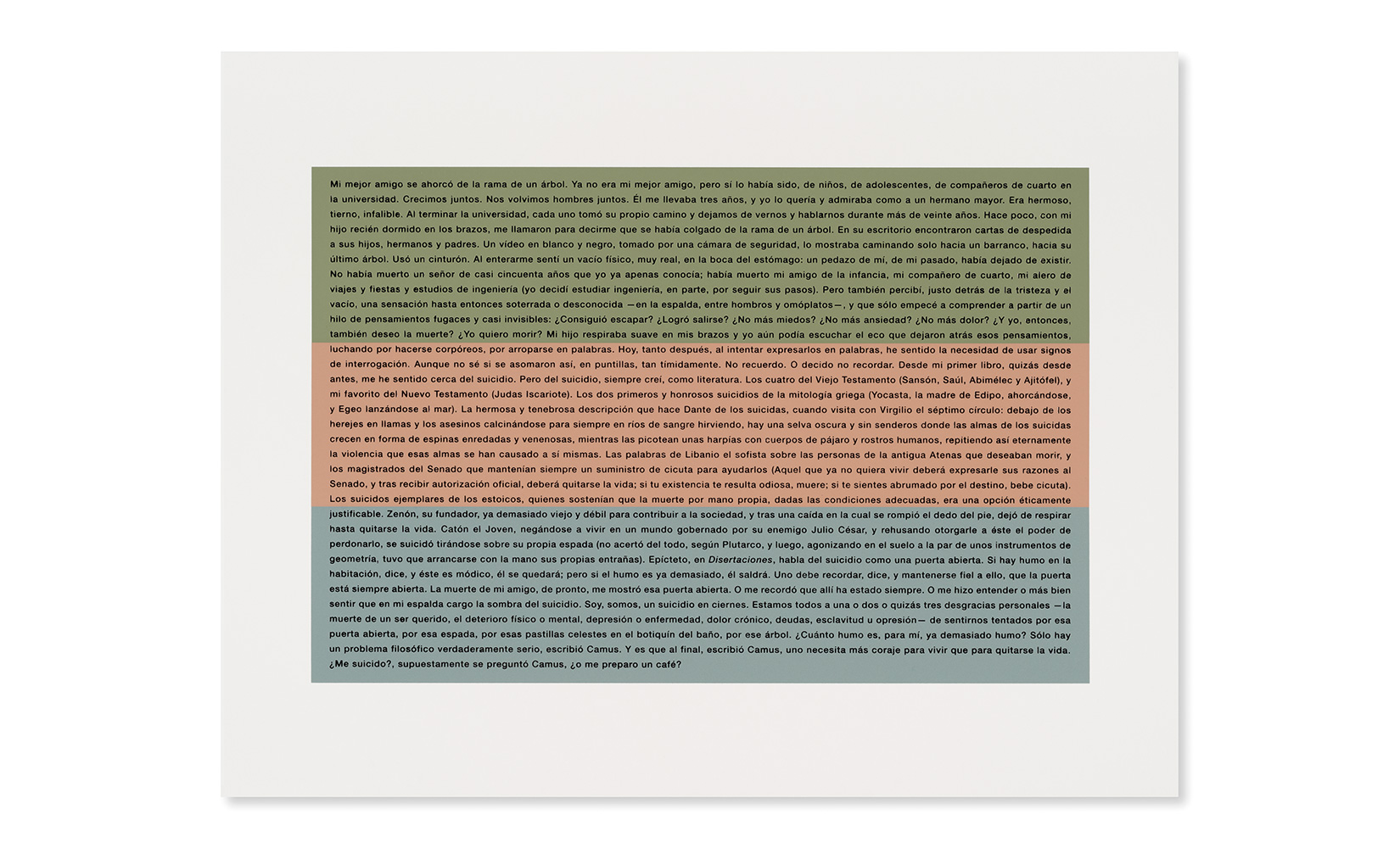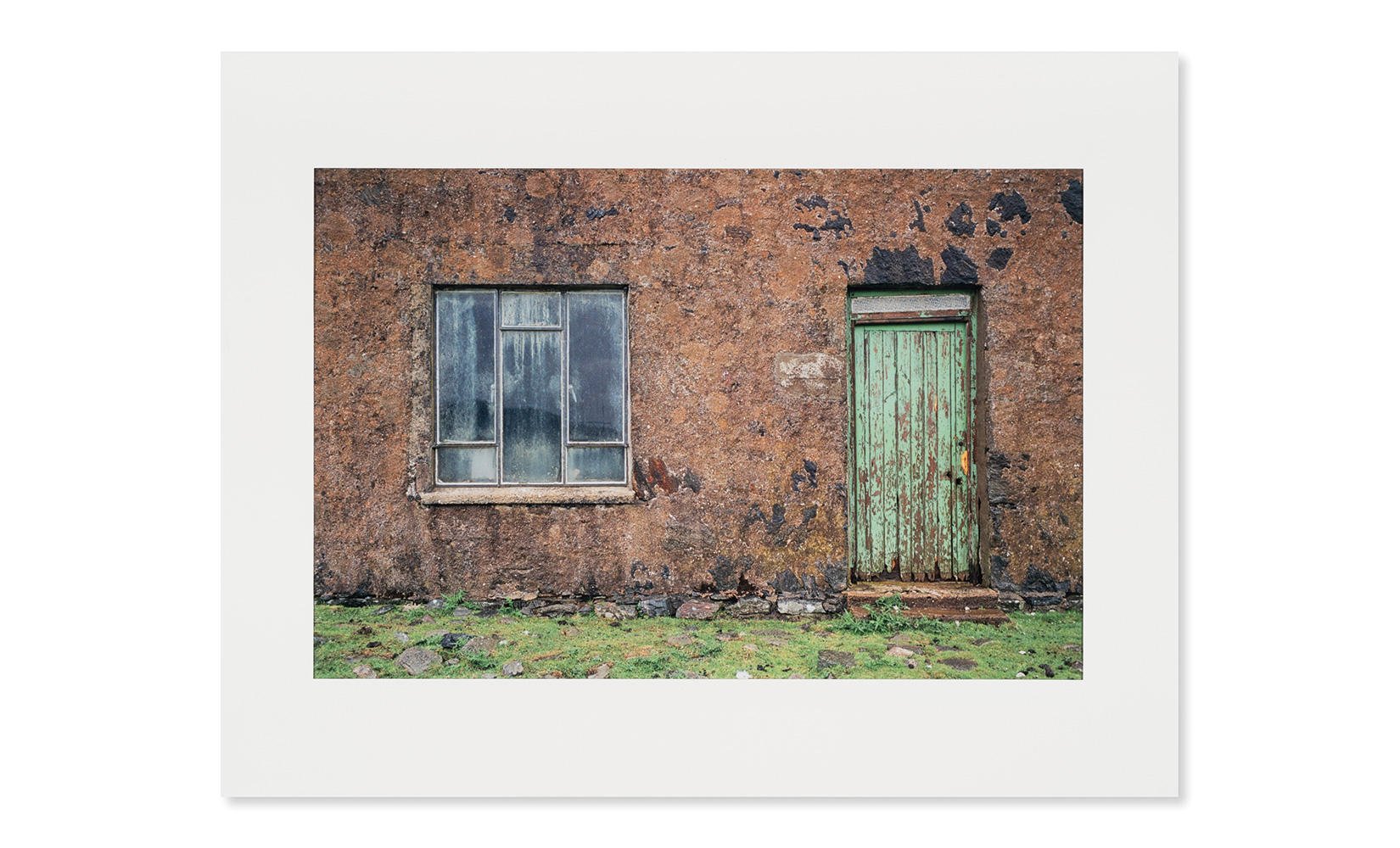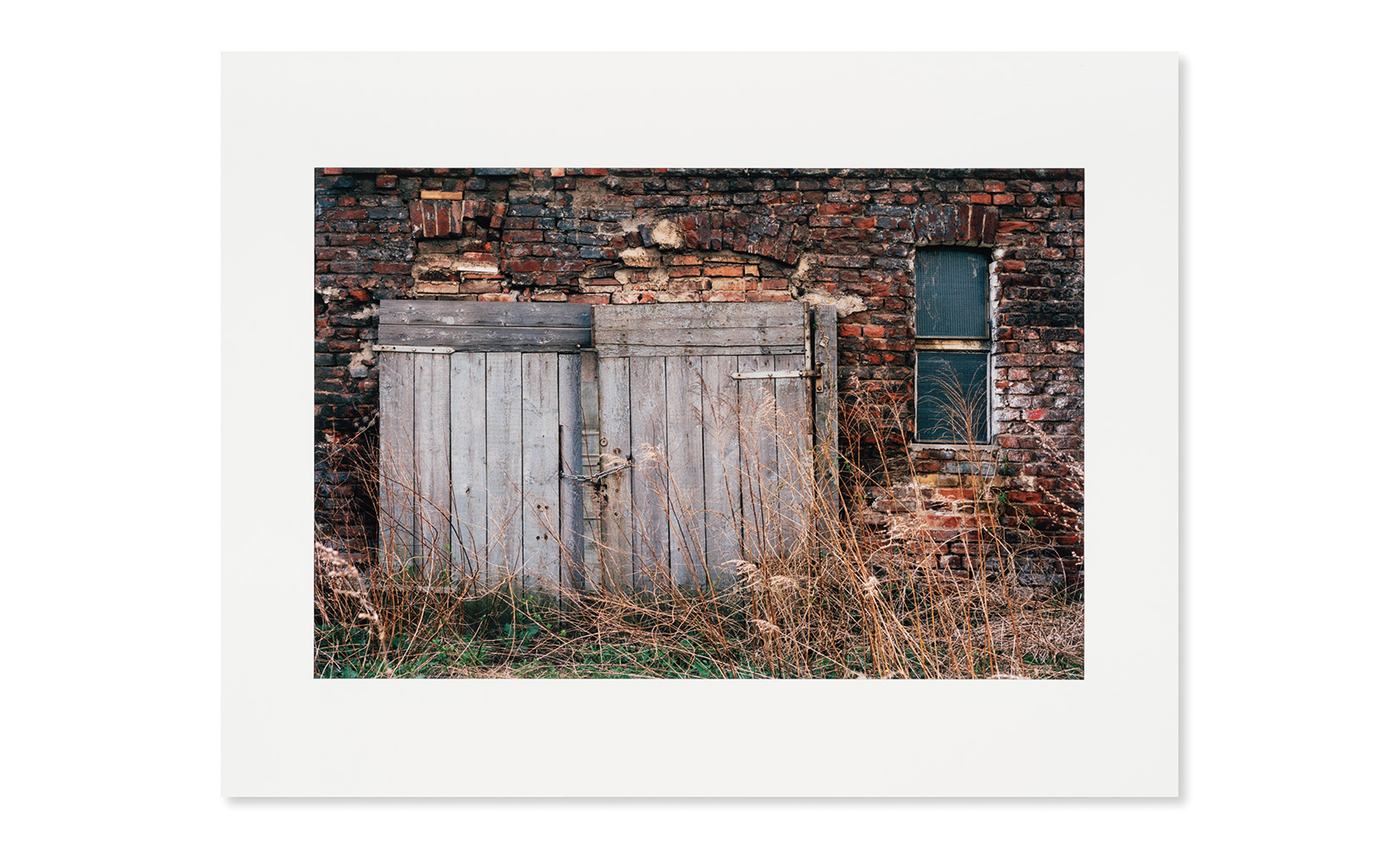 VOL. 43 La puerta abierta
Sean Scully
photographs and case -
Eduardo Halfon
text
Death is an opaque surface, a dark abyss, to which only roundabout ways give access. The detours taken, in their respective arts, by the polyglot writer Eduardo Halfon and the painter Sean Scully, who has photographed closed doors over many years, in different locations, are luminous. The images of the latter and the words of the former seem to convey, within their vast repertories, formal or linguistic, the existence of a hidden motif ―of painting, of writing― embodied in the vernacular architectures photographed by Scully, for those with eyes to see, or in Halfon's story of loss and mourning, of the suicide of a childhood friend.
Description
:Each copy contains 8 original signed photographs (chromogenic prints)Oak case45 x 36 x 6 cm Text in French and Spanish Limited edition of 18 copies + 6 A.P. April 2021
Graphic design:
Olivier Andreotti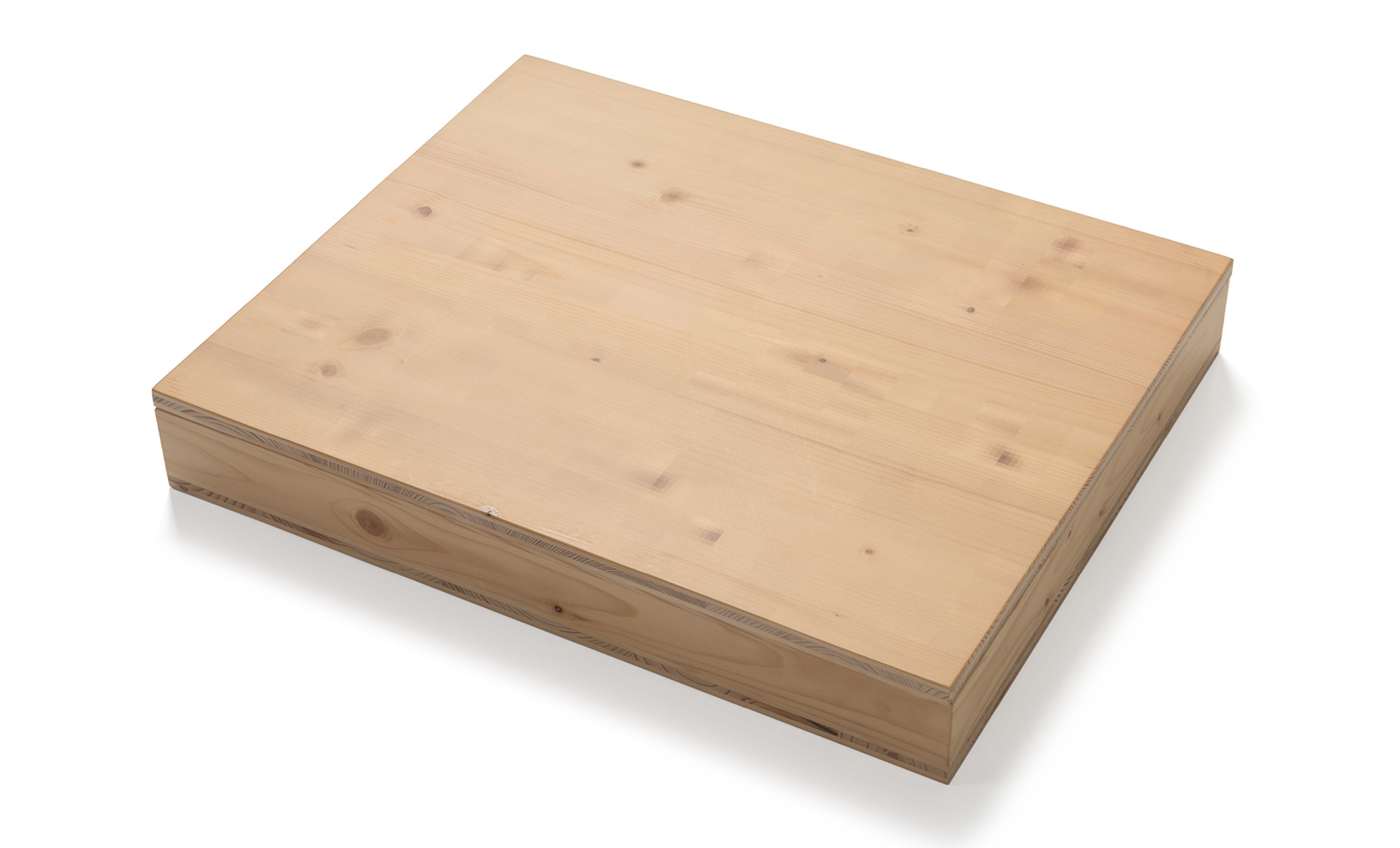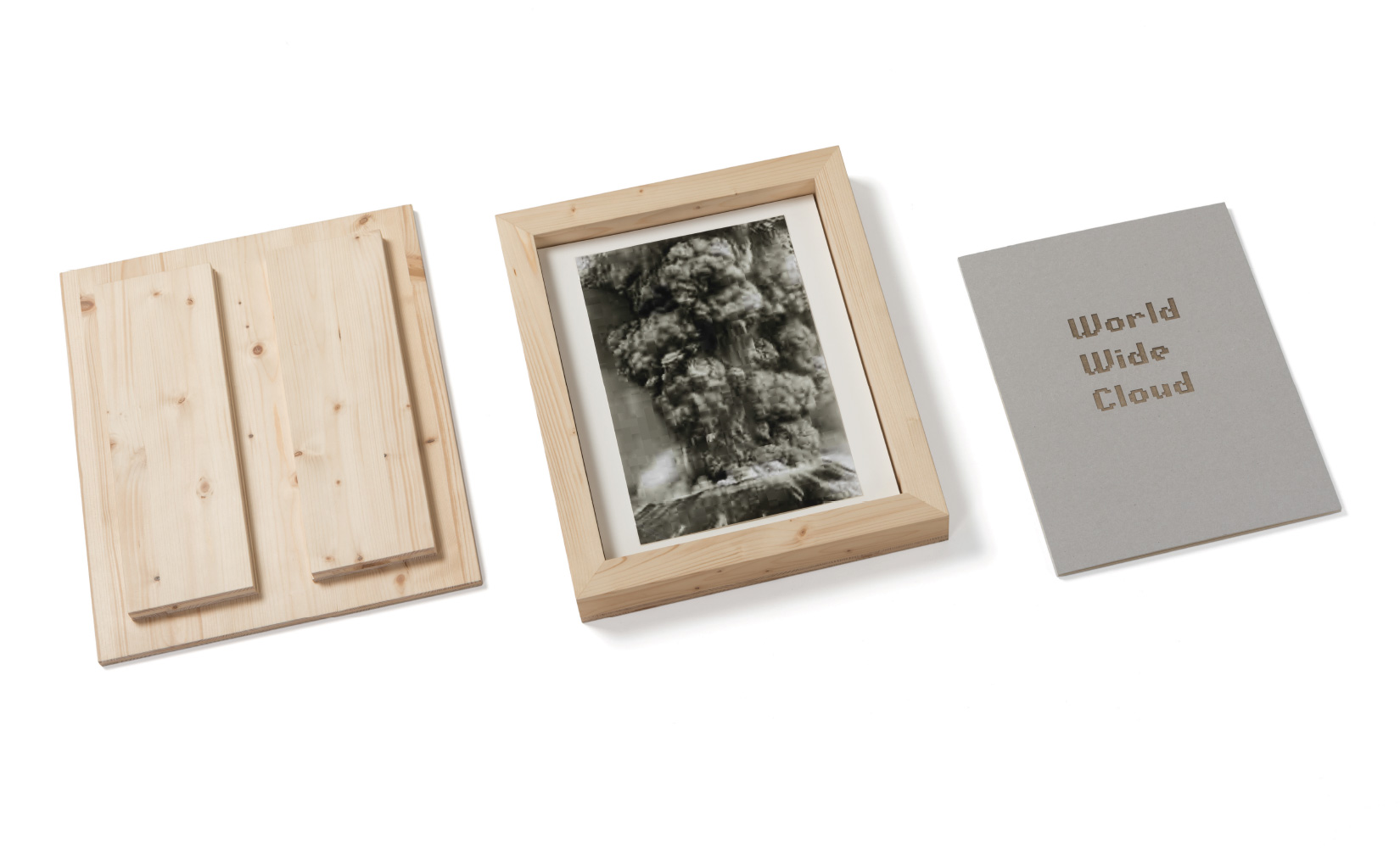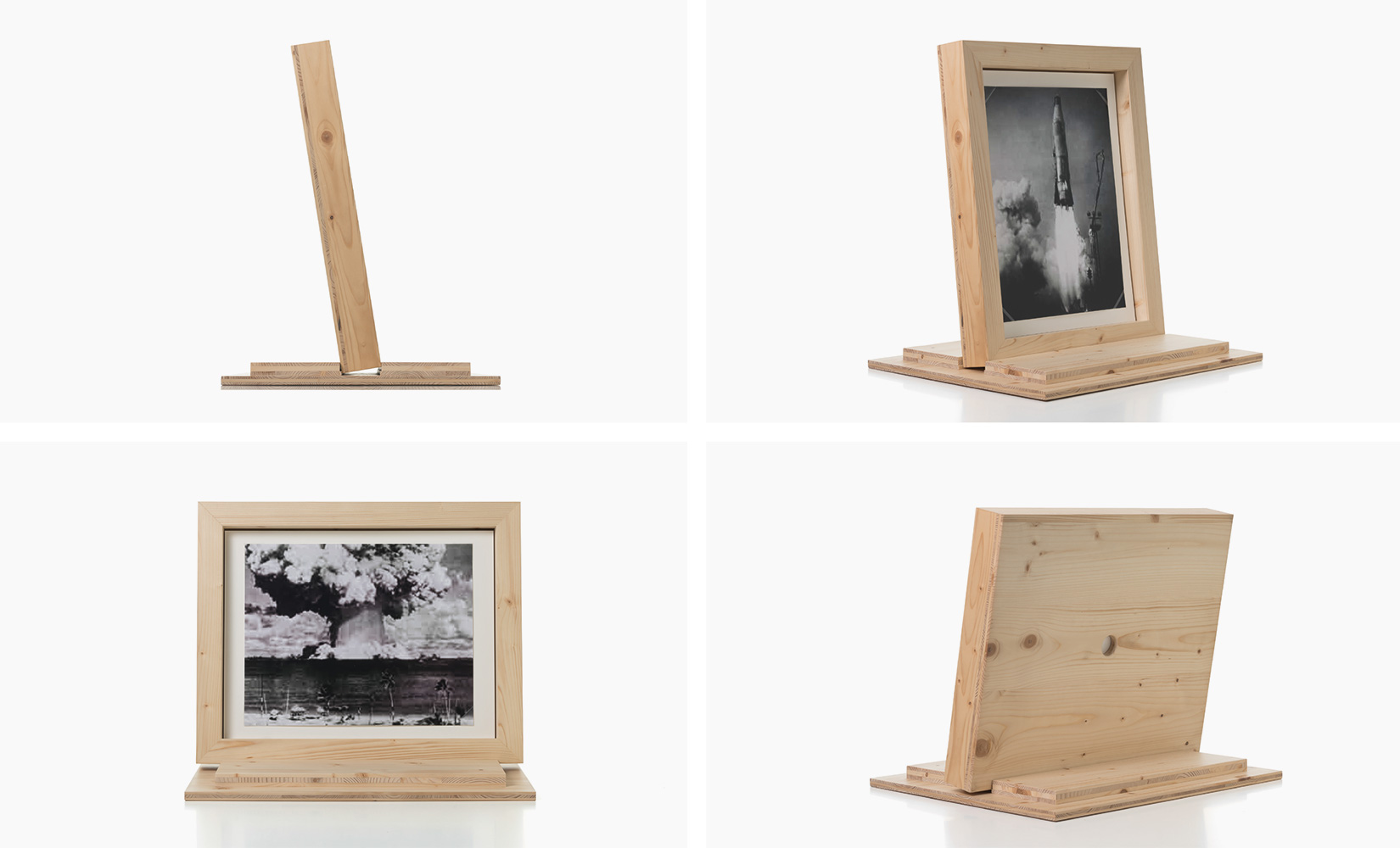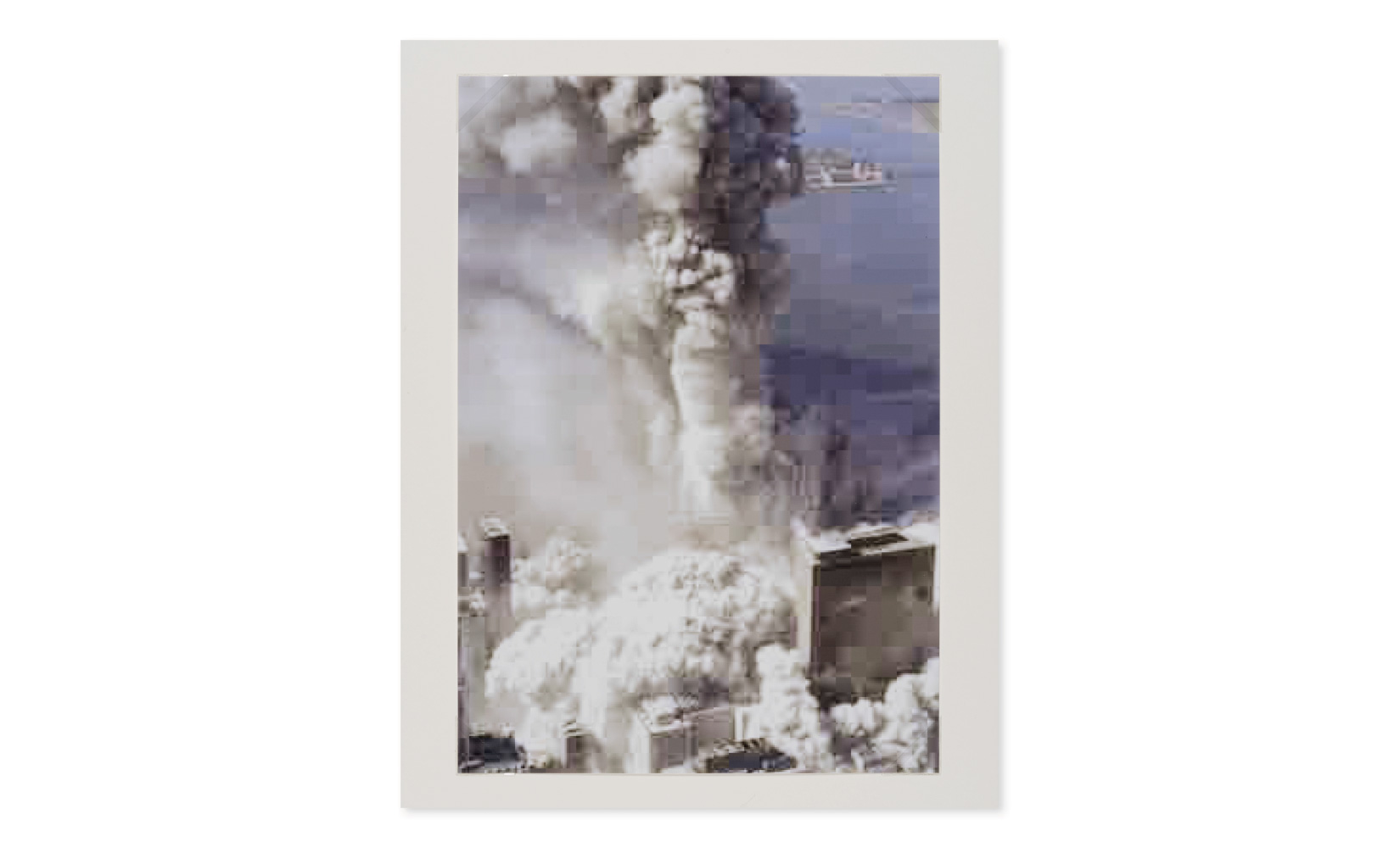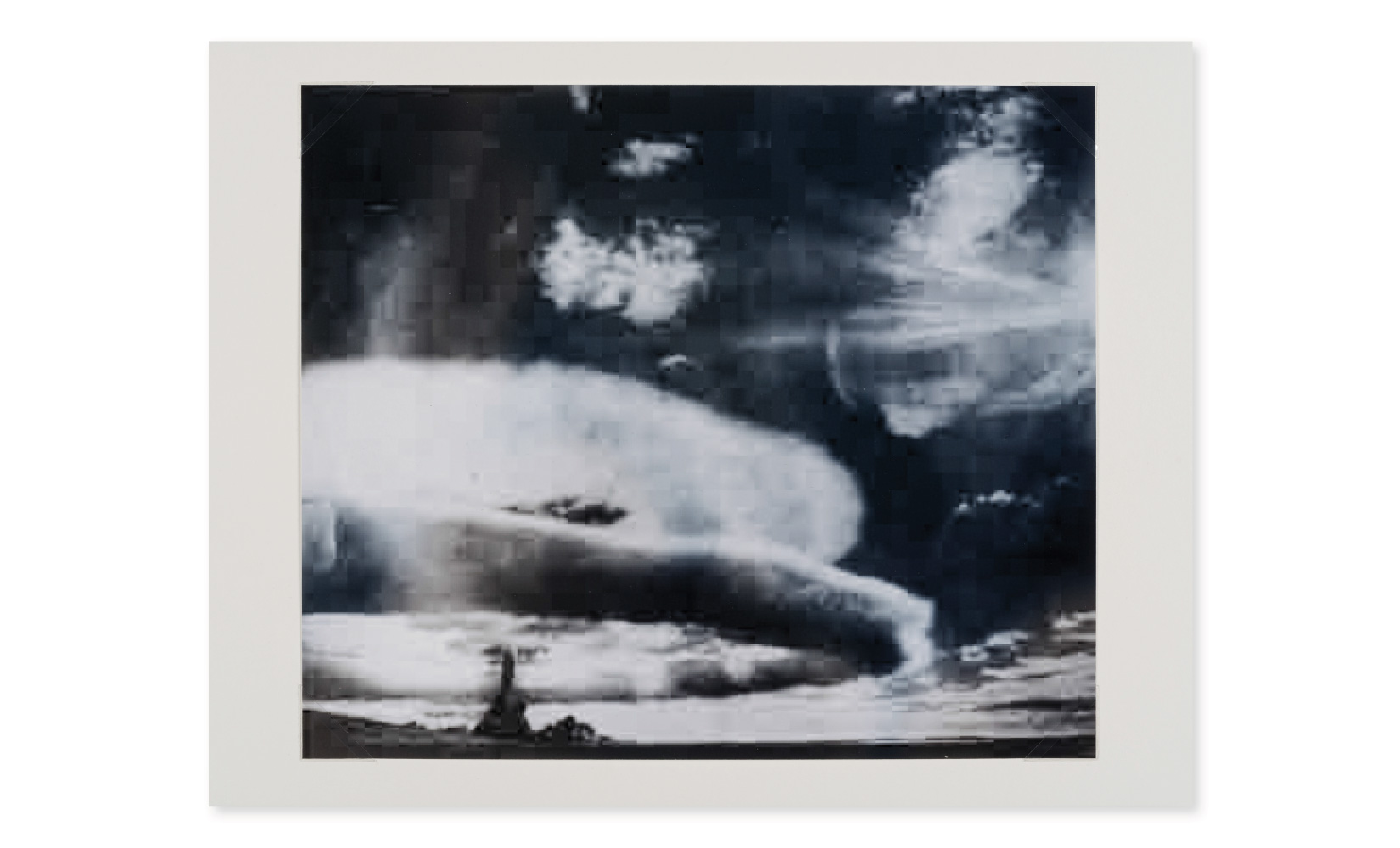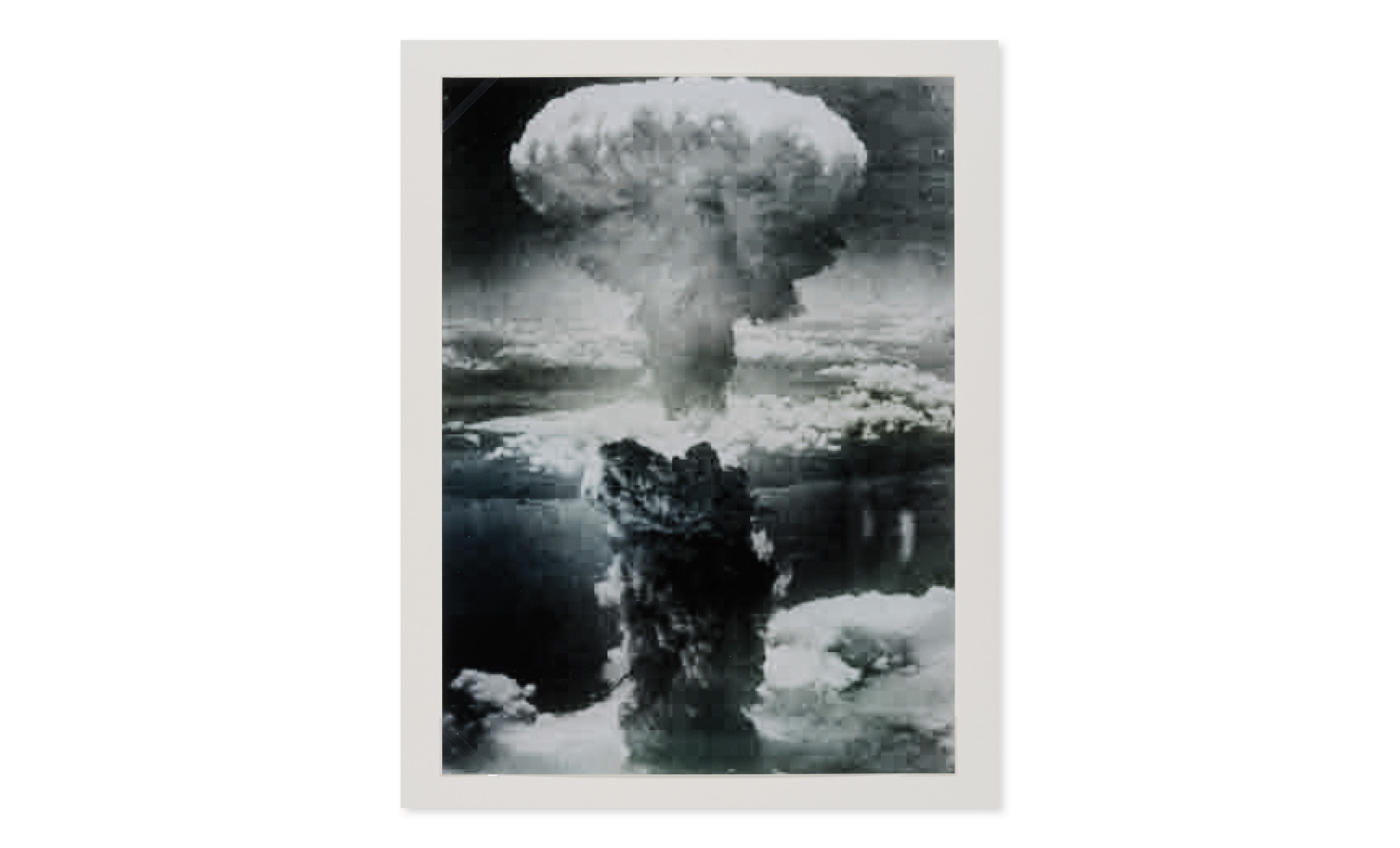 VOL. 42 World Wide Cloud
Thomas Ruff
photographs -
Patrick Bouvet
text -
Herzog & de Meuron
case
For more than ten years now, Thomas Ruff has been gleaning the web for images to use in various series, including the one whose title he has taken from a common digital filename extension: jpeg (formed from the initials of Joint Photographic Experts Group). The resolution of these digital images is a function of the number of pixels they are composed of. Thomas Ruff uses grids of identical dimensions, which determine images of a constant digital "weight." These grids constitute abstractions which, observed from a certain distance, produce traces of images extracted from an unnameable corpus. The images gathered in this work show billows of smoke, destined to disappear, whose causes ―the events that produced them― remain a matter of speculation. They are accompanied by a poem by Patrick Bouvet, which signals the ubiquity of a catastrophe "visible from" Bordeaux, the outskirts of Madrid, Algiers, Tripoli, Kobané, Washington… The upper face of the pinewood container designed by Jacques Herzog and Pierre de Meuron is covered by a printed image ―specially produced for each copy― representing the JPEG image of the wooden lid on which it is printed.
Description
:Each copy contains 10 original signed photographs (chromogenic prints)Pinewood case47,5 x 38,5 x 7 cm Text in French and English Limited edition of 30 copies November 2018
Graphic design:
Olivier Andreotti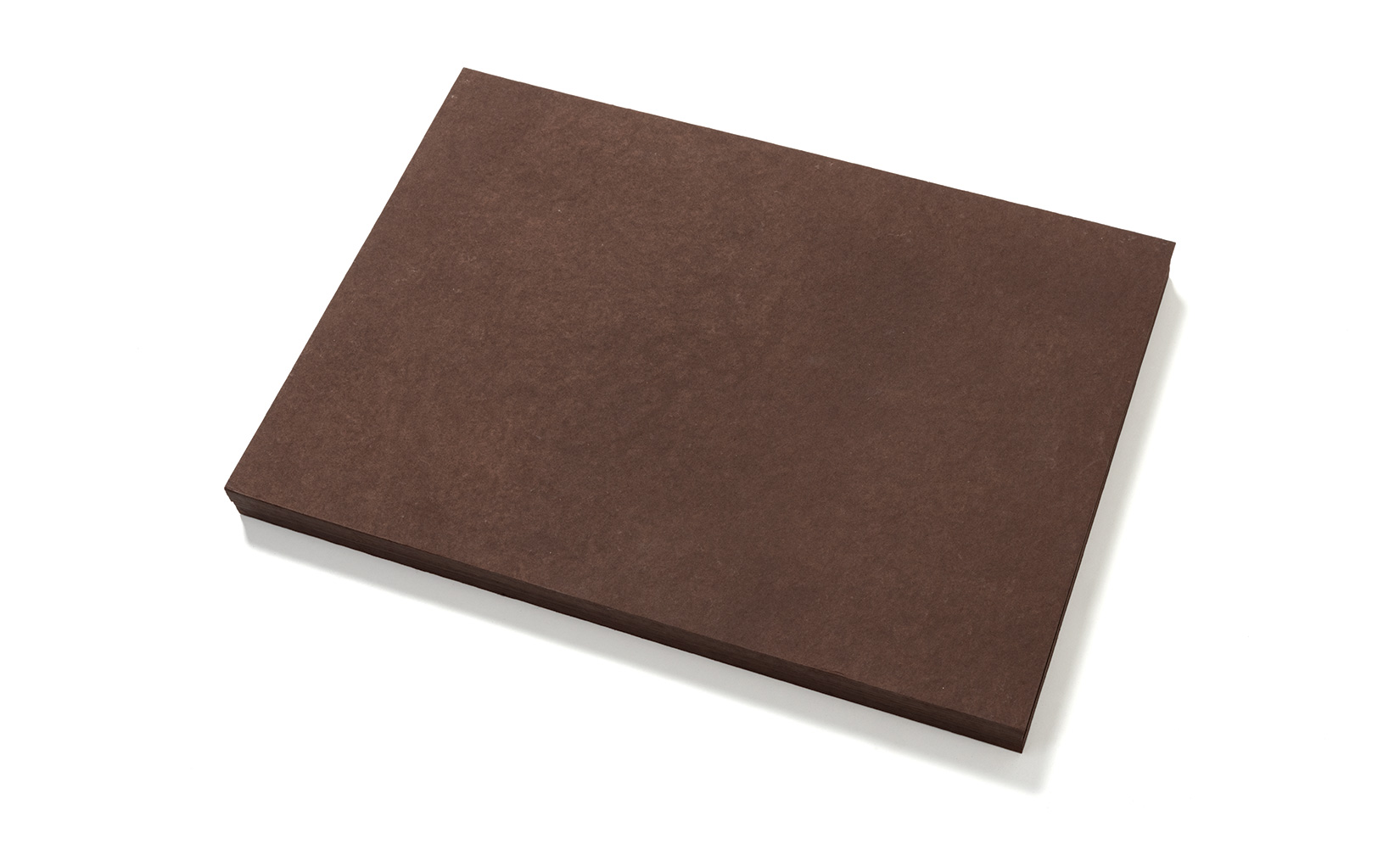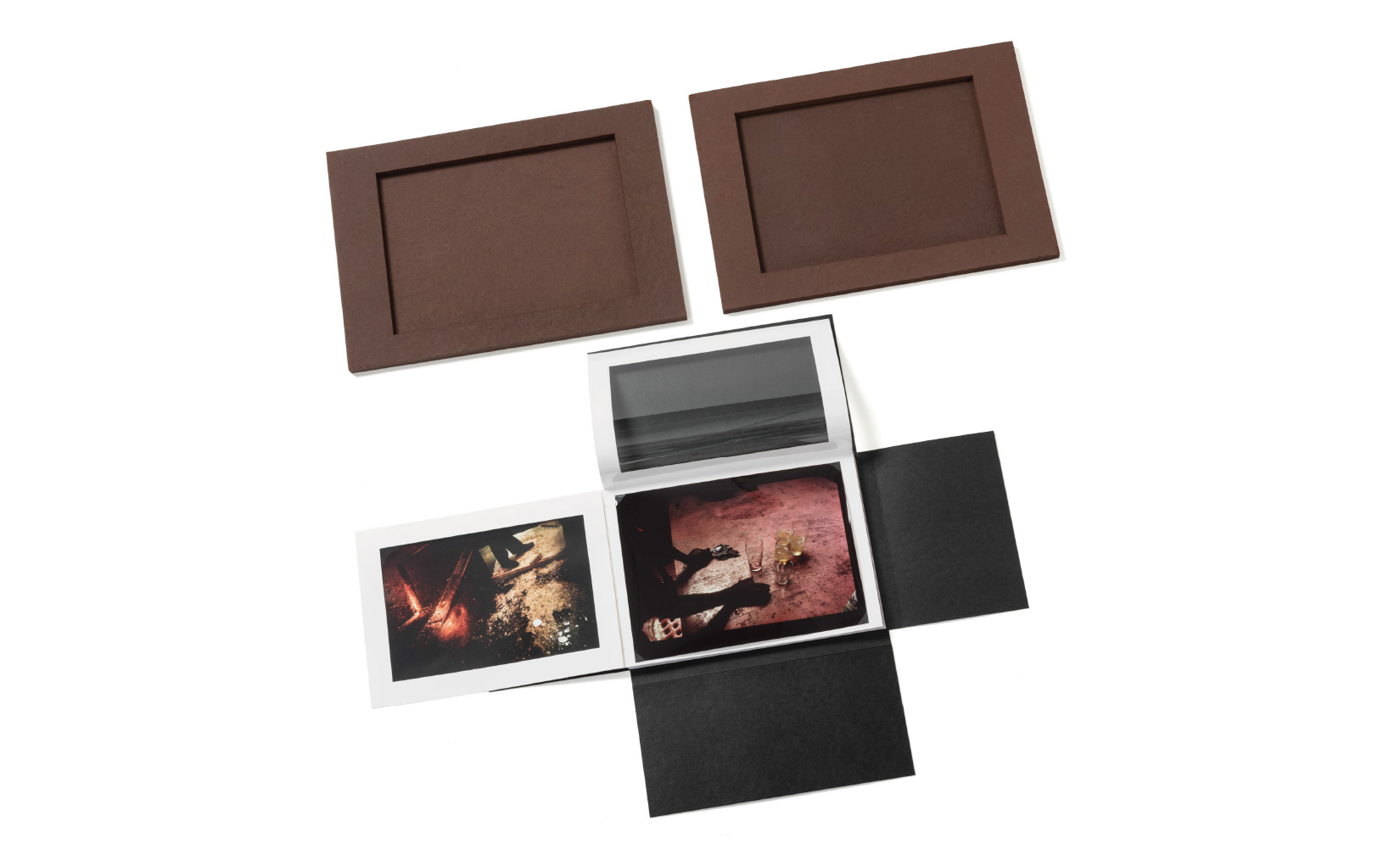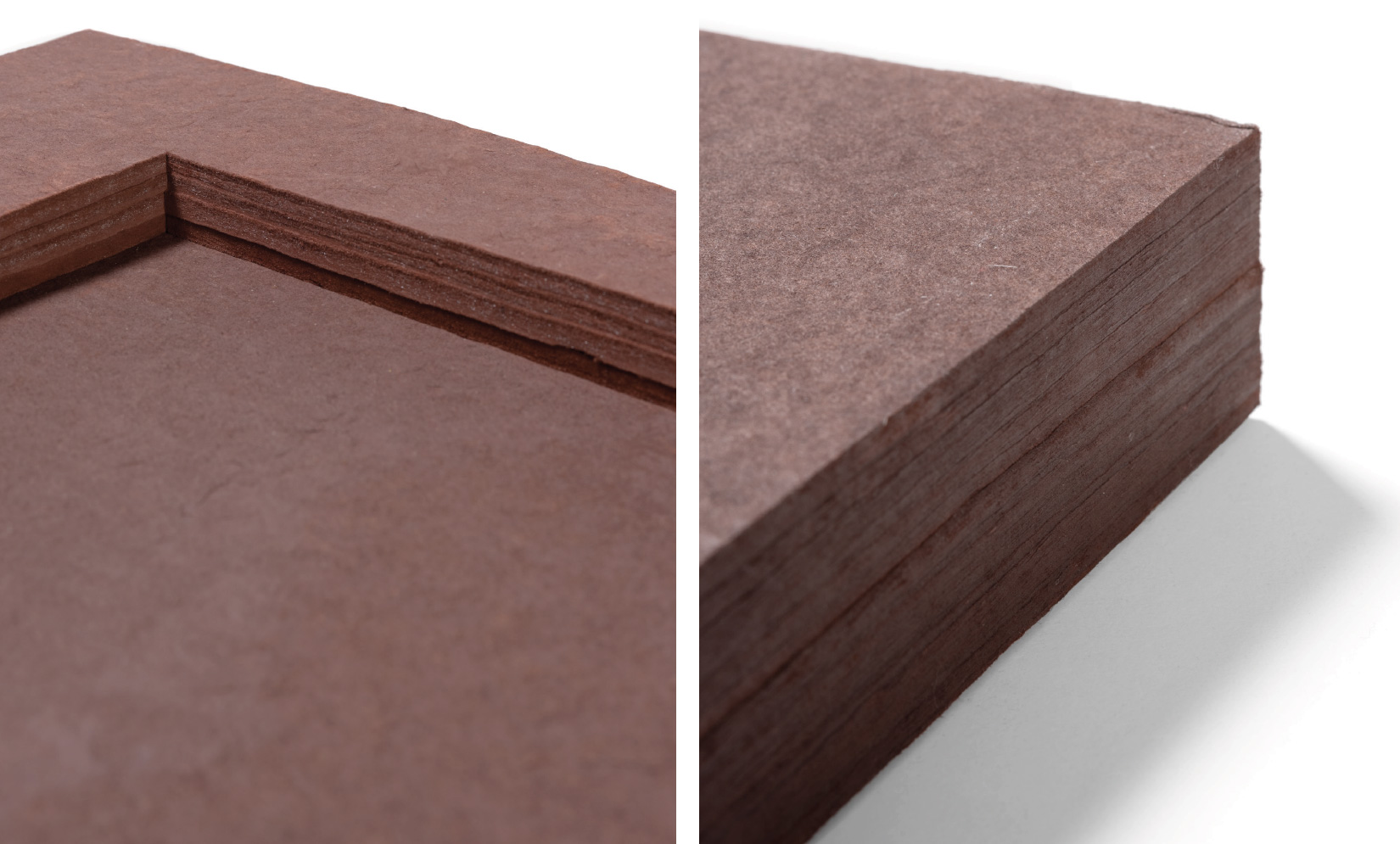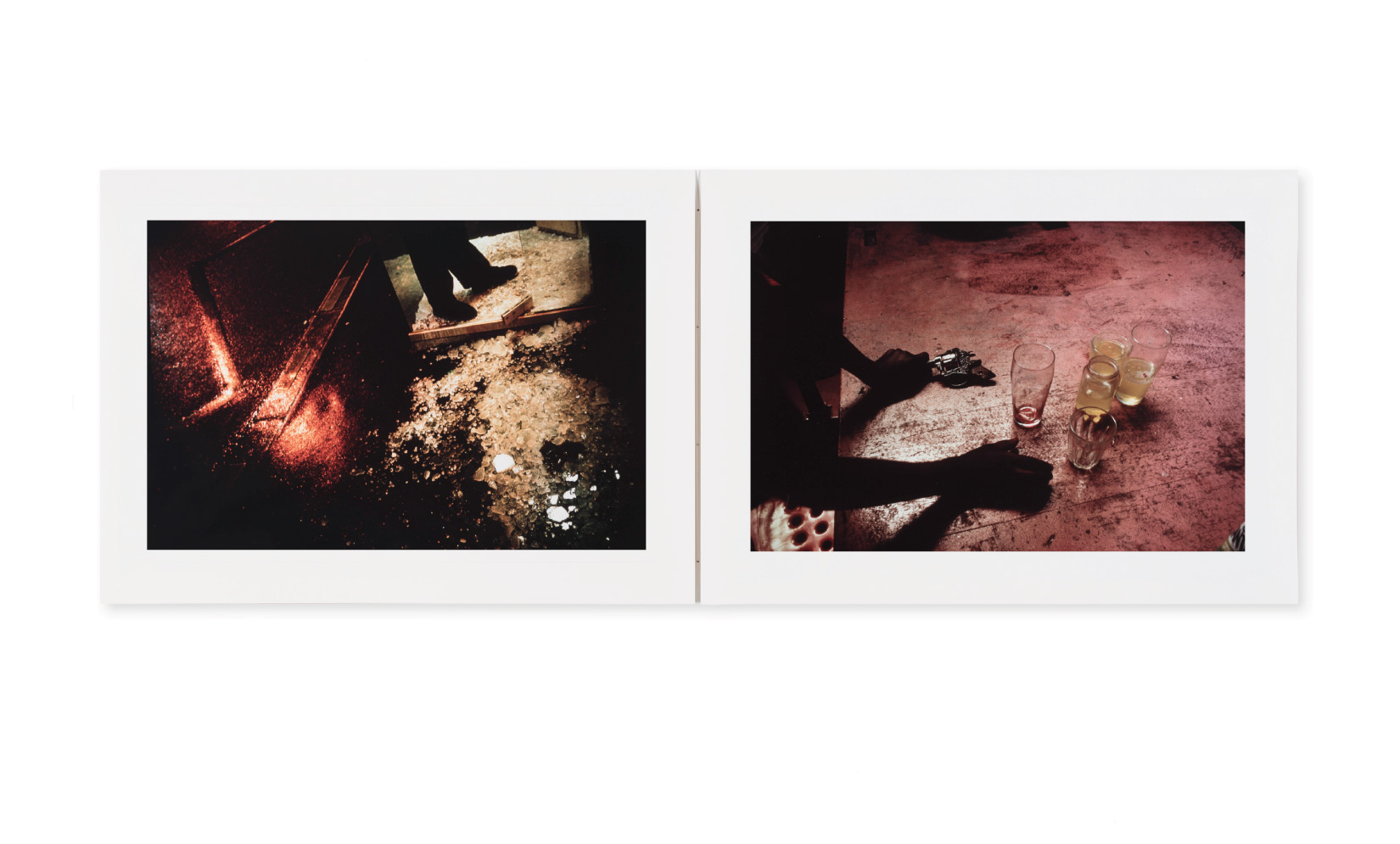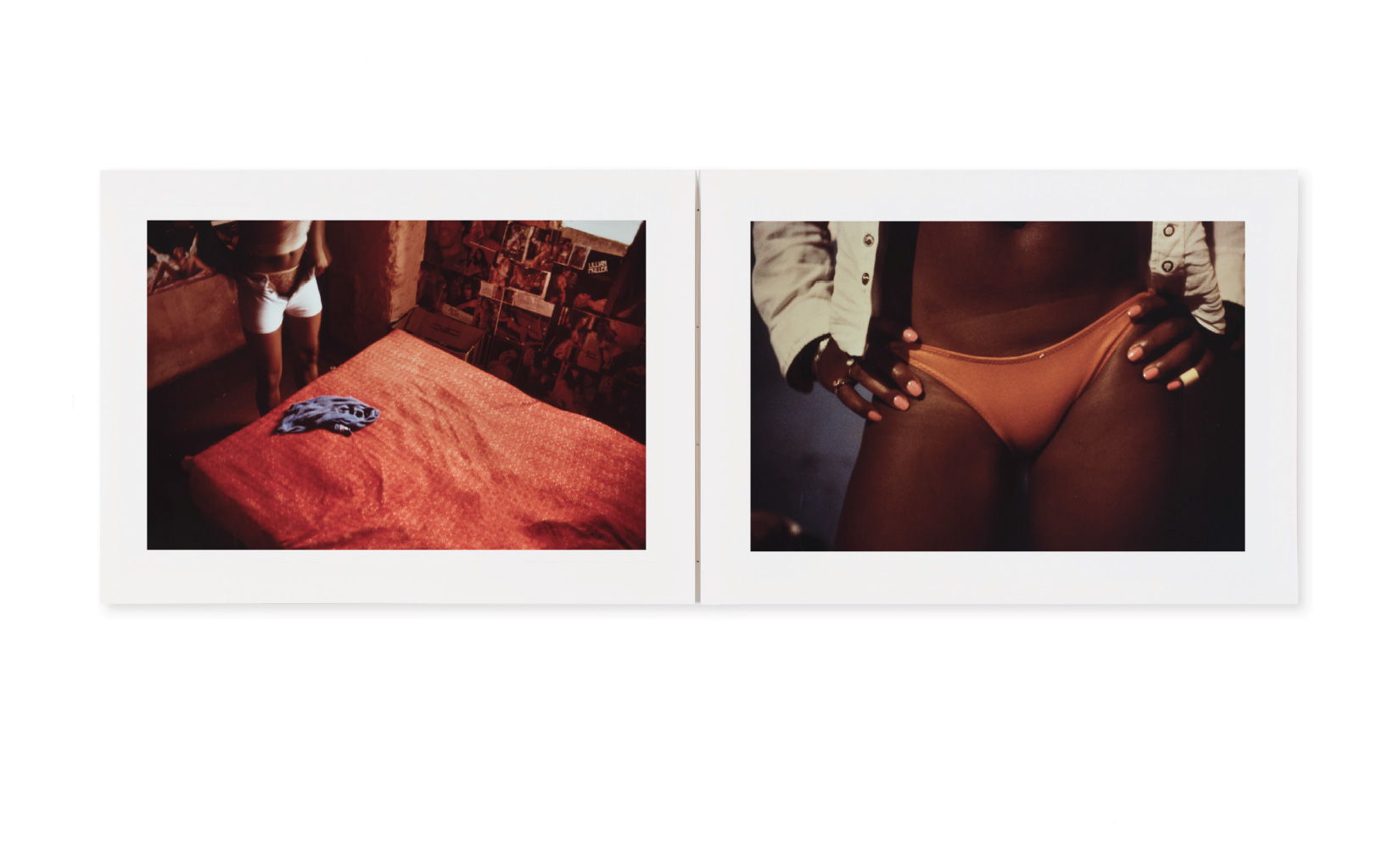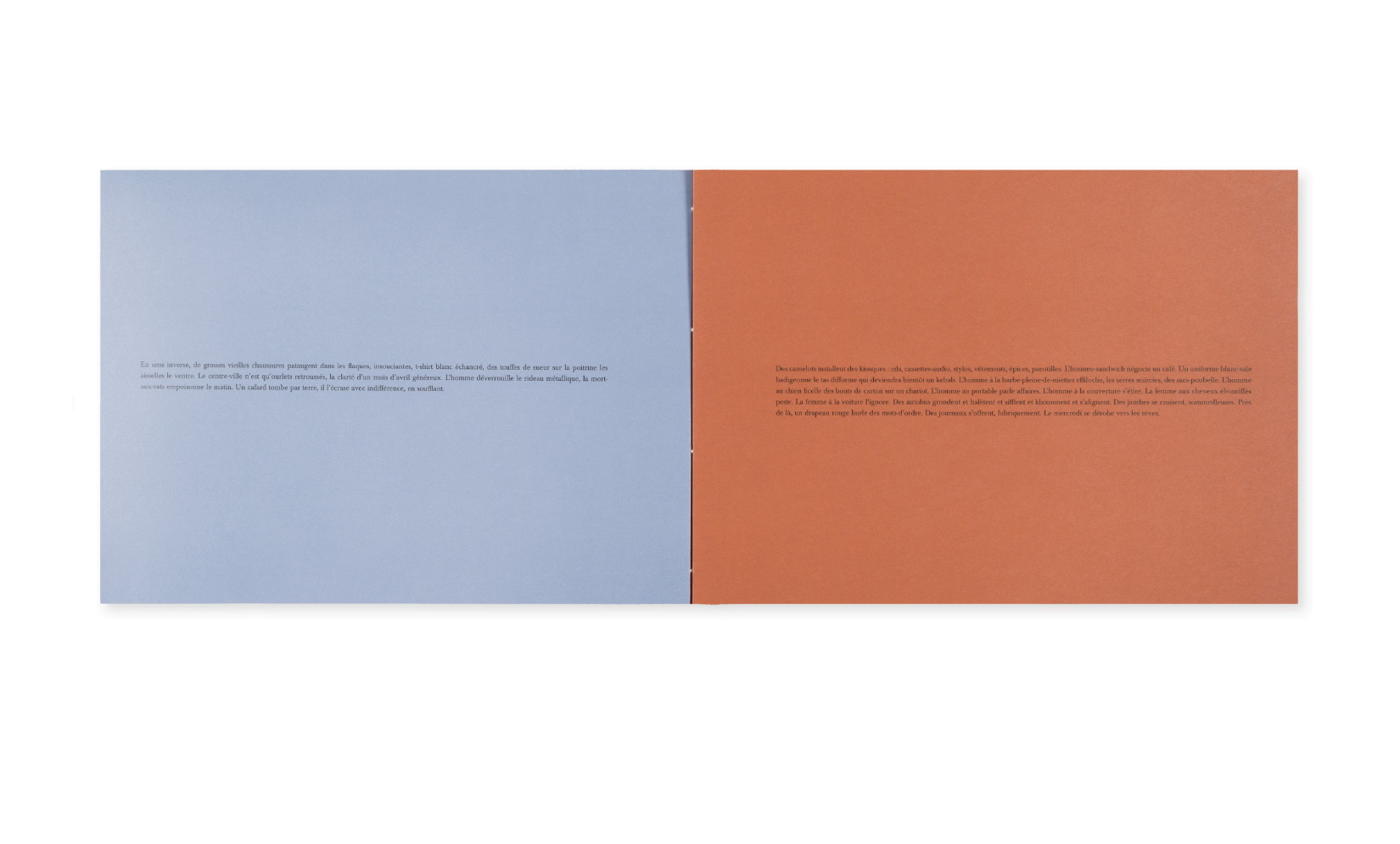 VOL. 41 Cette blessure
Miguel Rio Branco
photographs -
Luiz Ruffalo
text -
Mauricio Rocha
case
"I use images, and also colors, types of light, things that don't stop repeating themselves. There are colors that come from the age of painting, and which I continue to use. When I edit a photograph, it is as though I were repeating elements in a combinatory fashion, as though I were expressing the same idea, but in a different way. A little like what happens in music, as for example with a chord progression by João Gilberto: he takes a melody, develops it, subtly transforms it. It is not a radical transformation, like going from rock to samba, or samba to jazz. Modeling the material, like Morandi, who never stopped painting bottles, and yet they are all different." Miguel Rio Branco
Description
:Each copy contains 16 original signed photographs (Cibachrome prints)Case made of cotton handmade paper with natural earth pigments36,5 x 50,5 cm Text in French Limited edition of 20 copies November 2018
Graphic design:
Olivier Andreotti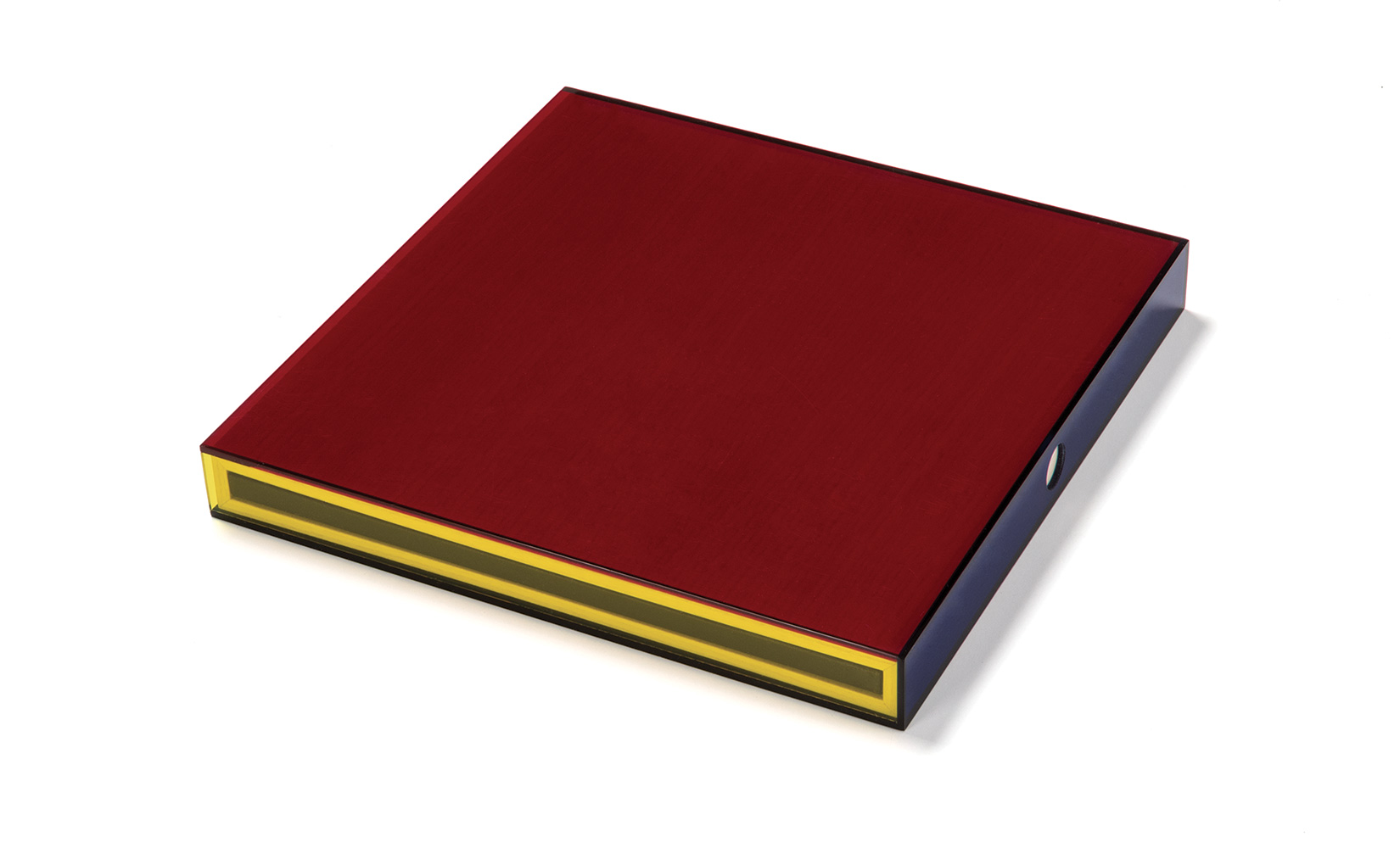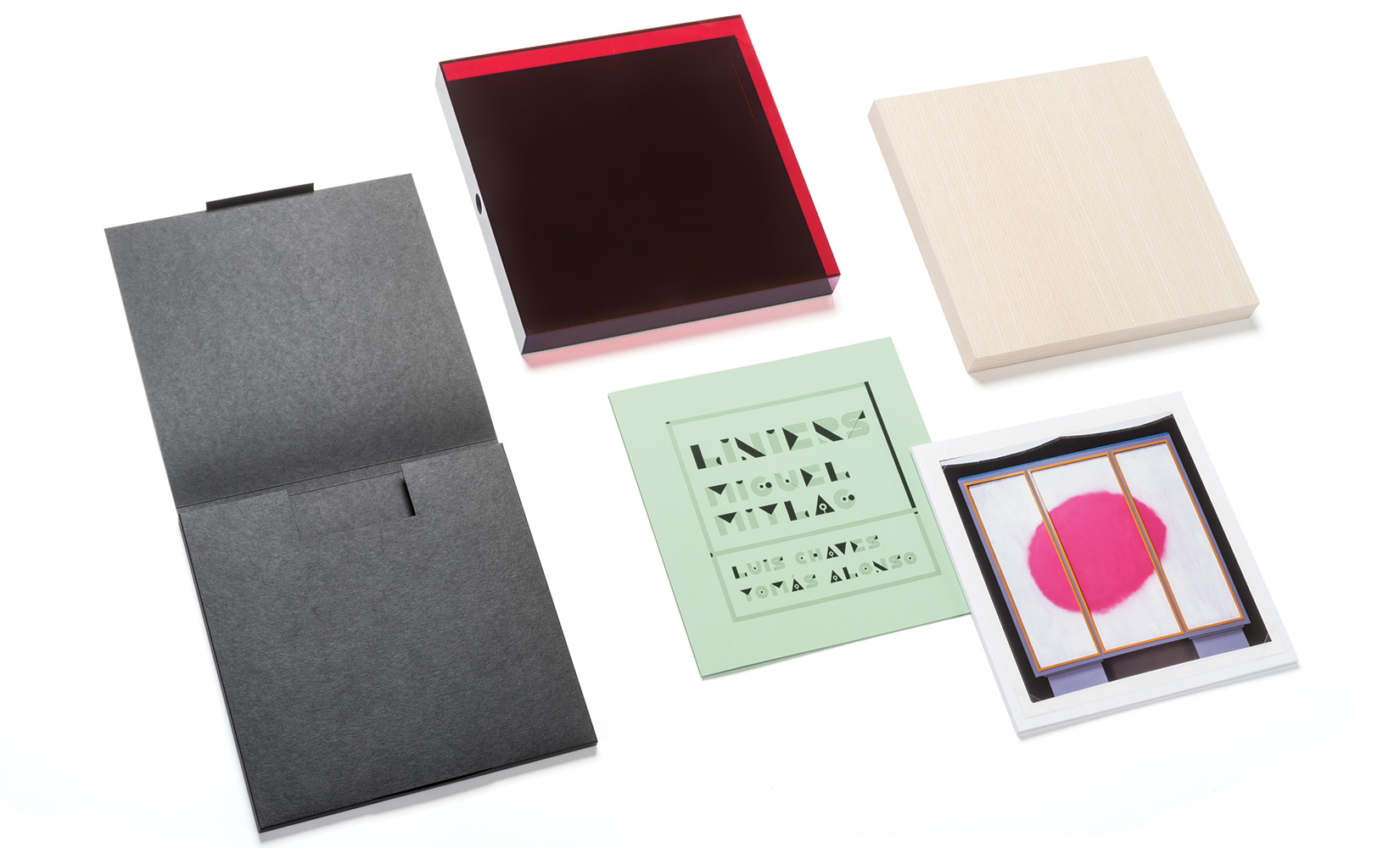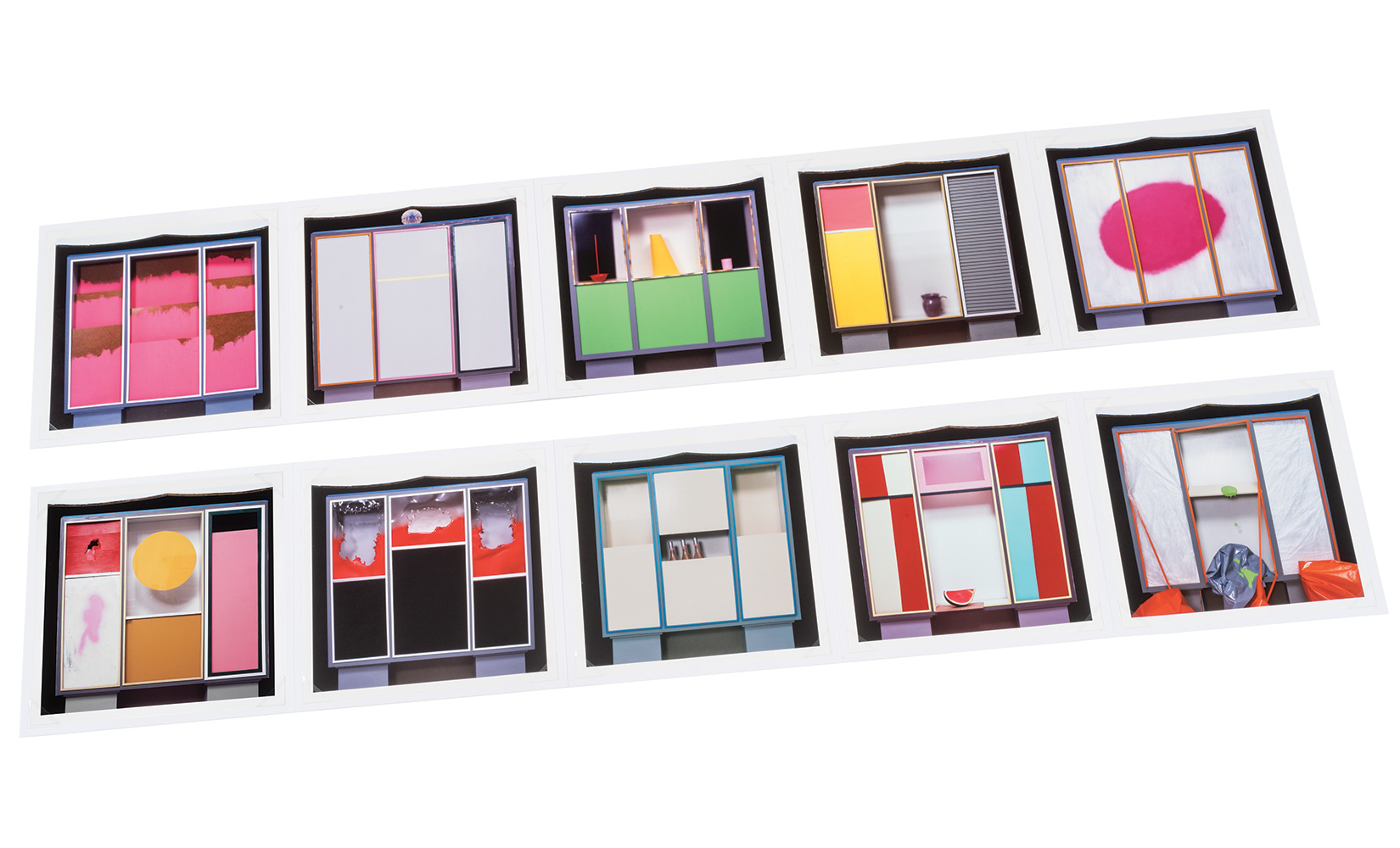 VOL. 38 Liniers
Miguel Mitlag
photographs -
Luis Chaves
text -
Tomás Alonso
case
Miguel Mitlag (Argentina, 1969) has been taking photographs for fifteen years. His early photographs documented actual places, which he would subtly modify by almost imperceptible additions. He then began to construct the spaces he photographed, producing images of a singular intensity, of a shifting, uncertain consistency, which he describes as "pseudo-realist." His color compositions depict everyday objects arranged in deliberately distanced and artificial settings. Stripped of all human presence, they nevertheless bear the traces, possible or imaginary, of the use to which they have been put.
Description
:10 original signed inkjet photographsSetacryl and ash slipcase30 x 30 cm Text in Spanish & French Limited edition of 10 copies + 5 H.C November 2016
Graphic design:
Olivier Andreotti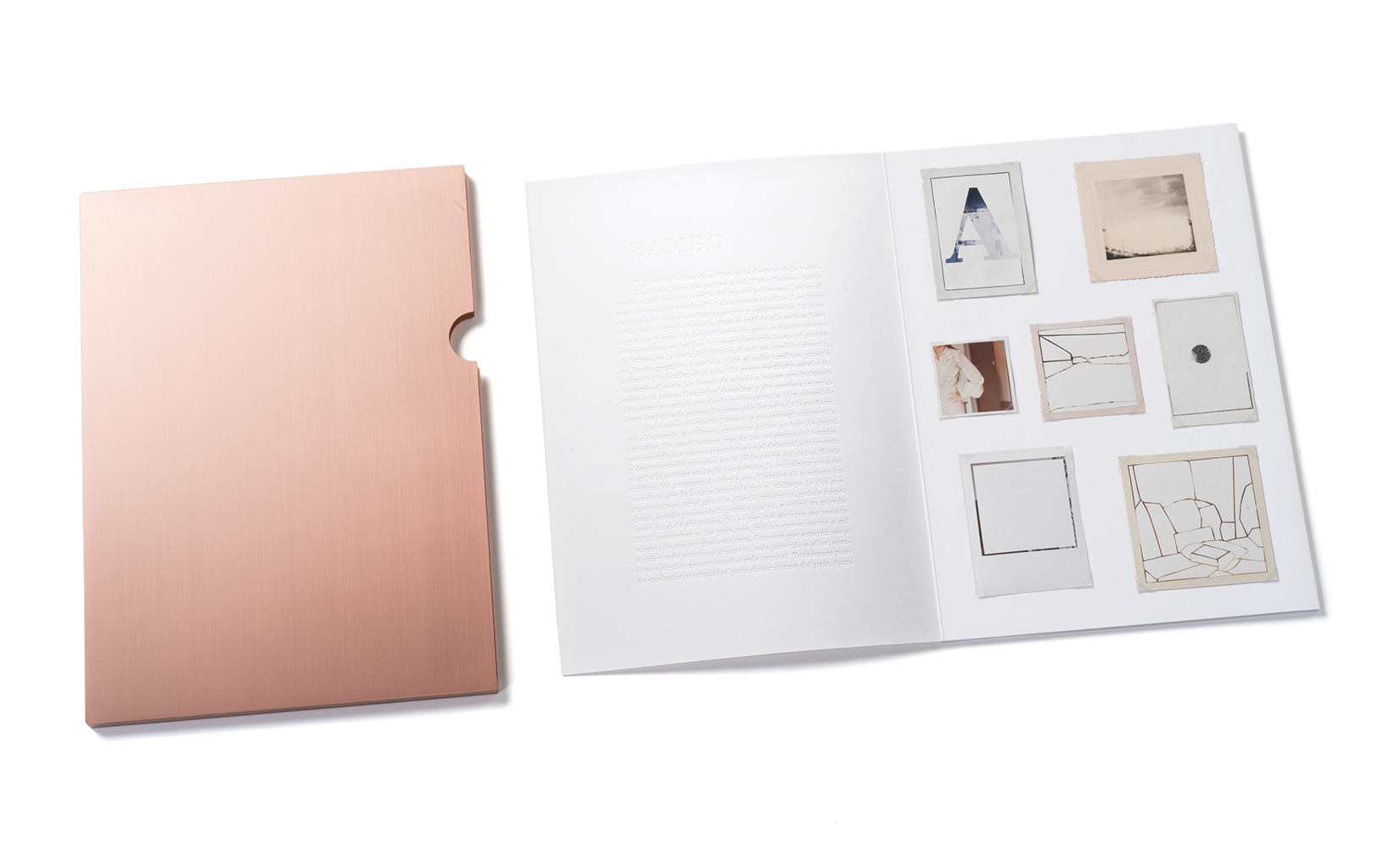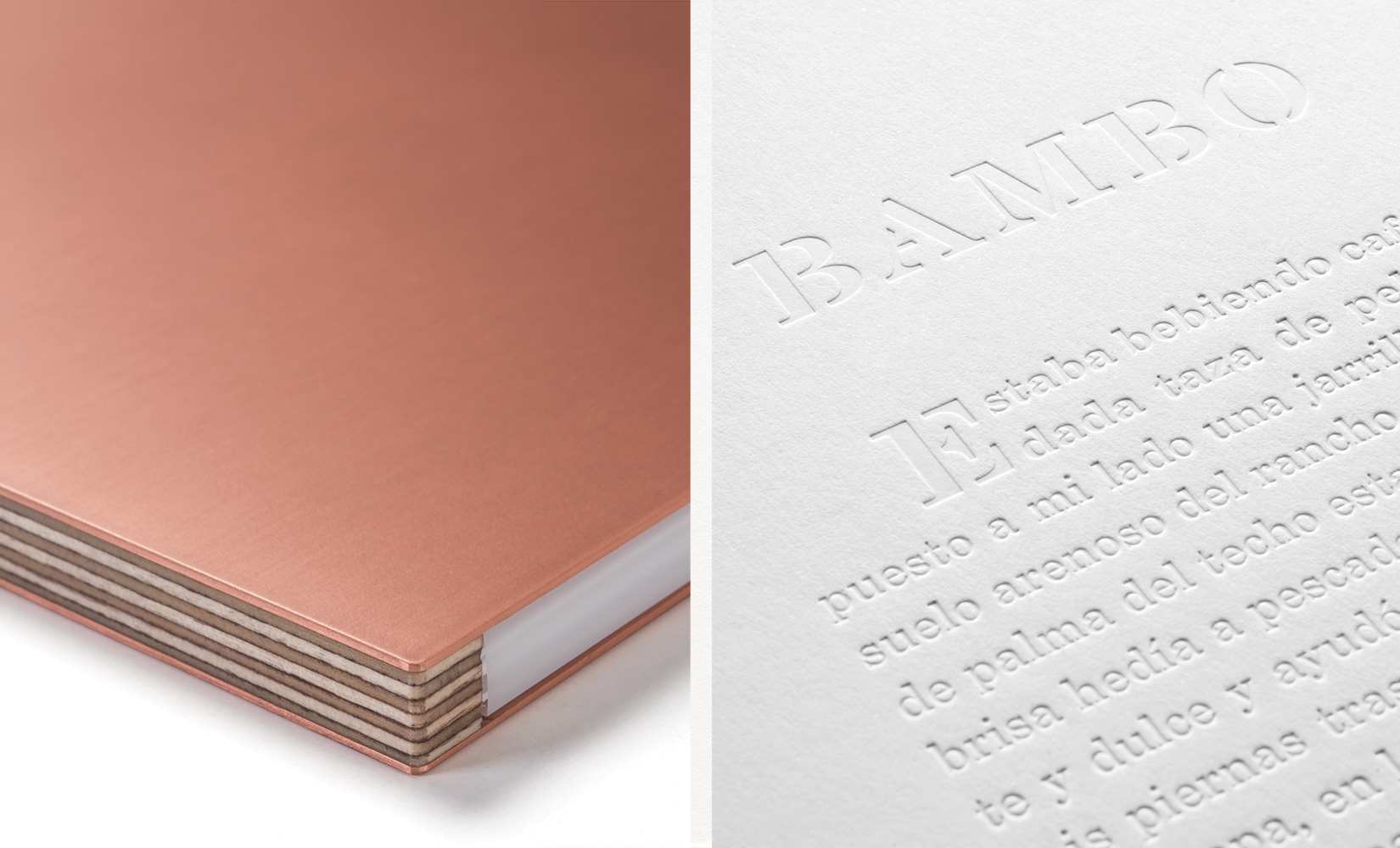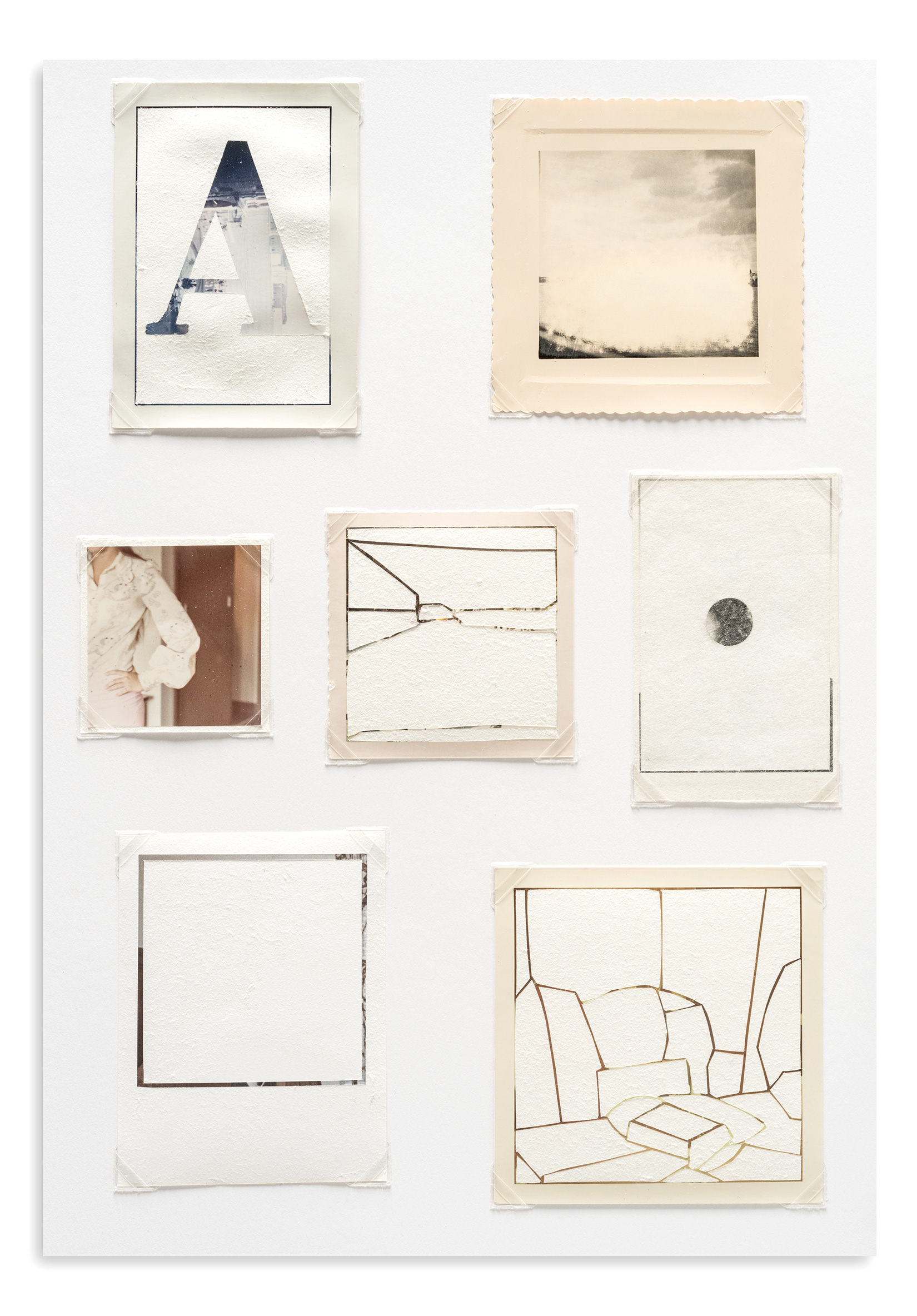 VOL. 35 Dibujos fotográficos
Johanna Calle
photographs -
Eduardo Halfon
text -
Olivier Andreotti
case
Johanna Calle (Colombia, 1965) appropriated and intervened a group of anonymous Polaroid prints from the 1970's, a tumultuous era in Latin American history filled with campaigns of political repression involving the disappearances and assassinations of political opponents, implemented by the dictatorships in place. The Colombian artist, here, builds images by obliterating information in order to reveal a new reality, outlining the negative spaces and memory gaps in Latin American history.
The works investigate the notions of disappearance of the physical body, in reference to the kidnappings that shook the history of her country. "Erasing, cutting, replacing or covering", she says, "emphasize the fact that there is something missing. No matter how exhaustive these actions are, there are always residues that point out that what is absent; there are often traces that are barely visible. It could be said that these processes are strategies particular to drawing or any form that modifies a surface with a voluntary gesture. These actions represent for me a controlled way to obtain eloquent images through a criticism of dominant powers."
For Johanna Calle the medium of drawing is similar to a language that is constantly adapting itself, integrating new expressions, voices and terms. The dynamism and versatility that she finds in different forms of drawing allow her to work with an array of materials.
Description
:5 Every copy includes 7 anonymous prints, intervened and signed by Johanna Calle.Copper & wood case35 x 23 x 2,5 cm Text in Spanish & French Limited edition of 27 copies November 2015
Graphic design:
Olivier Andreotti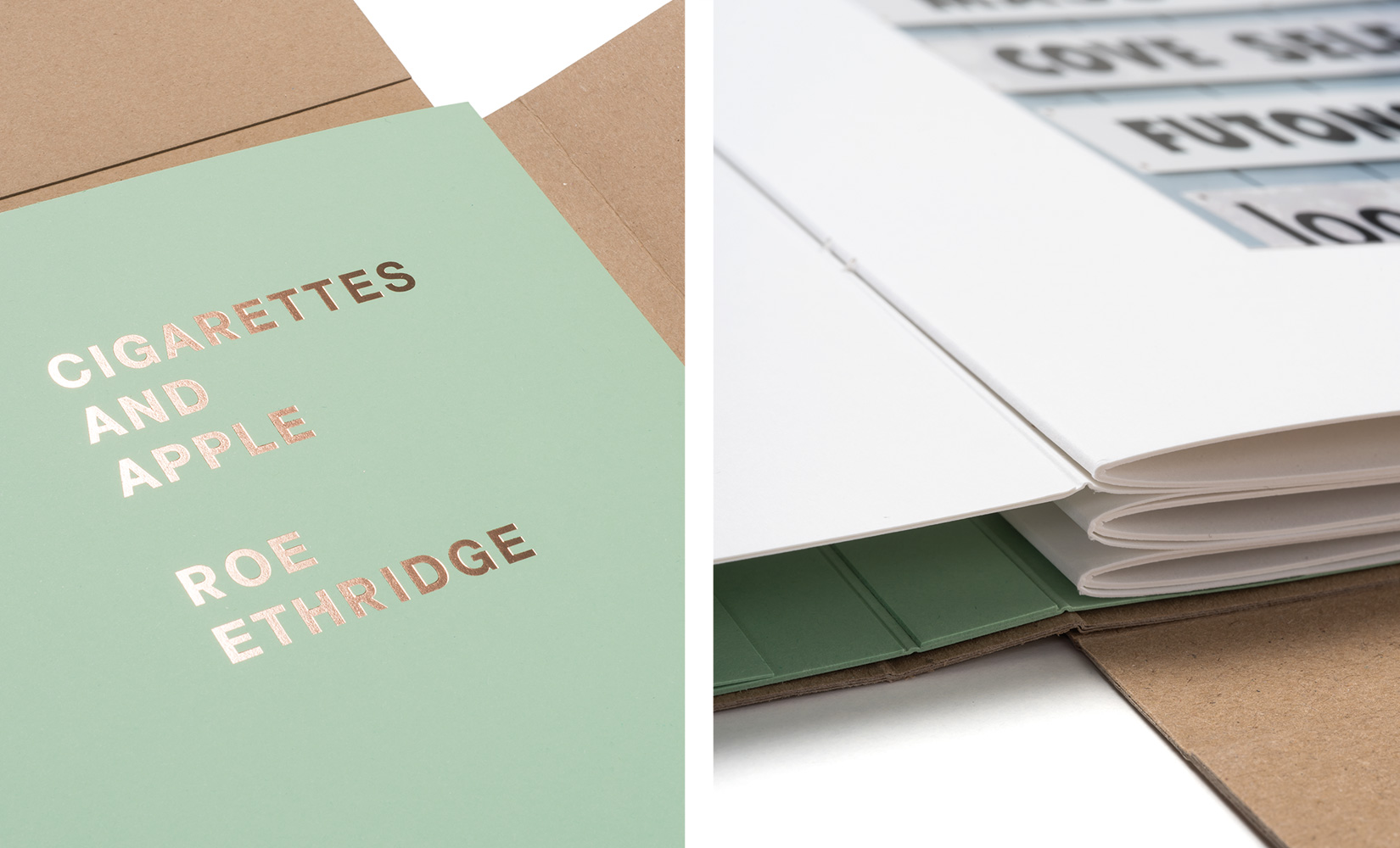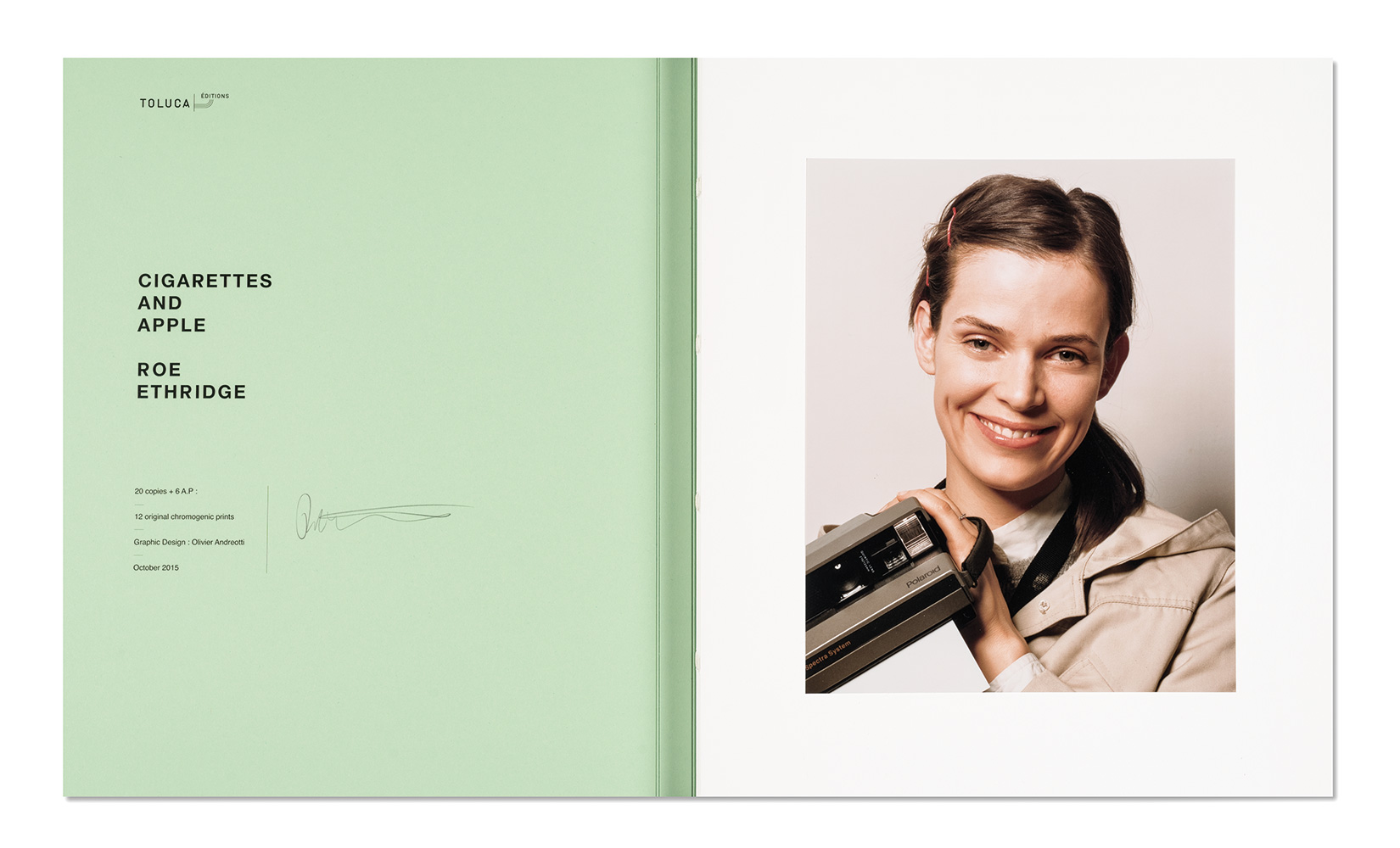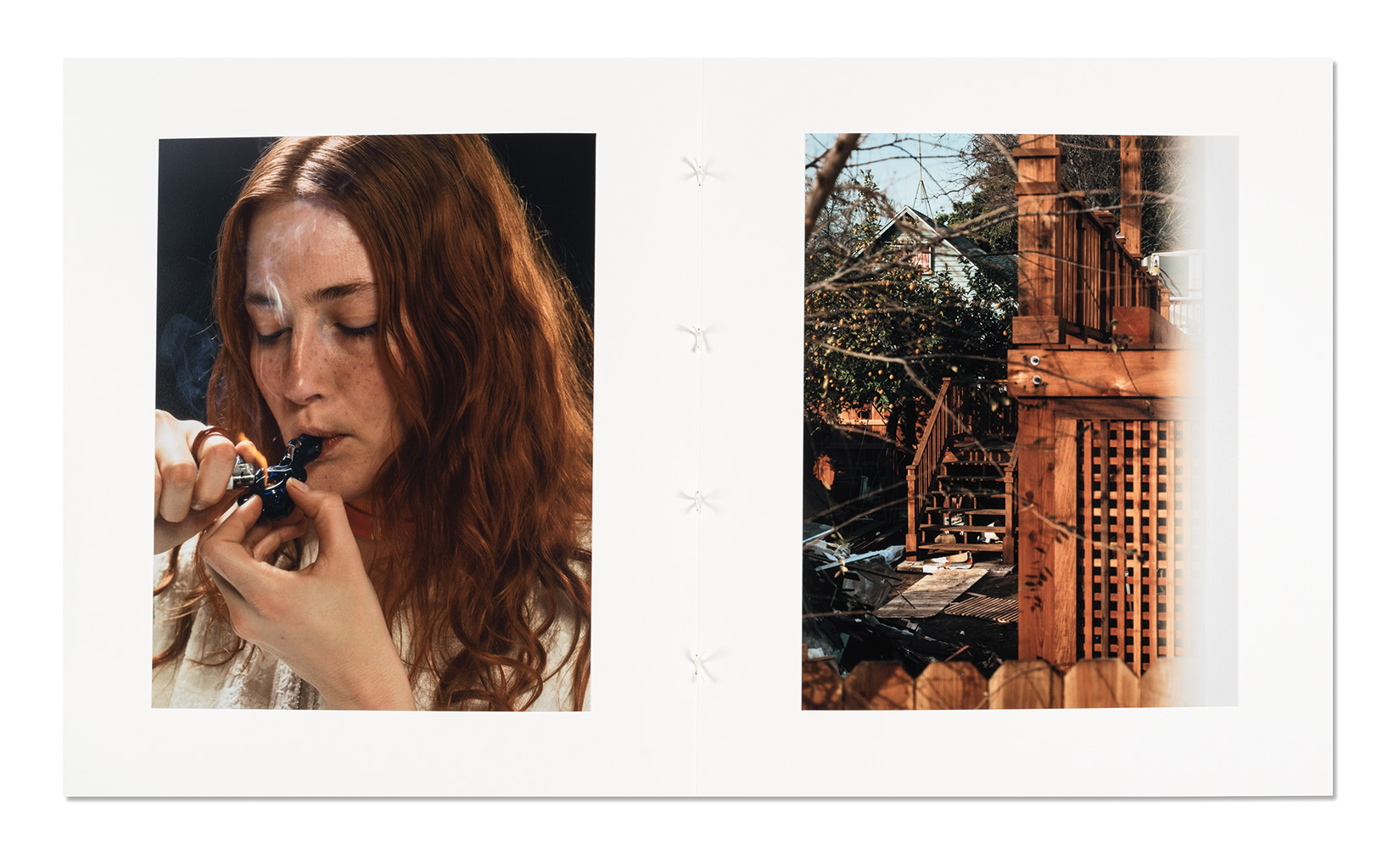 VOL. 34 Cigarettes and apple
Roe Ethridge
photographs
"Is there a nerve or a feeling that draws Ethridge's disparate photographs together? What makes him tick? Within his jangled typologies, he creates a subtle contrapuntal structure, as one image plays off another by analogy and/or dissimilitude. I am reminded of Wallace Stevens's "The American Sublime," of the "empty spirit / In vacant space."
[…]
He has a real eye for beauty," a painter said to me. This bland comment actually cuts to the core of what makes Ethridge that extra-special photo guy. Beauty, however, isn't convulsive; it's chill. You know what I mean?" David Rimanelli
Description
:12 original chromogenic prints, signed by Roe EthridgeCase made of cardboardJapanese binding35,5 x 31 x 2 cm Limited edition of 20 copies  + 6 A.P October 2015
Graphic design:
Olivier Andreotti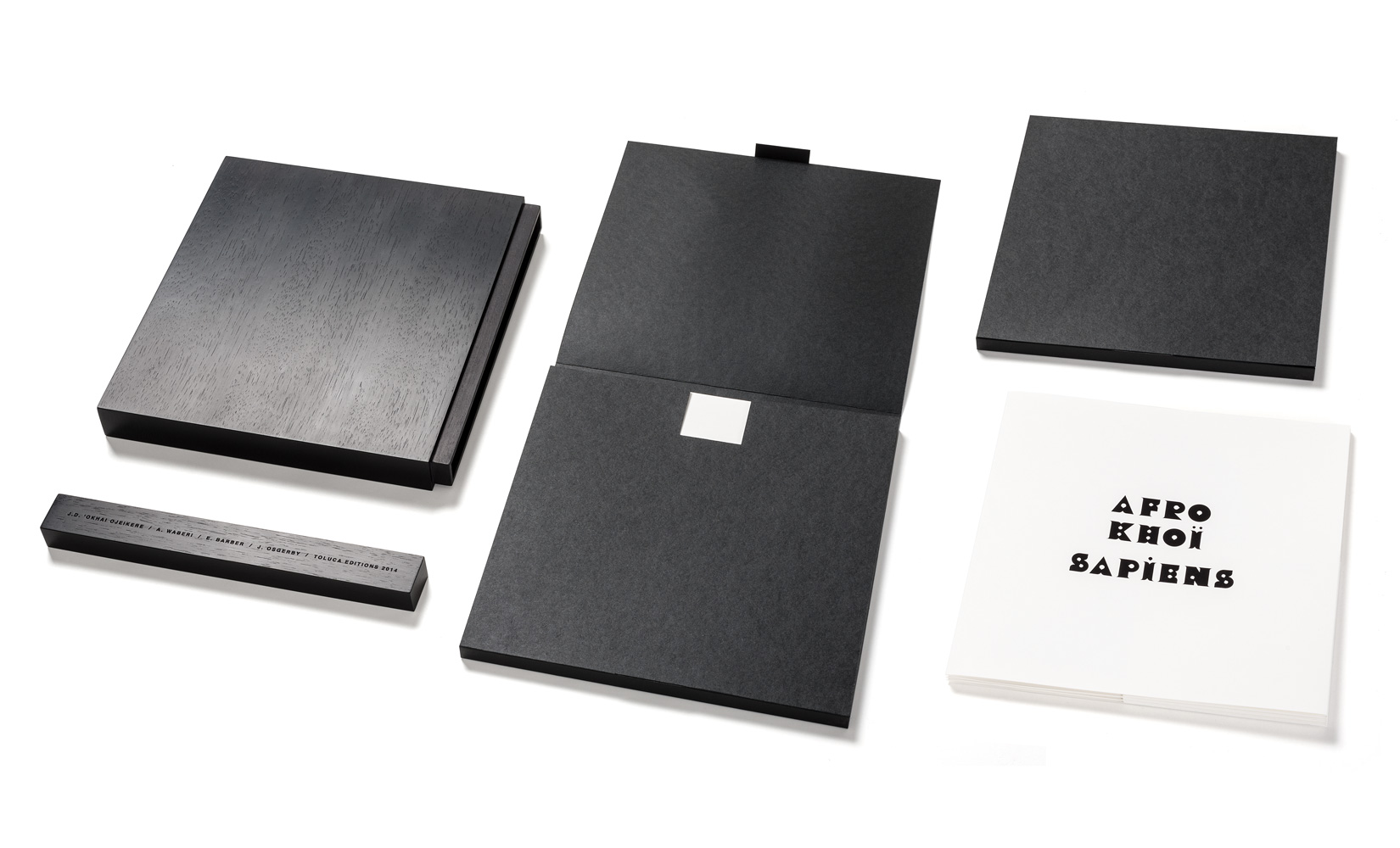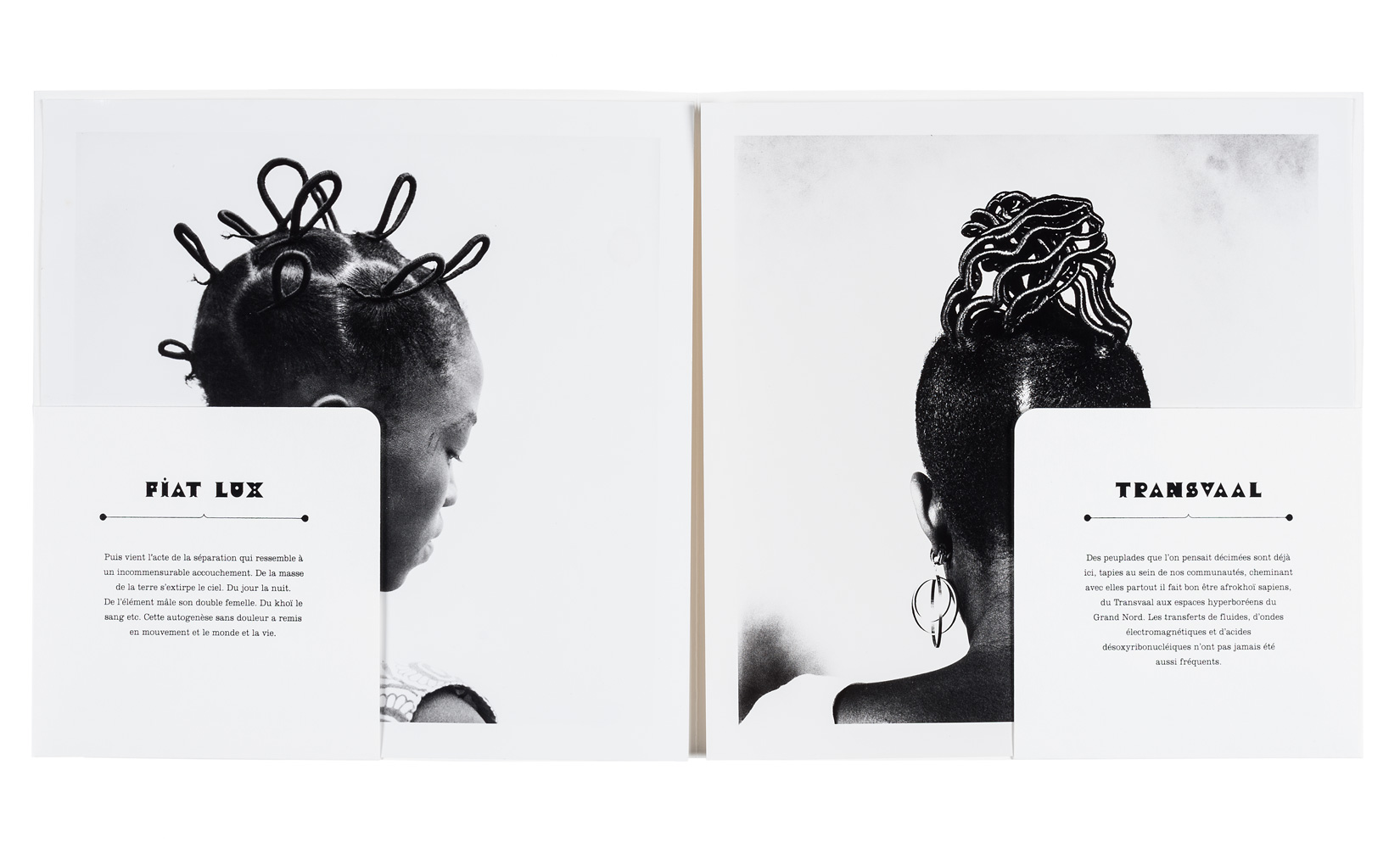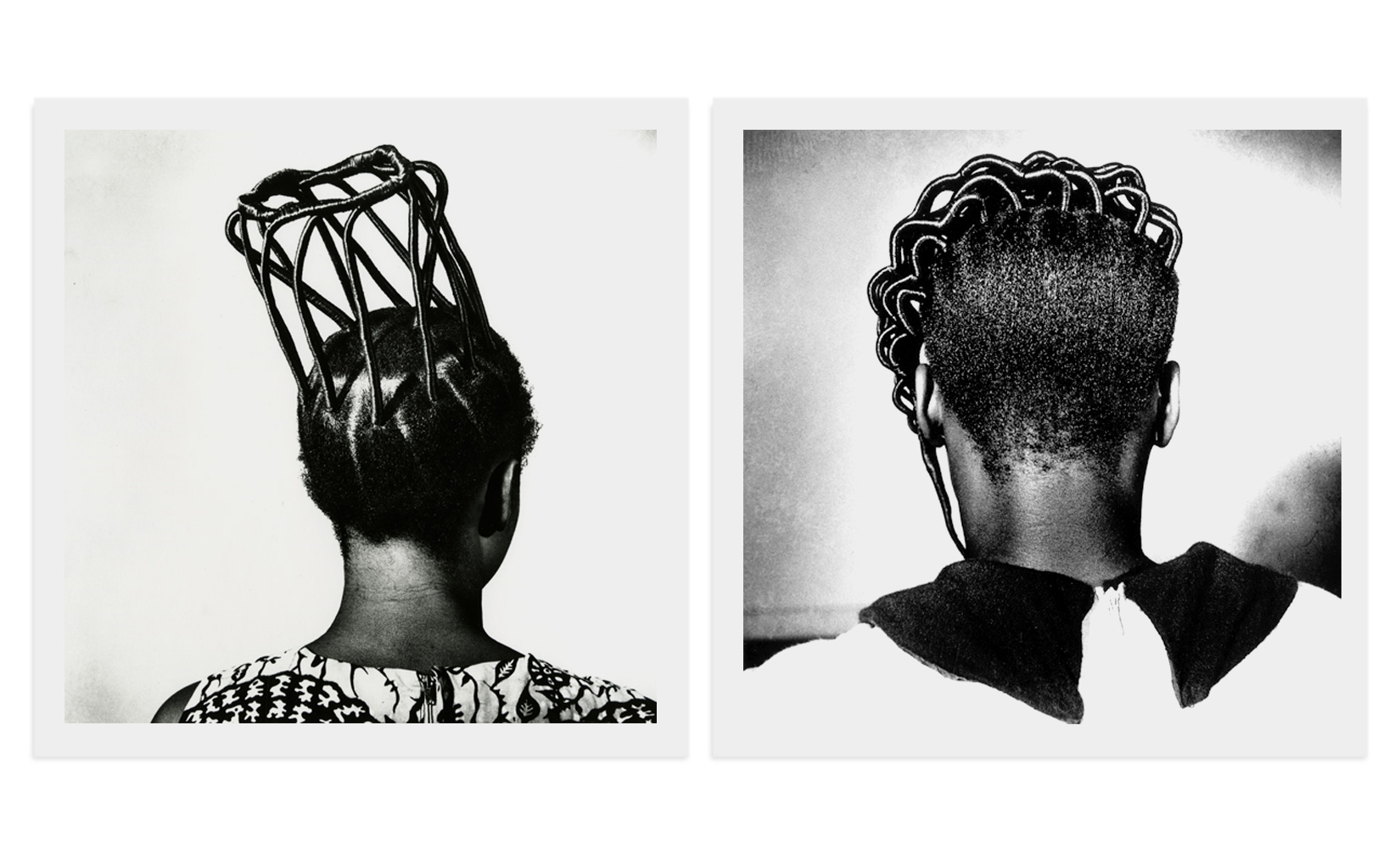 VOL. 32 AFROKHOÏ SAPIENS
J.D. 'Okhai Ojeikere
photographs -
Abdourahman A. Waberi
text -
Barber & Osgerby
traycase
Relentlessly, over a period of thirty years from 1968 to 1999, Ojeikere amassed over 1000 photographs, documenting the ephemeral creations of women, "artists of hair". The hairstyles are mostly shot from three angles, generally from the back to accentuate their abstract and sculptural aspect.
These hairstyles are as much an embellishment of the women for whom they are made as a statement about their social status. They are often associated with ceremonies and are profoundly anchored in the history of the country. The hairstyle, "Ogun Pari", which literally translates as "the war is over," was created when the civil war came to an end in 1970 and was a favourite, during the decade that followed, among young girls who wanted to socialise with their friends. "Onile Gogoro Kiko" describes the style of raising the hair in knotted braids above the head, a hairstyle working women often chose, which dates from the period when skyscrapers were first making their appearance in a number of cities in Nigeria.
For Ojeikere, Hair Style is a collective work: "The hairdresser uses all their talent; the client decides which hairstyle they want, and my admiration for these hairstyles is what led me to photograph them… Duration, method, structure and my own obsession are what have contributed to making this work exemplary. It has its natural place within photography, but also in fashion, ethnography and simply as art."
To accompany these photographs, Waberi has written a short Afrofuturist piece, inspired by his visit to the museum ORIGINS in Jo'burg. Afrofuturism is characterised by hybrid imagery that joins these origins with science fiction. Even if they often draw from traditional rituals, the geometric character of these hairstyles to the author evokes space ships and science fiction films.
Edward Barber and Jay Osgerby have designed a special quadrilateral box in ebony wood as a container for this work.
Description
:5 original signed photographs (baryta paper prints) set in photo-cornersEbony wood case31 x 31 x 3,5 cm Text in French Limited edition of 20 copies  + 5 A.P. November 2014
Graphic design:
Olivier Andreotti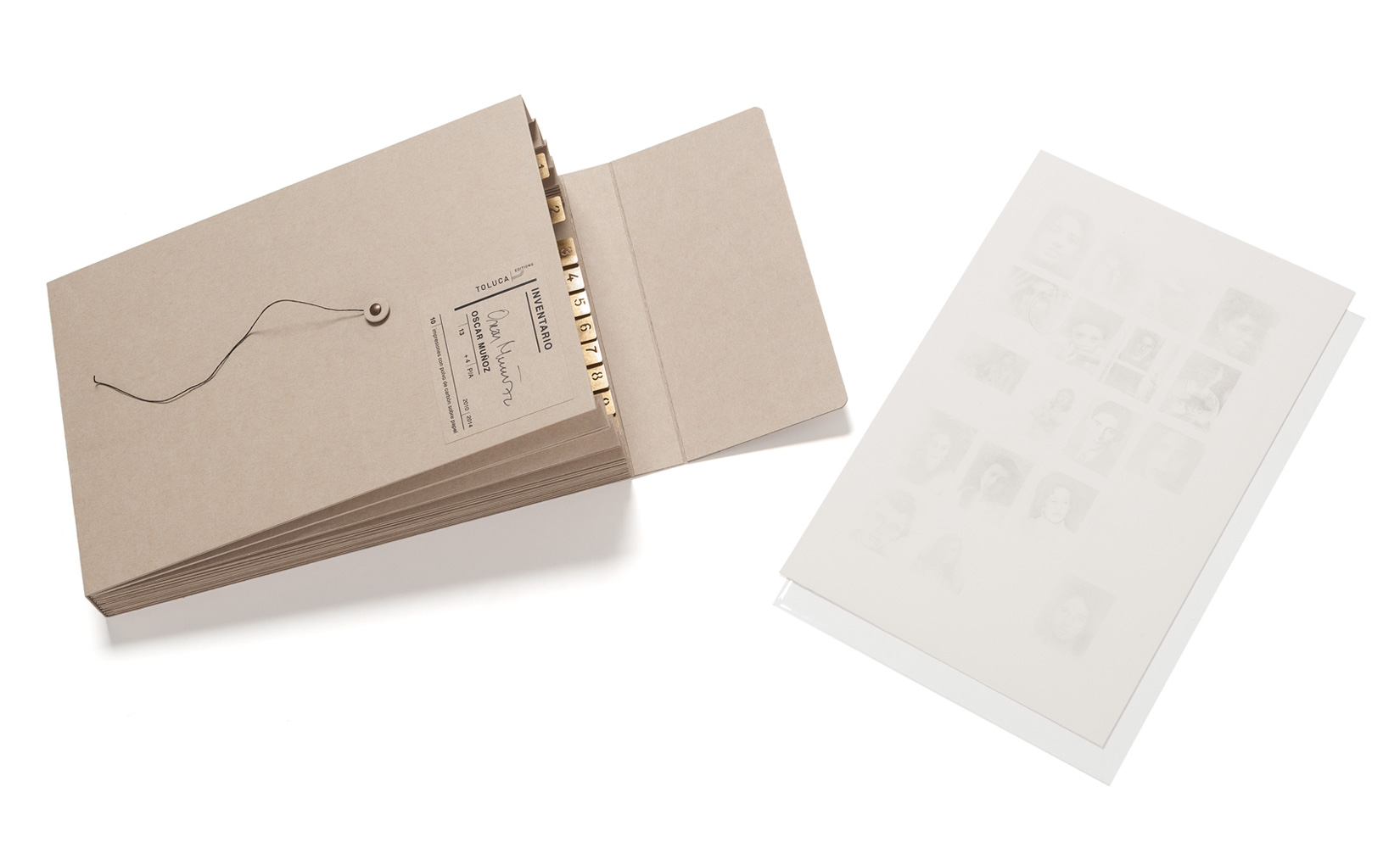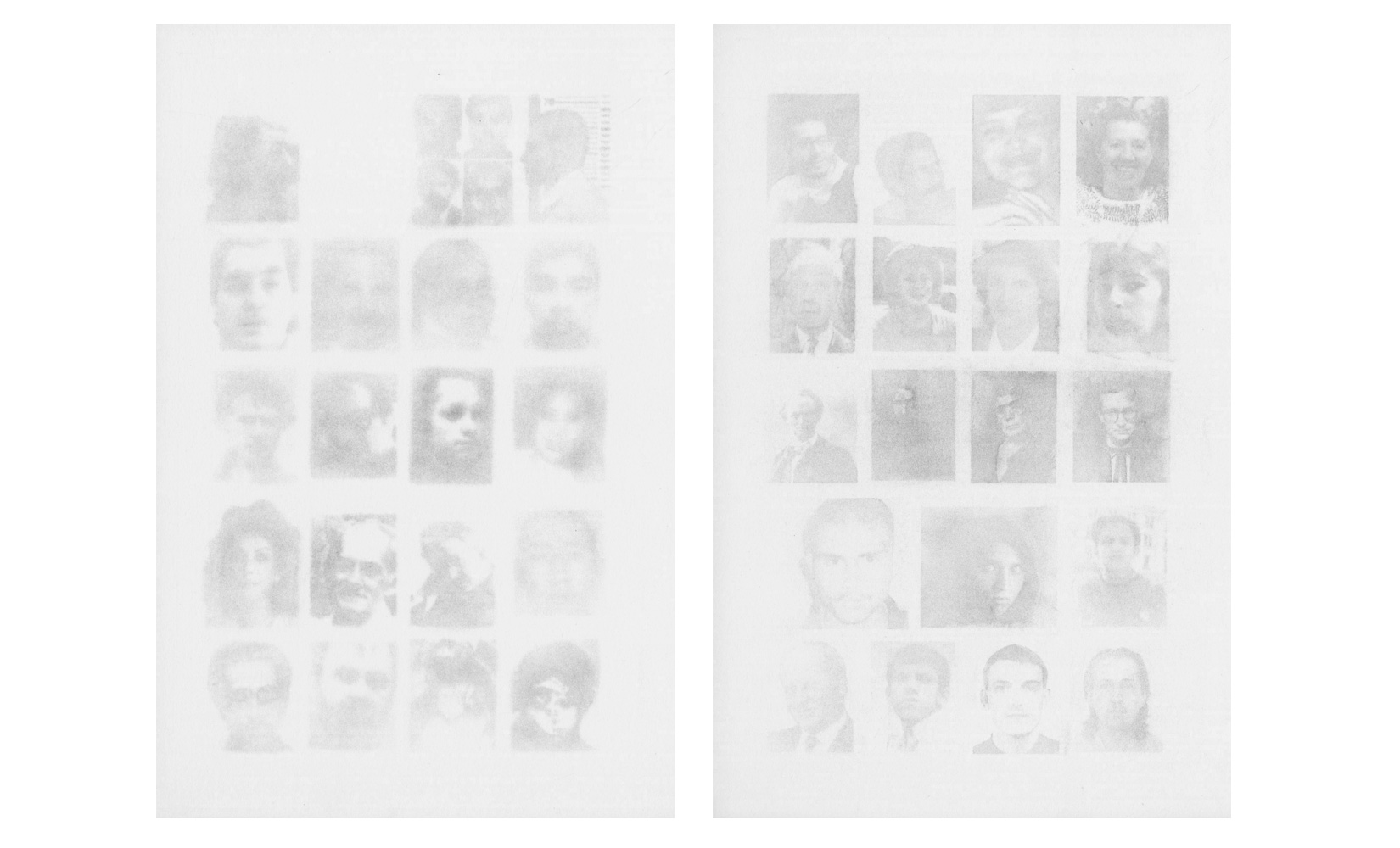 VOL. 31 INVENTARIO
Oscar Muñoz
photographs
In an interview with Maria Wills from 2013, Oscar Muñoz declared, "I take photos the way everyone does, but that's not what interests me… I'm much more interested in photos taken by other people." And further along in the interview, he talks about his taste for the "anachronistic confrontations" contained in that combination or crossing between historical photos and different registers: "The images that come to us through time are not static; they are in a changing relationship constructed with the images we consume from day to day. New ones appear while others are cast aside… Many of our memories are constructed from images that do not reflect what we have lived ourselves. » The process the artist engages here of charcoal dust prints translates his interest in images that are "halfway between materialisation and dematerialisation," evoking memory and forgetting…
Description
:10 charcoal dust prints set in plastic sheetsCase made of cardboard and brass30 x 20 x 3 cm Limited edition of 13 copies  + 4 H.C November 2014
Graphic design:
Olivier Andreotti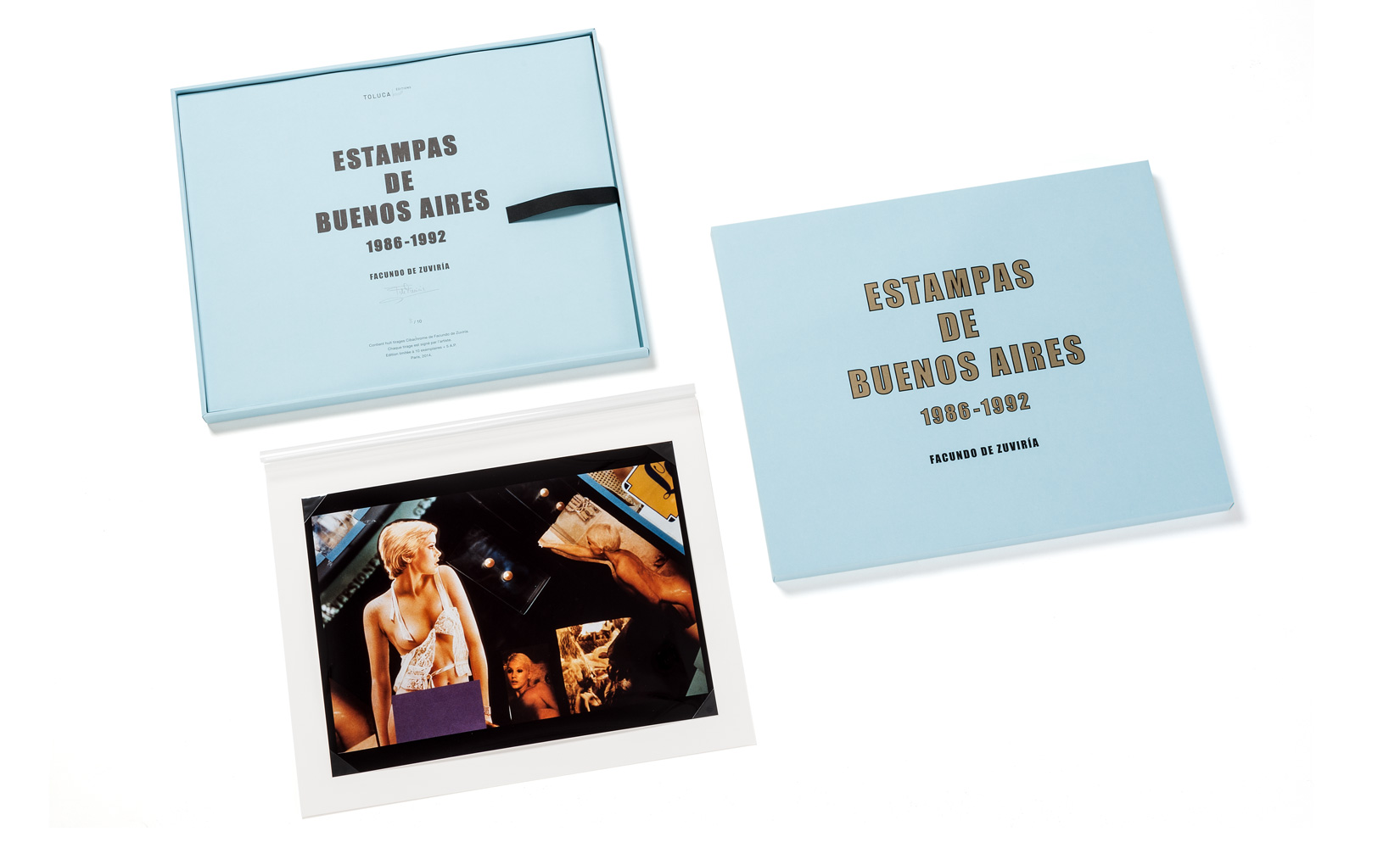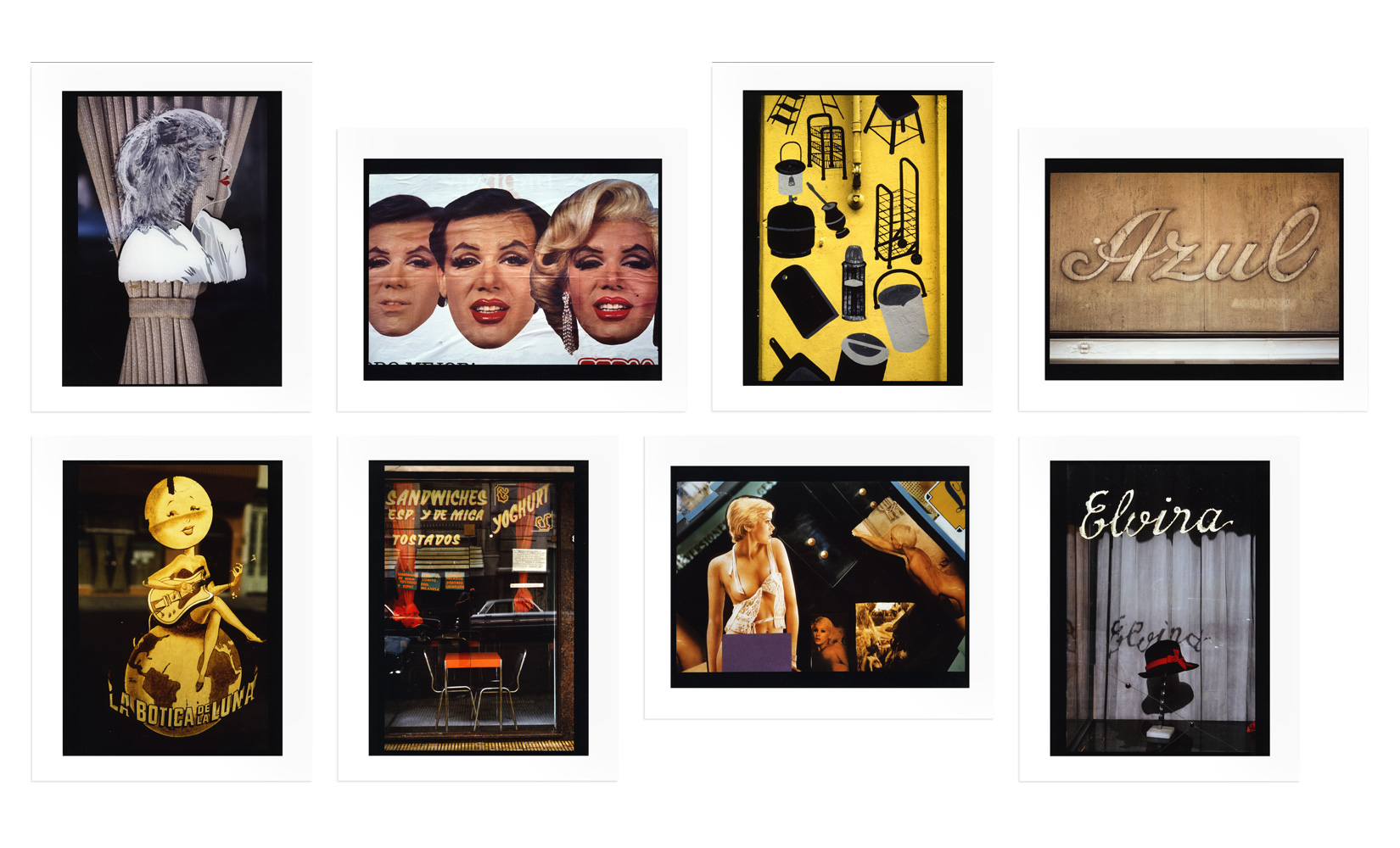 VOL. 30 ESTAMPAS DE BUENOS AIRES
Facundo de Zuviría
photographs
These photographs of neighbourhoods, shop windows and architectural elements, as well as so many other things Buenos Aires modestly recognises itself as, were taken from the mid-1980's to roughly 1996, with no other intention but to capture what was prompted by my own obsessions, my tastes, almost without even realising it. If my ambition was to make black and white photographs of the port city's soul, photographing with colour liberated me from my mission and let me take photos with no pretension of making works of art and to gather together subjects which, for one reason or another, I appropriated. And this is how, without meaning to, I ended up putting together a collection—pieces cropped from reality—peopled with idols, mannequins, graffiti, hair salons and façades from the city I grew up in. I see them now as images of a long time ago, a romantic period, when I was discovering the surfaces of everyday life, the elements that would make up my own way of seeing. Facundo de Zuviría Buenos Aires, October 23, 2014
Description
:8 Cibachrome printsCase made of cardboard30 x 40 x 3 cm Limited edition of 10 copies  + 4 H.C November 2014
Graphic design:
Olivier Andreotti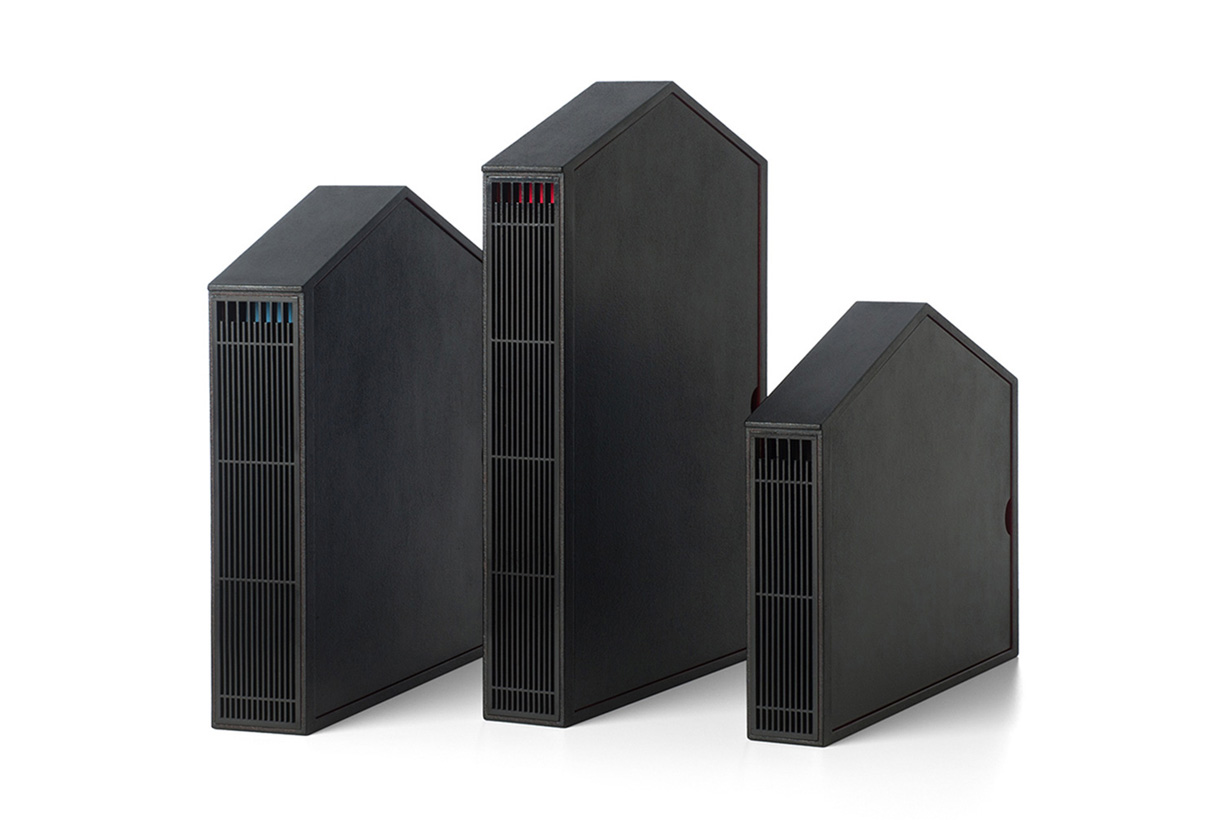 VOL. 29 TWO WOMEN
Thomas Ruff
photographs -
Ingo Schulze
text -
Atelier Bow Wow
traycase
Here Ingo Schulze makes use of a first-person narrative to blend reality and fiction. Again the German writer reveals his talent for making the apparent banality of everyday life speak of the great ruptures of contemporary history. East Germany's oppressive regime is evoked, for example, by means of a mere anecdote—a few words exchanged between a Parisian restaurant owner and a poet from East Germany.
Thomas Ruff opts for a similar process, invoking politics but from the sidelines. In an exchange with Philip Pocock dating from 1993, Thomas Ruff declares that his portraits make explicit reference to police surveillance in West Germany during the violent decades of the sixties and seventies.
The Japanese architecture agency Atelier Bow Wow has chosen to assign a separate casing for each of the three series of portraits by Thomas Ruff, with each volume forming the archetypal shape of a house with a saddle roof. An Urushi black lacquer has been applied to the surfaces of the three modules.
Description
:39 original signed photographs (chromogenic prints), set in photo-corners3 Urushi lacquered cases1. 25 x 32 x 5 cm / 2. 29 x 20,5 x 5 cm / 3. 26 x 26,5 x 5 cm Text in French and English Limited edition of 40 copies  + 8 H.C April 2013
Graphic design:
Olivier Andreotti