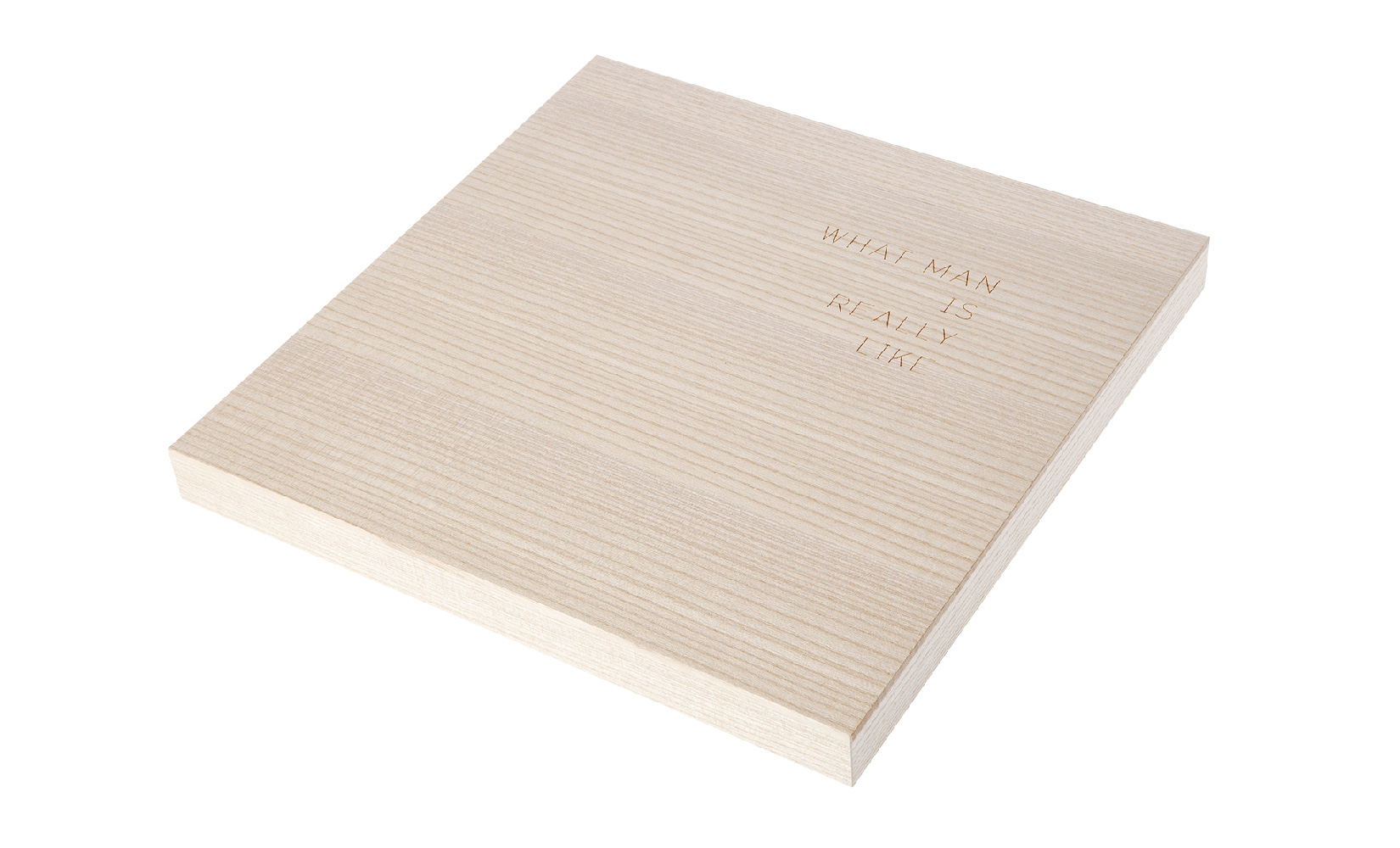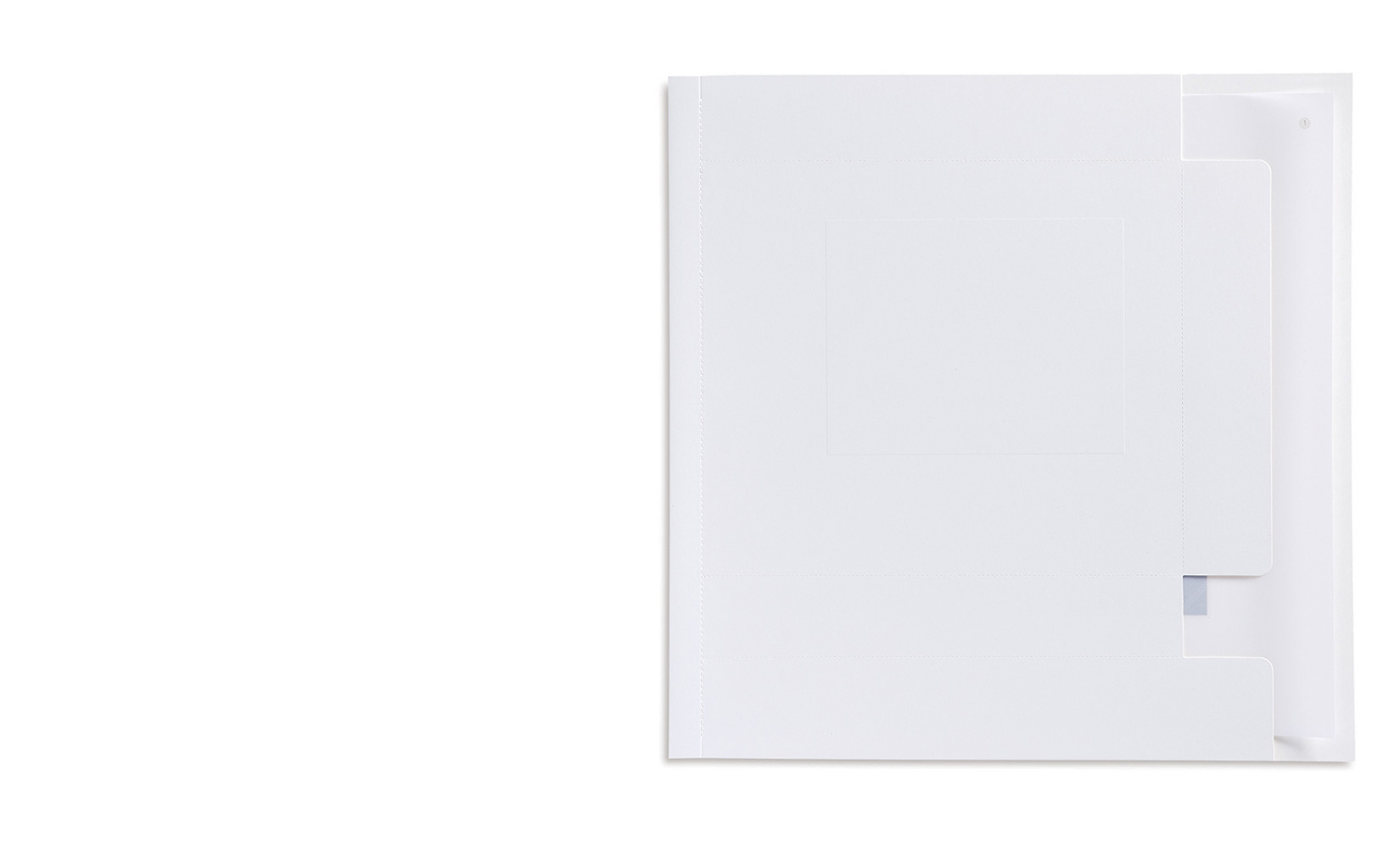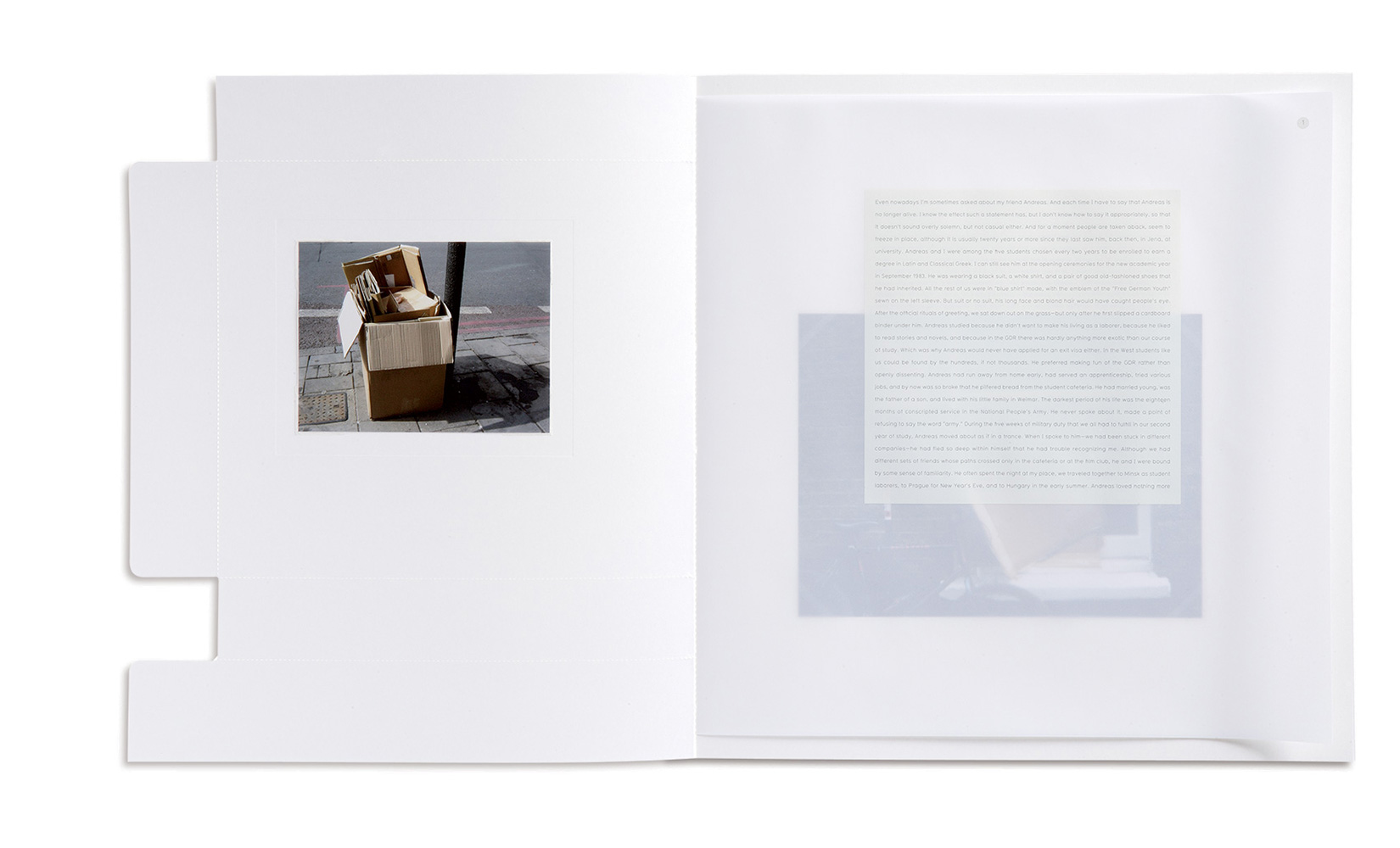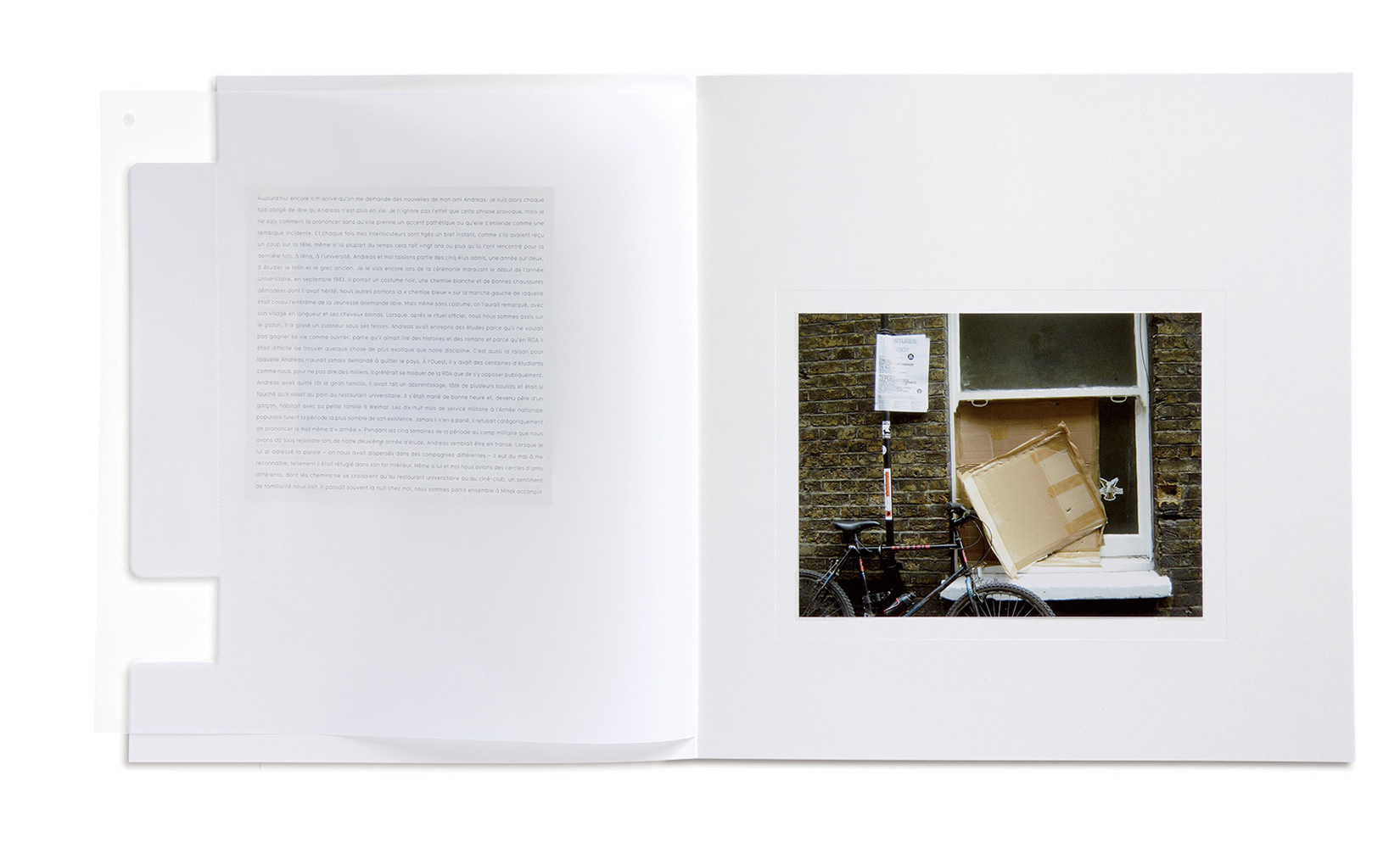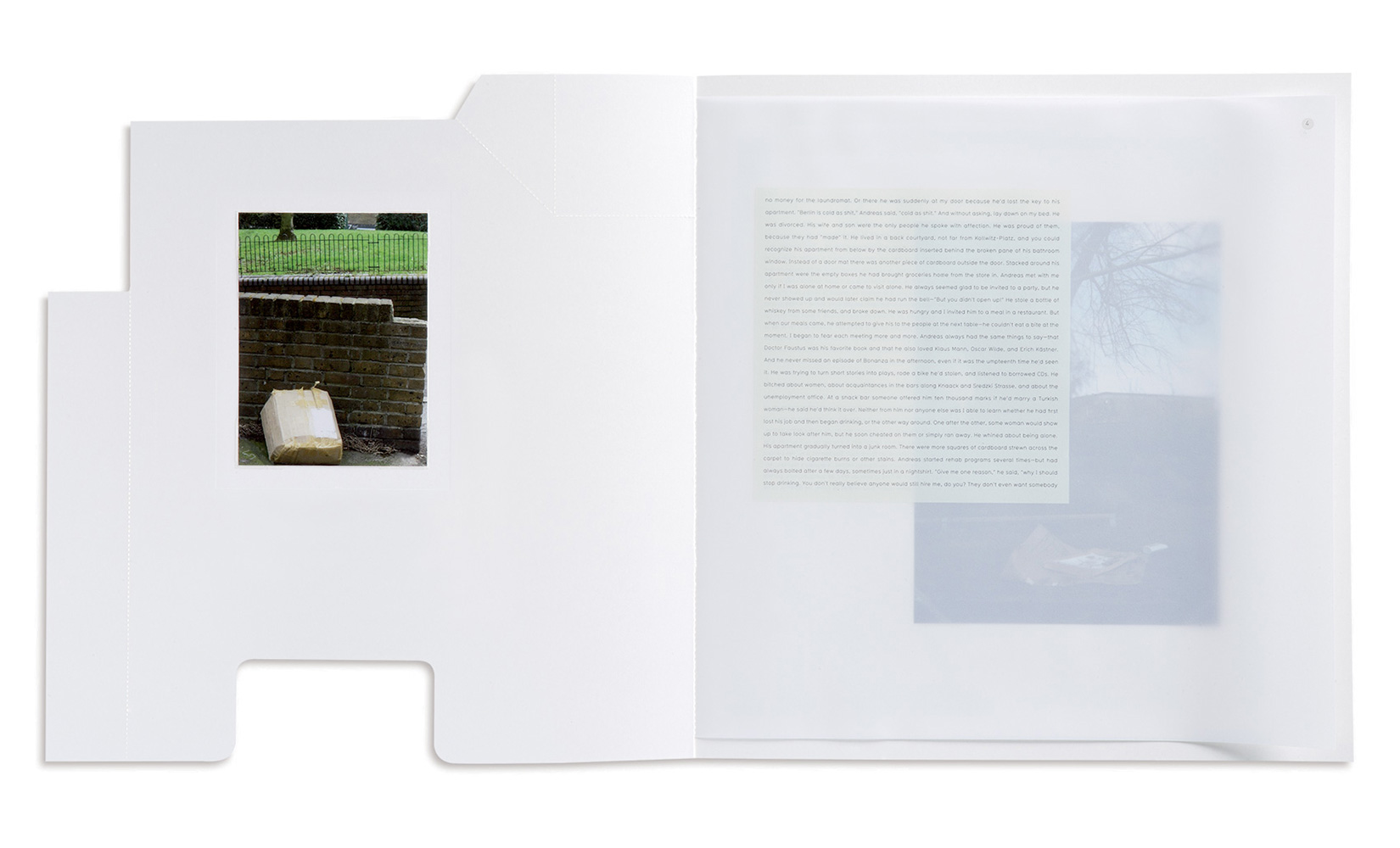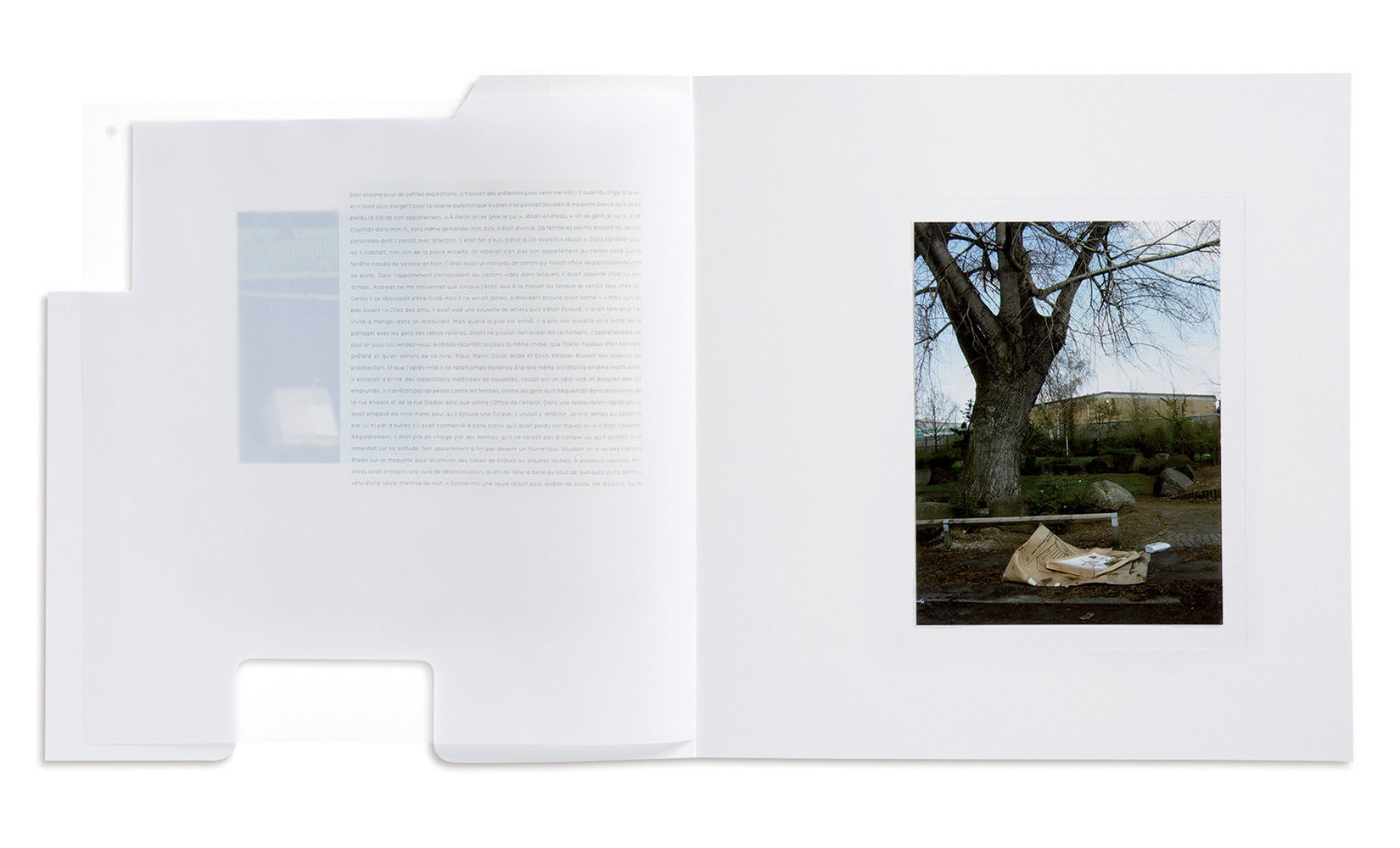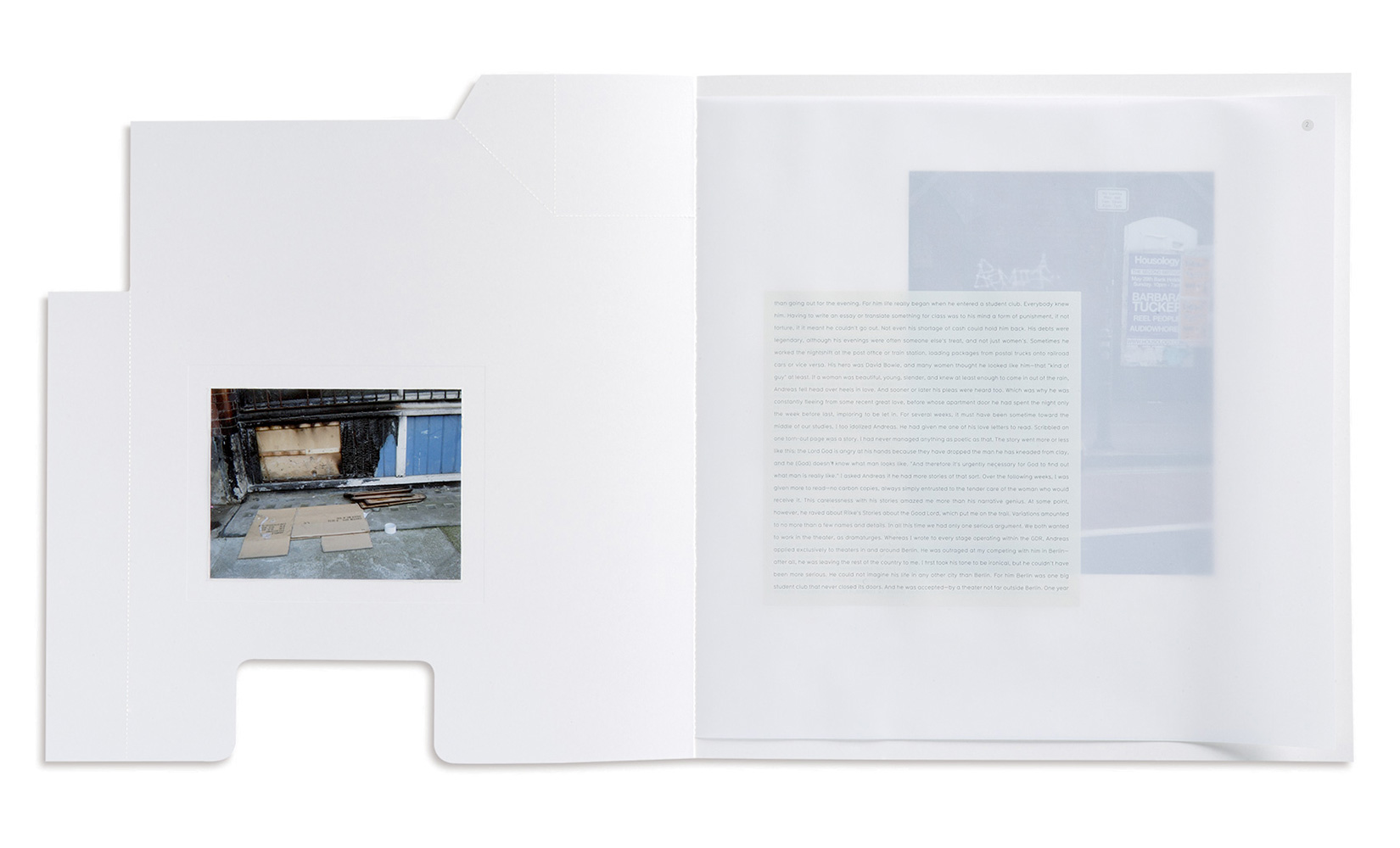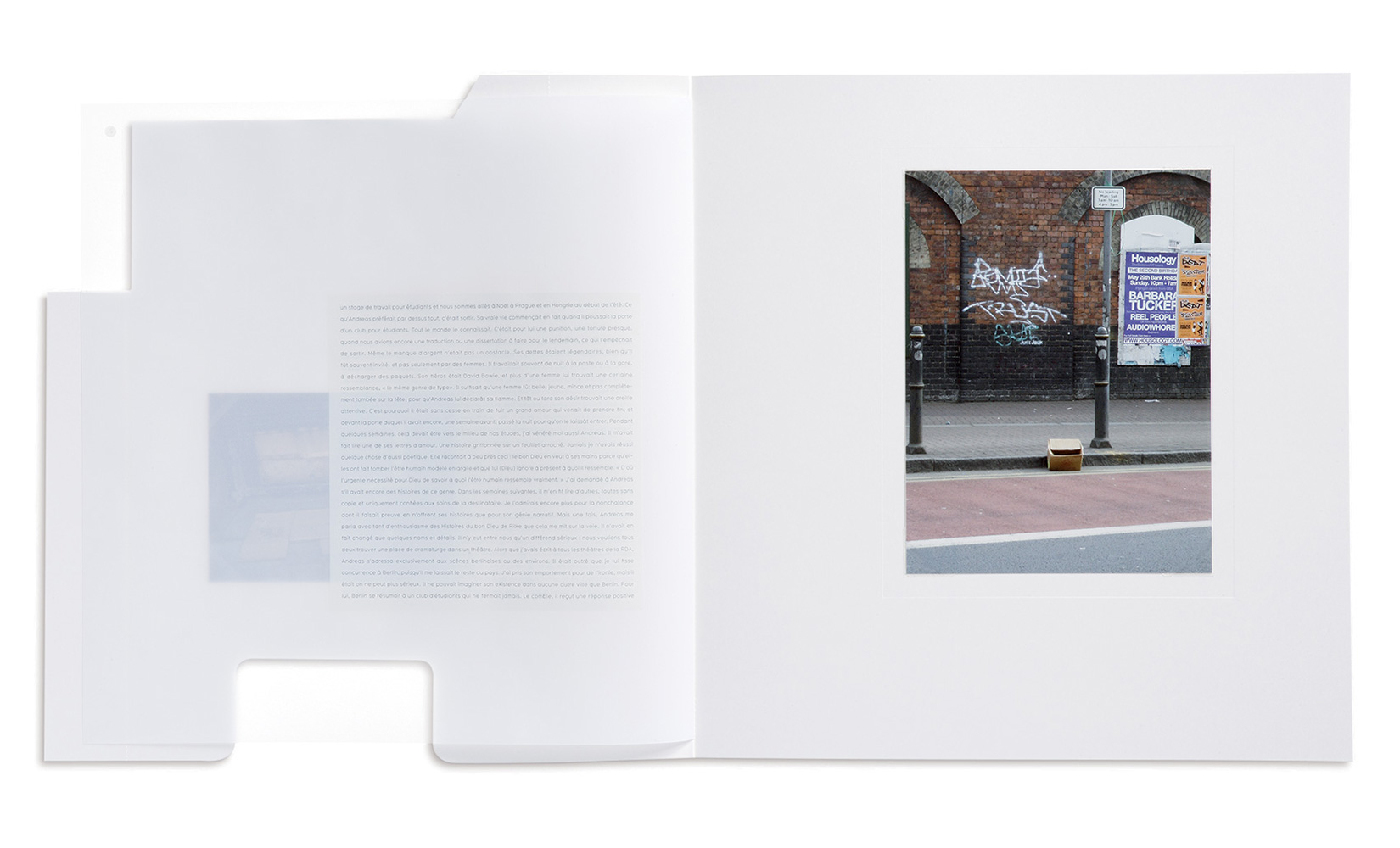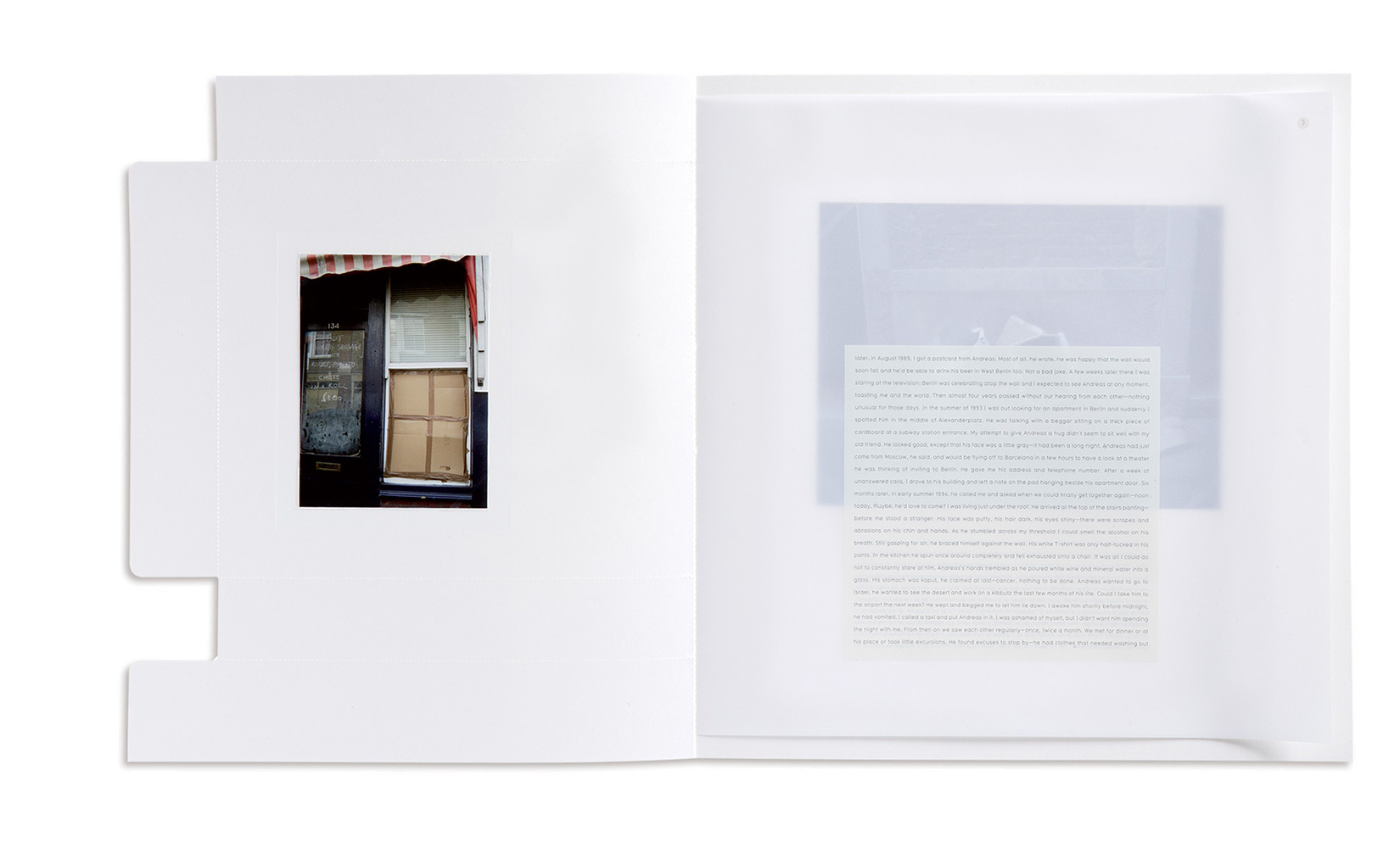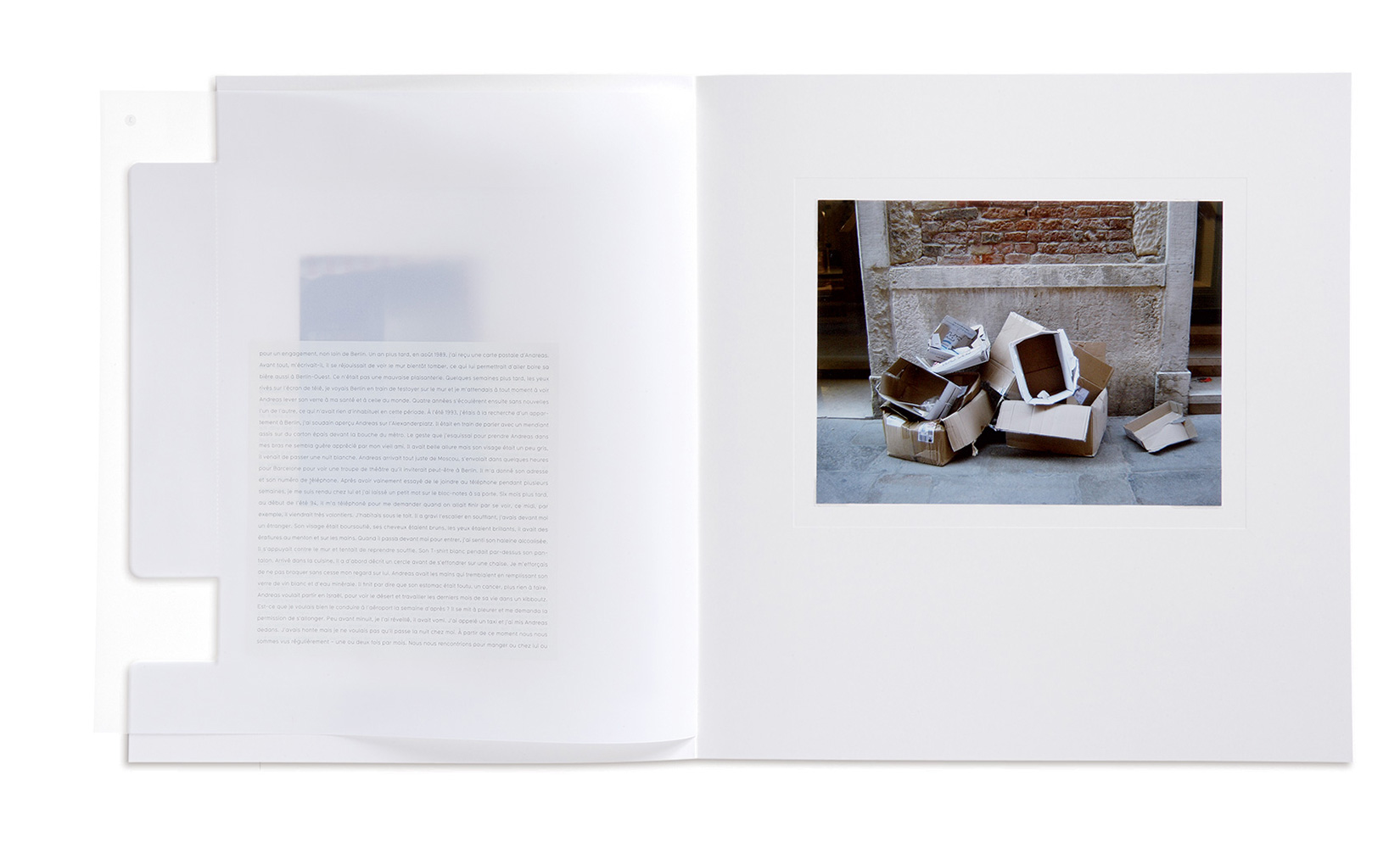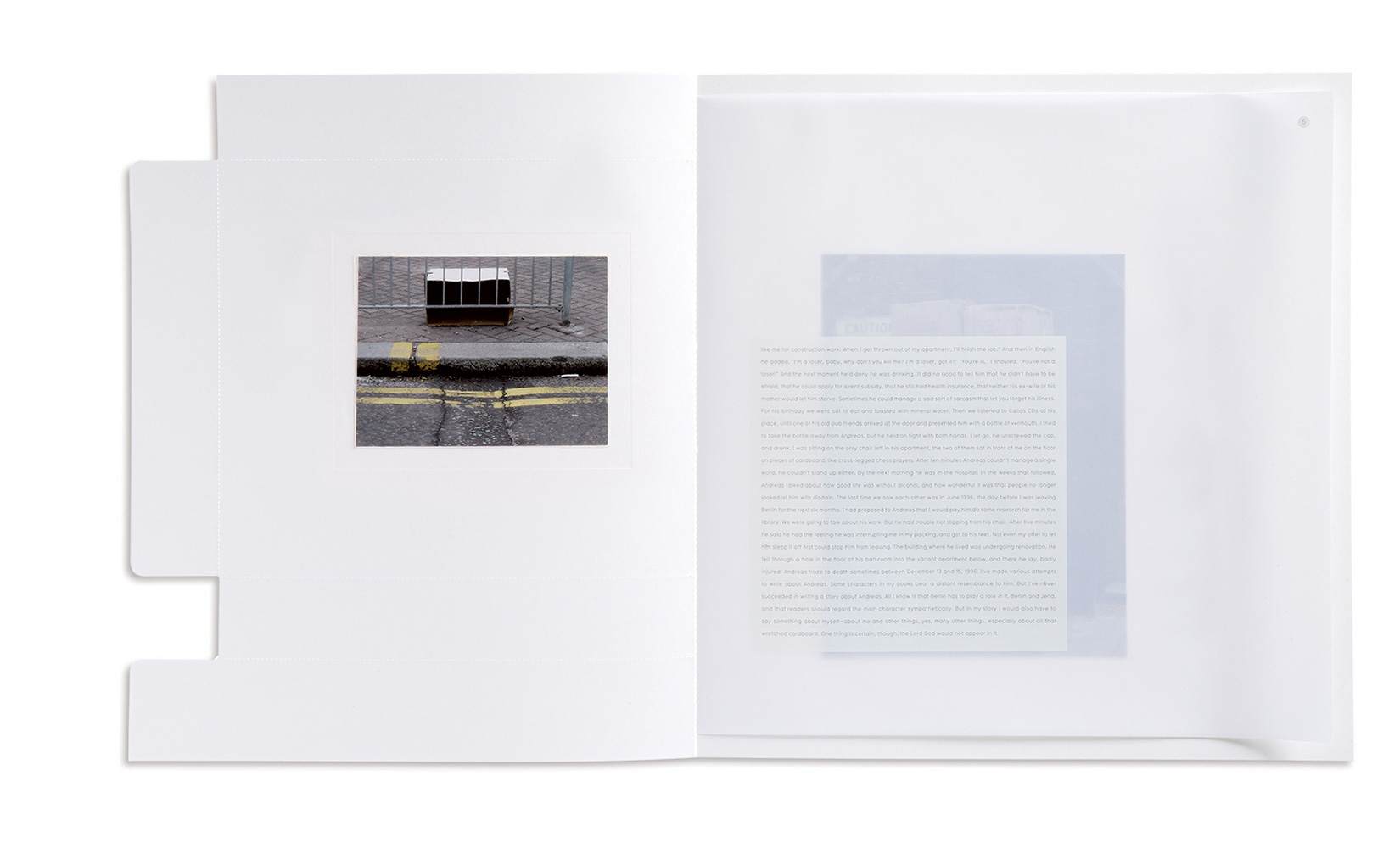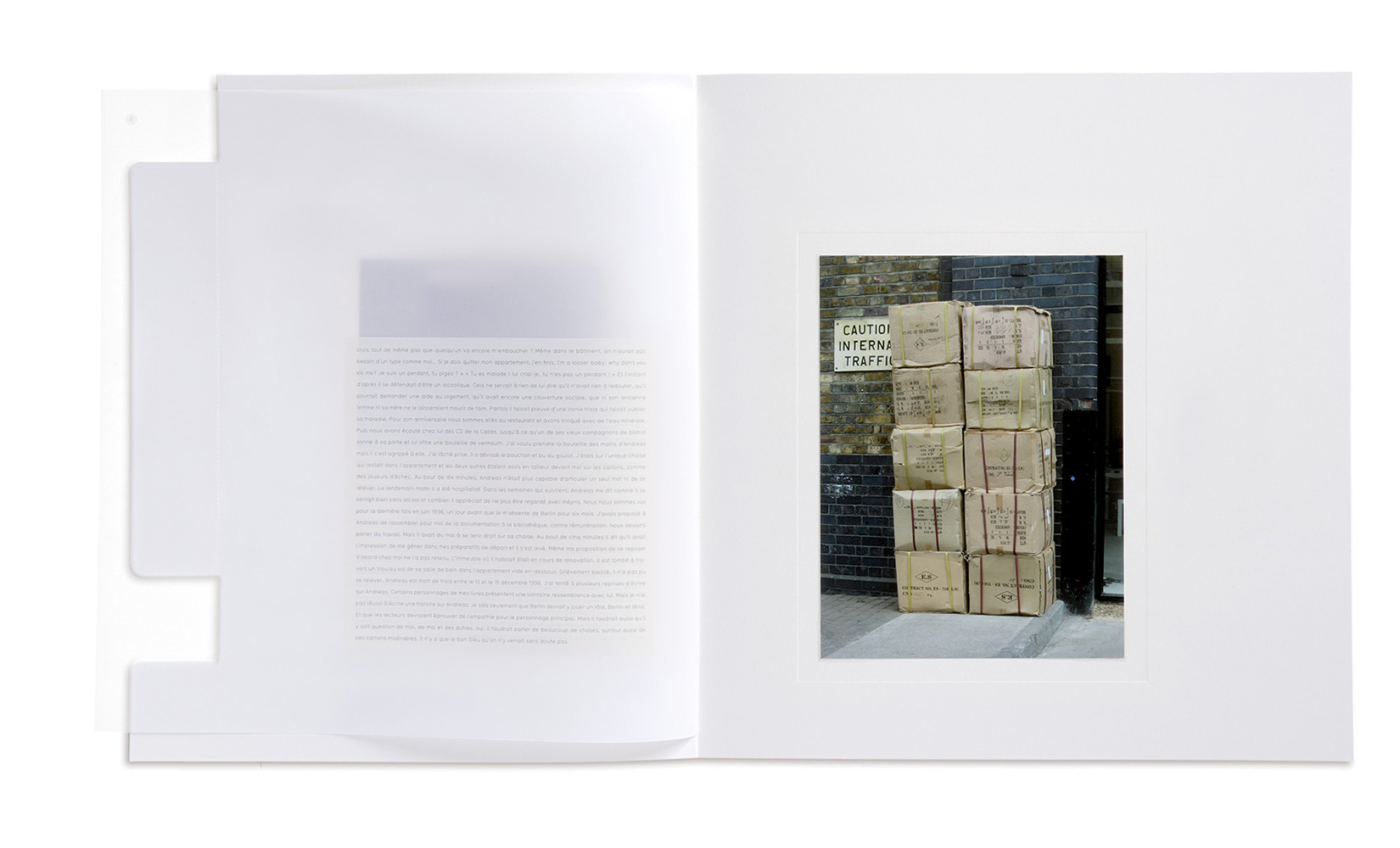 WHAT MAN IS REALLY LIKE
vol. 19
Rachel Whiteread photographs
Ingo Schulze text
Naoto Fukasawa case
In a monotone voice, the narrator of "What Man is really like" describes the conditions and sorry state that have led to the death of his friend Andreas, a playwright and alcoholic, holed up in a cold and miserable Berlin flat. He records every minute detail of his friend's behavior, including the tremors of his looming depression. For Ingo Schulze, the abandoned cardboard boxes photographed by Rachel Whiteread epitomize the bleak and sorry state of his characters and the confusion of his generation as a whole.
Each one of the 7 modules making up the piece presents a flat cardboard box before it has been assembled. Of varying sizes, Rachel Whiteread's photographs are put in hollow living spaces that match their format. The text is printed on both sides of a translucent support. Each language models its own square block of type that is contained within a whiter square in reference to the casing designed by Naoto Fukasawa.
Rachel Whiteread
Rachel Whiteread is one of the most outstanding British artists of her generation. She was born in London in 1963. She reached distinction in 1993, the year she was awarded the prestigious Turner Prize, with her monumental sculpture entitled "House", a life-size replica of a house in the East End of London that was about to be demolished and which became the object of a fierce debate all the way to its final destruction in 1994. Over the years, she has undertaken numerous public artworks in both Europe and the United States, her famous "Water Tower" re-installed this year on the roof of the MOMA in New York. In 1997, she represented the United Kingdom at the Venice Biennial. Her work has been exhibited widely, most notably with a show at the Tate Modern in 1995 and at the Tate Britain in 2010.
Ingo Schulze 
Born in Dresden (former East Germany) in 1962, Ingo Schulze now lives in Berlin. His writings, translated into twenty-four languages, have won a number of awards. His New Lives (Knopf, 2008) was heralded by German literary critics as the much-awaited novel to treat the "turning point" after 1989-1990 with the collapse of East Germany and Germany's reunification. "I think of literature as seeing the world in a drop of water," writes Ingo Schulze—not surprisingly considering his penchant for the minutest incident, his attention to detail, his sense of the tragicomic and his laconic style that rings like a homage to the short story writing of Richard Ford and Raymond Carver.
Naoto Fukasawa
Naoto Fukasawa was born in 1956 in Yamanashi, Japan. He worked as a designer for Seiko-Epson until 1988 and for ID-two in San Francisco from 1989 to '96. He returned to Japan in 1996 where he directed the team of IDEO's Toyo firm. In 2003, he opened his own business Naoto Fukasawa Design in Tokyo. Since 2001, he has been a consultant for the company Muji. Throughout his career, he has followed his own personal 'Without Thought' method, grounding his inspiration in immediate memory and the spontaneous gesture. In 2006, he founded Super Normal with Jasper Morrison. In 2007, he was given the title Honorable Royal Designer for Industry by the Royal Society of Arts.
Description:
11 original signed photographs (Lambda Prints)
Case made of polonia wood
33 x 33 x 3,3 cm
Text in English and French
Limited edition of 40 copies  + 8 H.C
November 2010
Graphic design: Olivier Andreotti